Alex Tarrant presents a Top 10 of final election thoughts: Parker vs Collins; NZ First vs the Greens; Who's going to call for house price falls next term?; Rural-urban divide; Nick Smith's knob; Cartoon wrap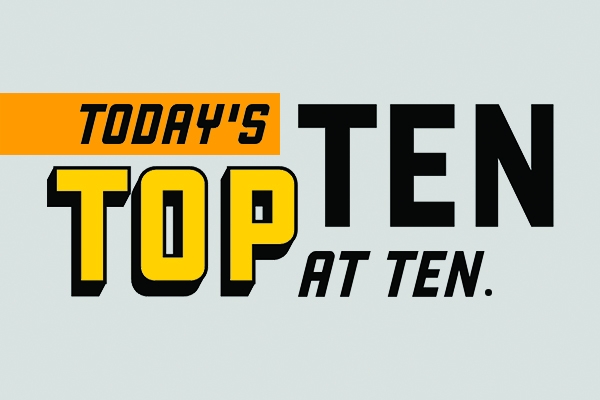 Welcome to our final Top 10 ahead of Saturday's election. Today's is written by our political journalist Alex Tarrant.
Well, this is it. One day to go until we get to vote. Or, at least, until about half of us choose to vote – early ballots have been huge this year. But with undecideds still possibly around 10% (going by Wednesday's 1 News Colmar poll), it's still all to play for. Many say it's the last 48 hours that count.
If you are still undecided, or just want to double check, then our comprehensive policy pages contain all you're looking for. Also, check out our party lists page to see who your party vote might be bringing into Parliament.
Hopefully you've enjoyed our coverage of the campaign – we've certainly enjoyed bringing it to you. Thank you for the many (many) comments over the past few weeks – they've helped lead to questions put to our political leaders and led to story ideas, so we're very grateful.
Here are some final thoughts on the election from me. I've woven in some of the wonderful cartoons done for us by our designer, Jacky Carpenter, over the past few months as well.
By the way, something we've been talking about in the office this morning: Winston Peters is back in Kingmaker position. Everyone is talking about which way he'll go - Labour or National? Keep in mind there's a third option - sitting on the cross benches and trying to cement his legacy from there. "I'll support that Budget, as long as you give me these three policies..."
What this campaign has taught us is, don't rule anything out.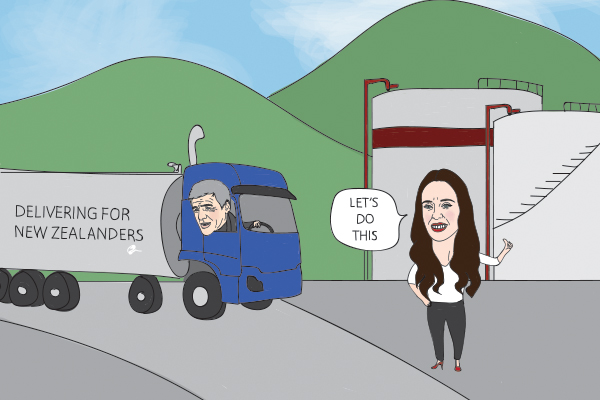 Parker vs Fury Collins
1 – If I told you at the start of the year that this election might be won and/or lost by the actions of David Parker and Judith Collins, then you'd have thought I was a bit bonkers. Well, I'm being kind of serious about it now. Might the actions of these two old battle axes contribute to the movement at the margin which means win or lose for Labour or National?
Think about it for a minute. Labour may have won back some of the "John Key urban middle class" vote with its water tax policy, arguing this is the fix we need for rural waterways. But what if these voters were heading to Ardern anyway? There's a risk Labour might have needed more than that in terms of a swing.
Where could the extra voters have come from? The regions – Labour's weakness in recent campaigns. Tax has been Labour's bugbear this campaign, with National's strengthening poll position in recent weeks possibly down to its attax ads. Although Ardern has now managed to fight off speculation around income tax and Capital Gains Tax, the water tax attack is a constant staple, as is bringing agriculture under the Emissions Trading Scheme. And these might have turned marginal regional voters away. (Parker is also one of the CGT enthusiasts in the Labour caucus.) Alternatively, the water move may just have brought across the numbers required. We'll see on Saturday.
Likewise, for Judith Collins. National wasn't expecting her to play a big part in its campaign. But she was flung in there during the Auckland fuel crisis, and by many accounts has done pretty well organising the government's response. News flow is now centred on an early easing of restrictions for the airlines from 30% to 50% and that the Navy's on its way down.
Alternatively, hearing Judith Collins so much in the final week, given her history, may have turned some swing voters off – she's a pretty polarising figure. Labour has sought to exploit this, by saying National ignored a report in 2012 that more storage or some other plan B was required. This was while Simon Bridges was Energy and Resources Minister though, and not Collins. Thinking about it, Bridges has been pretty quiet this last week…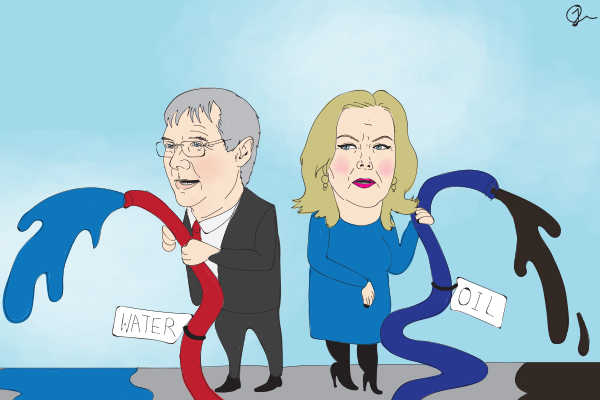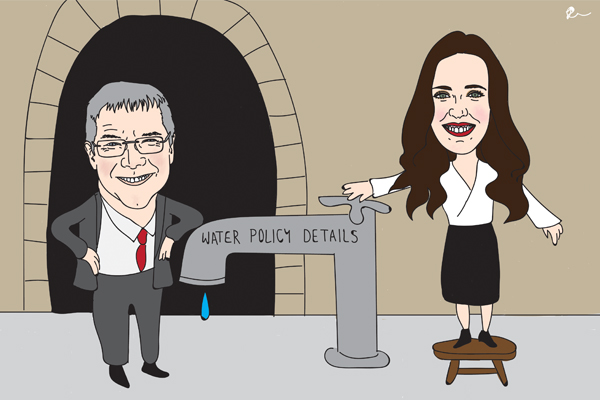 Tax system overhaul potential weakened
2 – What a campaign for those of us who like to talk about the tax system.
Anyone wanting to see policies pushing for a fundamental overhaul of our tax system were settling in for a disappointing election while Andrew Little was in charge and nothing was going to happen until after 2020. But at least he'd promised a working group to look at fairness across assets, income and wealth, whose recommendations he would pick and choose over and take to the electorate next time around.
Then Ardern took over, leading to speculation that Grant Robertson might be allowed to go out this election with a slightly fuller tax policy than just setting up a working group some point. After all, Labour had run previous elections with manifestos full of comprehensive tax policies.
Labour stuck with the working group idea. But Ardern did say she might introduce recommendations before the 2020 election. Well, that backfired. In reaction to National's attax ads, Ardern first started ruling things out, including policies which would help first home buyers – the very part of society she's most concerned about when it comes to drive for changing the tax system (rather than the initial very broad scope of fairness across assets, income and wealth).
Then she retreated to Andrew Little's initial position of post-2020 for any changes to come in, but this time with that handful of exemptions remaining in force. So, we are in a worse position than before. Politics can be very baffling sometimes.
Other than tax, I reckon Ardern has run a pretty good campaign – sticking to Labour's central topic of healthcare and doing well in all the debates. Some people are already saying that, no matter what the result, she's already 'won' and should be fine to carry on leading Labour even if they're in opposition for another three years. Helen Clark lost an election first up, after all…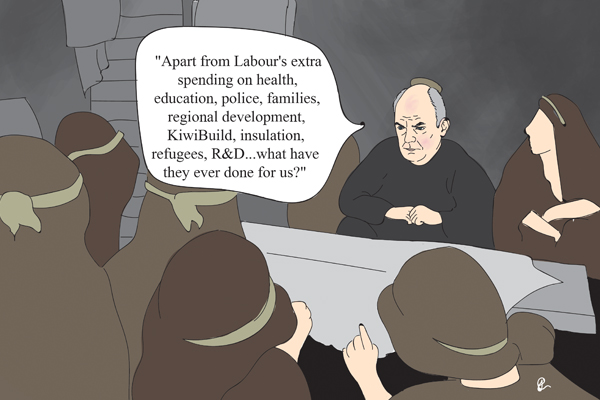 Those bloody farmers
3 – The 'rural-urban divide' was a topic in Wednesday's 1 News leaders' debate, with arguments over whether National or Labour had done more to stoke the fire. I'd say both have sought to exploit it – one to gain the urban vote, and the other to keep the rural vote.
But another fight for the rural vote has also taken place, between National and NZ First. And it looks like Bill English might have won this one. New Zealand First has been steadily tracking down in recent weeks as it loses voters to Labour and National, although I reckon more to the latter. Leaving aside the negative attack ads and debunked fiscal hole saga, English has run a strong, solid campaign in terms of focussing primarily on which voters National should target to replace those who have gone back across to Labour - it seems to have worked in that regard.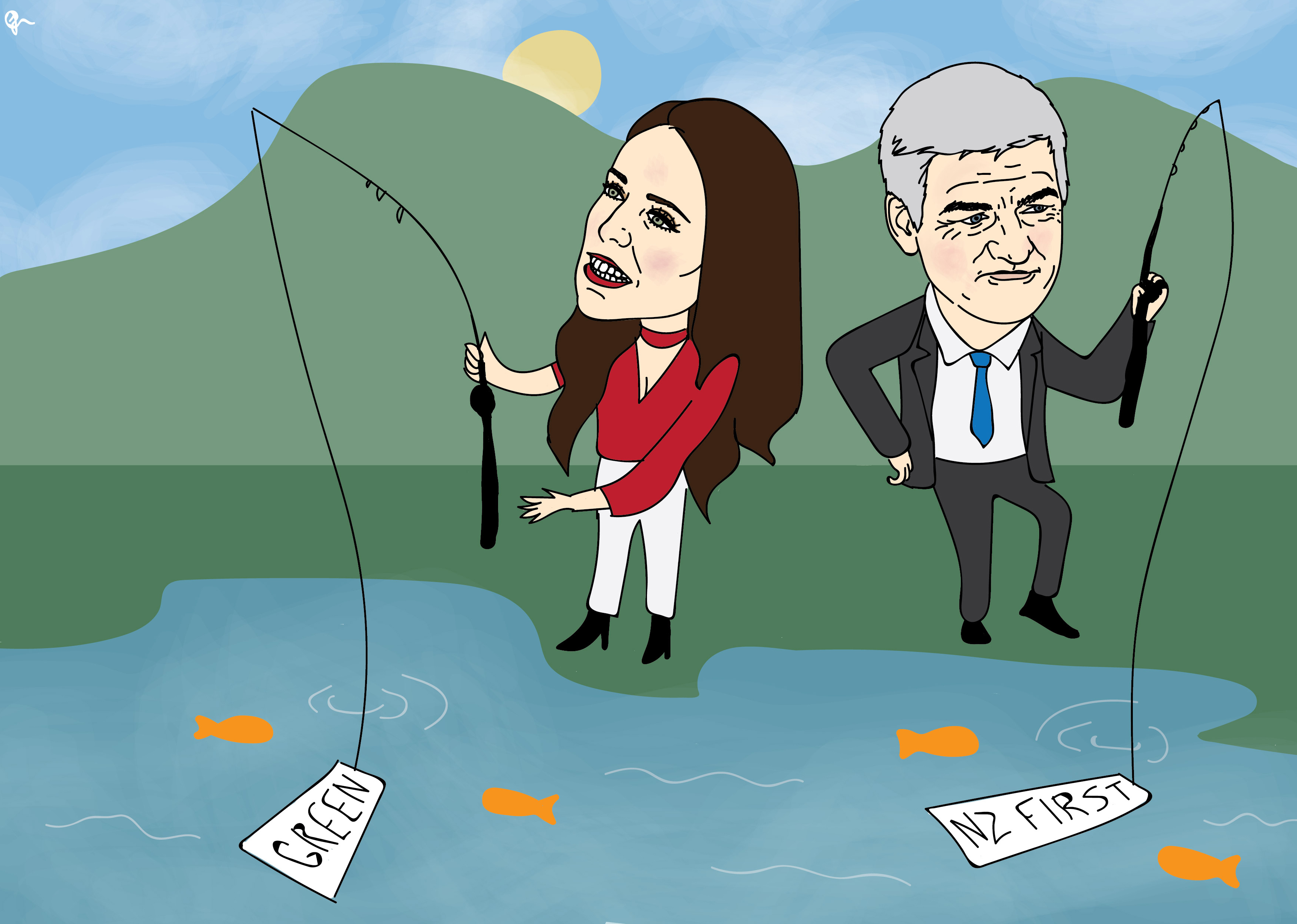 'We want cheaper housing without house prices dropping'
4 – House prices. A lot of fun has been had recently by the press pack whenever politicians say they want housing to become more affordable. "How much do you want values to drop by, then?" we ask whenever the subject comes up. "We don't want any existing values to fall" is the consistent reply. So, it was refreshing to hear ACT's David Seymour accept in our video interview with him that at least he's not too worried if prices were to fall as supply is boosted. It might be a bit late to be hearing such comments from him now, though.
5 – A hat tip to Kate for this one from a comment the other day. In 2011, I interviewed the Greens' Metiria Turei about a certain government rental subsidy. I always carry around in my laptop bag the latest government budget forecasts – Prefu in this case (I also carry the latest Monetary Policy Statement too). Prefu tells me Accommodation Supplement payments over the next four years are set to rise by about $400 million to over $1.5 billion. Not quite the $2 billion the Salvation Army was warning about in 2011 – but that's because payments haven't been raised in line with housing costs until Budget 2017.
For all that's been written about Turei, she stuck to what she believed in. While it was the welfare debate that stuck her in the end, we should remember she was a constant voice on affordable and state housing and the only party leader to accept the possibility that we might have to try and force house prices down to deal with an affordability crisis – I think she said 50%. It might be a long time before we have such a high-profile politician say something similar in this country. It was refreshing to hear.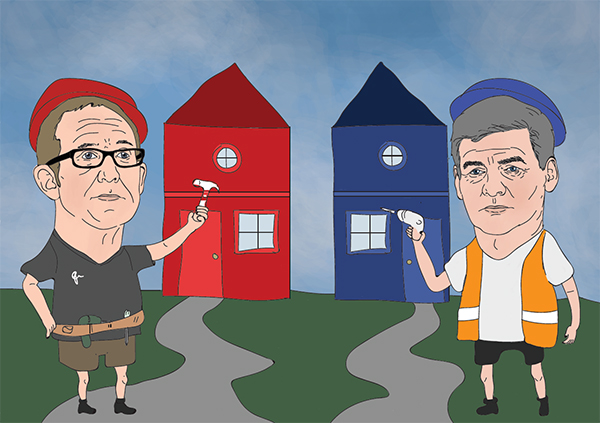 Up North
6 – It's looking like Hone Harawira will not be coming back to Parliament, with Labour's Te Tai Tokerau candidate, Kelvin Davis, out in front in the northern Maori electorate. Harawira has been pushing the two-for-one line that, now Davis is on the Labour Party list, voters could have two representatives in Parliament instead of one. A quick comment on this. The election is looking tight – there could be one or two seats in it. Harawira getting in would have come to the aid of a Labour-led government as that would effectively be an extra seat for the left (creates overhang and Davis would get in on Labour's party vote anyway).
Obviously, Labour couldn't go out and say, 'please don't vote for our deputy leader'. But with MMP we're always going to get tactical voting in various electorates. The Maori Party and MANA sought to exploit this in the Maori electorates, with supporters being told to support Harawira, and the Maori Party candidates in the other seats. This might be the end of the line for Harawira – if the Maori Party can survive, then they might get a slightly larger base next time around.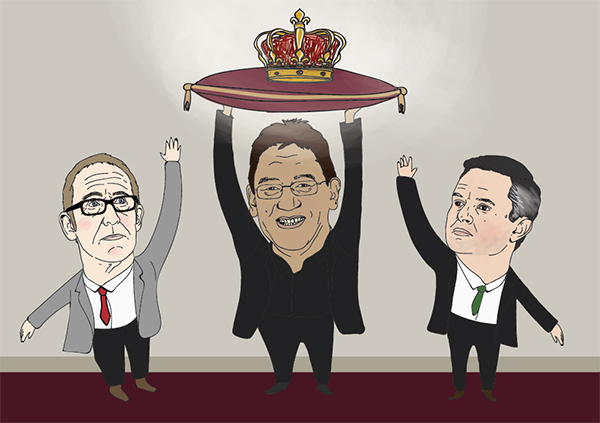 A surprise in the final ACT?
7 – Our final 'finance person' interview was with David Seymour on Thursday – you can watch it here. Now, ACT isn't doing very well, if you look at the main polls. Seymour might even become the 'overhang' seat that was Peter Dunne this time around due to his party vote slumping so much by way of the 1 News poll (if he wins Epsom).
Seymour just doesn't seem to have the presence Rodney Hide had, which drew enough party votes for a few extra MPs. There was a possibility Bill English's attempts to nick voters off Winston Peters (which he looks to have done) pushed some Nats over to ACT. On the face of it, it doesn't look like this has happened.
I'll let you in on a little insight though. The two most popular outbound links from our policy and party list pages have been to David Seymour's profile on the ACT website, and Marama Fox's on the Maori Party website. Each about 5% of all outbound links each week we've had them up there.
Now, this is by no way scientific, and it might just be that these two have nothing better to do every night than click on their names time and time again. I just wonder though if both parties' votes might surprise on election night – very slightly to the upside? (Alternatively, you might have clicked through then been turned off the two of them.)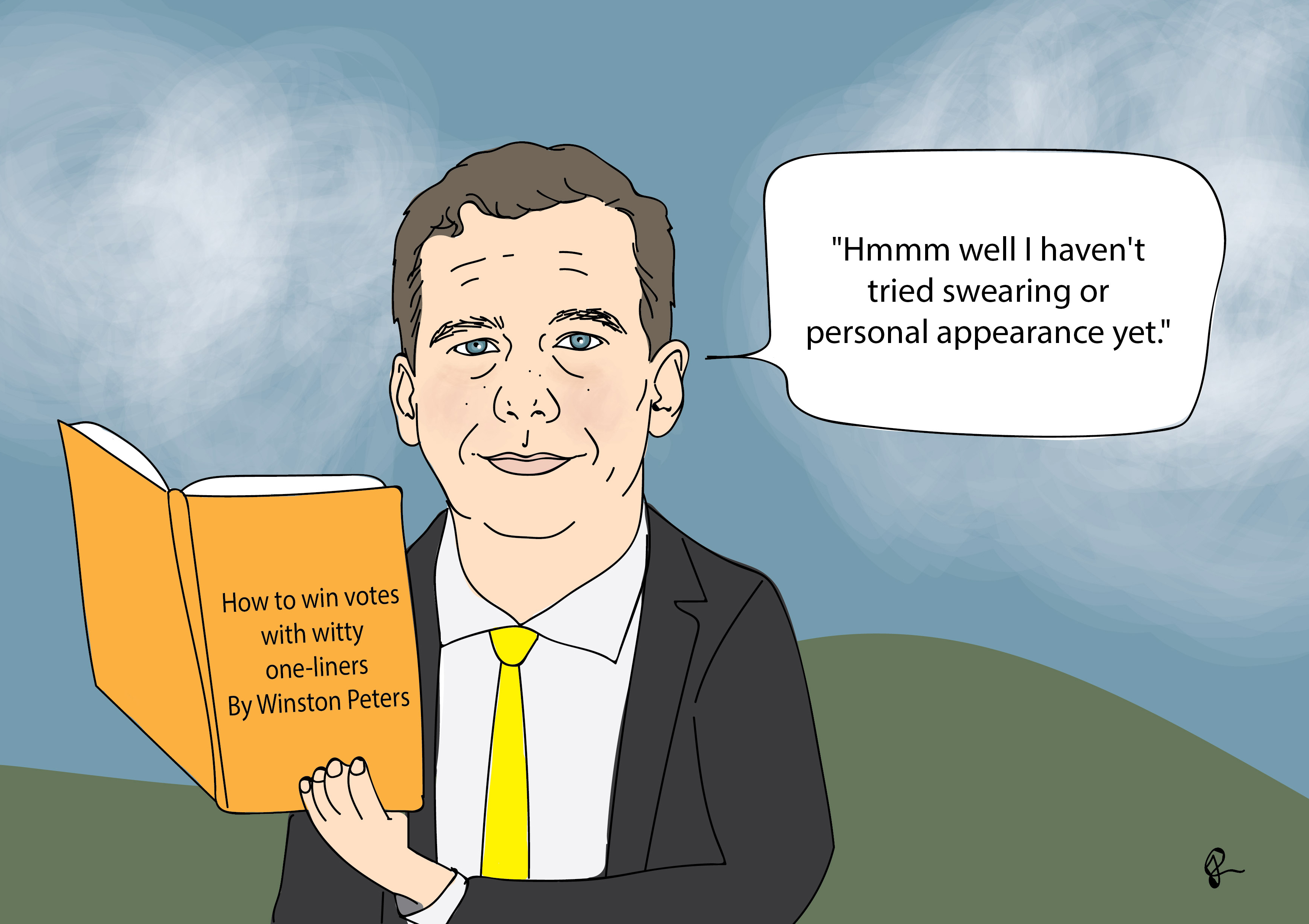 Covering the circus
8 – Through the year I've enjoyed covering Parliament's Question Time again. Despite what you might think, it is a class above those in Australia and the UK in that Ministers are more likely to be forced to address the actual question asked. I'm one of only a few Press Gallery journalists who likes to physically sit up in the Gallery proper every Tuesday, Wednesday and Thursday for the 40 minutes or so it takes to get through the 12 questions whenever Parliament is sitting, rather than watching on TV.
Up there (we sit right above the Speaker's chair), you often hear comments not picked up by the microphones, and you get a bit of free entertainment at the same time. Hopefully you've enjoyed some of the write-ups. Here's links to a couple of my favourites – when Simon Bridges went all existential on us regarding whether land bankers existed. And my favourite select committee appearance? When Nick Smith revealed his faulty knob, of course.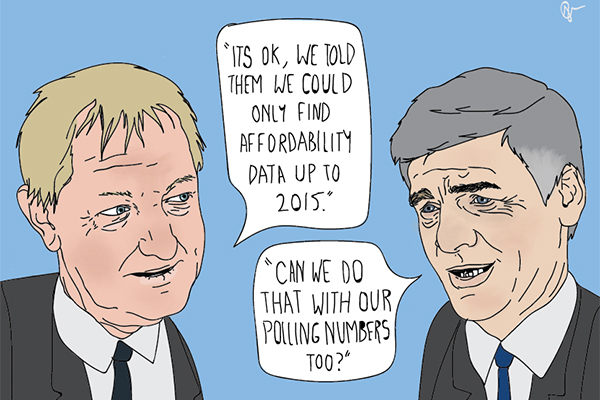 NZ First vs the Greens vs TOP
9 – How significant is the competition between NZ First and the Greens as to which polls higher than the other on election night?
If Peters decides he'll go with one of Labour or National and not sit on the cross-benches: if the Greens come in higher then would Peters set his attentions on talking to National first? If NZ First is higher, will Labour be faced with the tough choice of just asking the Greens for confidence and supply with no Ministerial positions – if that's what Peters demands?
I was half way through an article on Thursday evening with the headline, 'Is Winston in trouble?' That was until the Newshub-Reid poll had him up above 7%, throwing out the downward these past few weeks. I know it's just one poll, but I also ran out of time to write the story, so here's a brief note.
Wednesday's 1 News Colmar poll reported Peters at 5% - just getting in to Parliament. The actual result was 4.9% though. By all accounts, Peters' Northland electorate seat will be closer, although he still seems odds-on to win it…just. A crucial one to watch on election night.
It could still be touch and go for NZ First, although we can equally say that about the Greens. James Shaw was on the radio Thursday telling TOP voters that they should give up on Gareth Morgan and vote Green instead. Morgan said it should be the other way around.
TOP has been a welcome addition to the campaign – in terms of the policies it has put out there. If they don't make it into Parliament then the finger will be pointed squarely at the PR machine that has turned off many of those potential swingers from the Greens and Labour.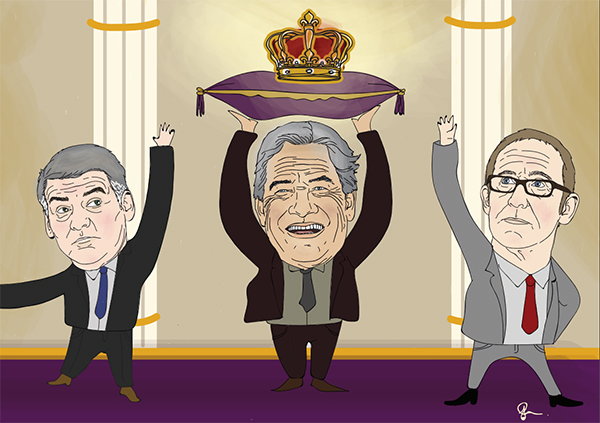 Last day to enrol
10 – Well, here we are. At the end of a long campaign road. On Saturday, we'll be covering the results from 7pm, so do come and comment on the page we will put up. Here's one final plea: You might well be enrolled, but do check with your family, friends, neighbours, workmates and team mates whether they are as well. Today (Friday) is the last day to enrol – you can't do it on Saturday (on election day you can only vote). I'm not saying, "you must go and vote". But I am encouraging people to make sure they, and those around them, at least have the ability to vote.
I hope the weather's good your way for whatever you decide to do on the day/evening. I'm looking forward just to strolling down to the polling booth in my new electorate – the fourth in Wellington that I'll have voted in – then finally being able to spend some time with friends talking about anything other than politics for the first time in a while – at least until the results are in. I'll have TVNZ's and Newshub's coverage simultaneously playing on two screens from 7pm, with RNZ in the background and the Electoral Commission results page open on the ipad. Bliss!