The ANZ's not wanting to answer questions about its now protracted sales process for UDC Finance - but it will have to soon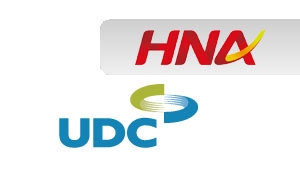 By David Hargreaves
The ANZ is maintaining a wall of silence over its proposed $660 million sale of UDC Finance subsidiary to acquisitive Chinese conglomerate HNA Group.
But it might not be able to do that for too much longer.
Having earlier this year given indications that the deal could be completed in September-October this year, the would-be buyer says there's now no timeframe for completion of it. ANZ's sticking to the line that it's still looking to get the deal done, but that there are steps and processes and regulatory hurdles to go through. Interest.co.nz's earlier articles on the deal can be read here.
ANZ is slated to deliver its annual results in less than two weeks - on October 26.
And unless something happens between now and then, the company may face awkward questions about just what is happening in relation to the sale of UDC - which was announced as long ago now as January 11.
To be clear, there is not so far too much official slippage in the timeframe for the deal to be consummated. The original publicly stated target was in the second half of the year.
But given that the buyer had earlier this year indicated that it expected the deal might have been completed by now, there is obviously a problem.
Interest.co.nz put another series of questions to ANZ regarding the deal this week and got this response from a spokesperson:
"As mentioned previously, ANZ and HNA are continuing to work through the processes associated with the agreed sale of UDC, including both the complex regulatory approval and separation process.
"In the event there is any material change we would naturally update the market."
When pushed further for more information, the spokesperson responded that: "The questions you've asked relate to a commercial, in-confidence transaction and to an ongoing regulatory approval matter.  I'm sure you can appreciate that in those circumstances it's not appropriate to answer questions in that detail."
The questions that were asked are included further down this article.
The fact that ANZ's financial year ended on September 30, and without the deal completed and no timeframe for its completion, means that UDC will still have to be included as a wholly owned subsidiary - though its assets were classified as being held for sale at the half year mark. One obvious question is for how long it can keep categorising the UDC assets like that with no sign of the deal being completed.
Commercial sensitivity, regulatory processes, these are all clearly difficult factors for a company to weigh up and handle when it has to communicate with the public. But with no clear sign now that this deal is definitely going to proceed, the ANZ does need to consider saying something - and the annual result release would be an obvious time to clear the air.
These are the questions interest.co.nz put to the ANZ:
1. What is ANZ's understanding of the reasons why TIP-HNA has not received regulatory approvals for the acquisition yet?

2. How confident is the ANZ, right now, that TIP-HNA will be able to get such approvals and consummate the deal?

3. Have any monies changed hands yet for this proposed acquisition?

4. What was the original timeframe for payment to be received by the ANZ?

5. Under the terms of the sale deal, is there a deadline for either or both parties in which the deal must be completed?

6. Assuming there is a deadline for completion, when is it?

7. Has a break fee been agreed between the seller and would be buyers?

8. What is the break fee (in dollar terms) and under what circumstances would it be payable?

9. If TIP-HNA is unable to get regulatory approvals, is ANZ able to walk away from the deal at that stage?

10. Is the ANZ obliged to stick with the deal in any situation where TIP-HNA is turned down for regulatory approvals, but told that it may be able to re-apply?

11. Is ANZ able to negotiate with, or inquire about interest from any other potential bidders while TIP-HNA is apparently subject to delays in regulatory approvals?

12. Does ANZ believe that after the lengthy sales process delay and the fact that so much of the UDC secured investment money has been withdrawn, the UDC business is still worth as much as $660 million?

13. Does ANZ have a 'Plan B' if this sale does not proceed as intended?

14. What is that plan?

15. Does ANZ regret not proceeding to a competitive tender process for the UDC business late last year as was apparently originally intended?

16. Does ANZ regret agreeing to sell the UDC business to a company with no previous exposure in New Zealand and also a company that even when the deal was agreed last year was having a lot of questions asked about it so far as where its funding came from?

17. Does ANZ believe that the reputation of UDC has been damaged by this sales process and the delays?

18. Does ANZ fear that failure of this deal to proceed could be damaging for the reputations of either or both of the ANZ and UDC?

19. Would the ANZ now consider retaining UDC ownership long term?

20. Is there anything else you can/would like to add on this issue?
The ANZ's unlikely to answer all those questions when it releases it's annual result. But it would be good if it addresses some. As we get to the end of 2017 the uncertainty around UDC can only increase. This is after all a company still out in the market seeking public funding from investors.
Something appears to have gone wrong with this deal.
Unless magically it can be resolved in the next couple of weeks, ANZ is going to have to start saying something about it.
*This article was first published in our email for paying subscribers early on Friday morning. See here for more details and how to subscribe.