Gareth Vaughan on the essence of a bubble, AI that's smarter than humans, a vile & racist man, trying to follow real estate money from China, the world's first narco-state & more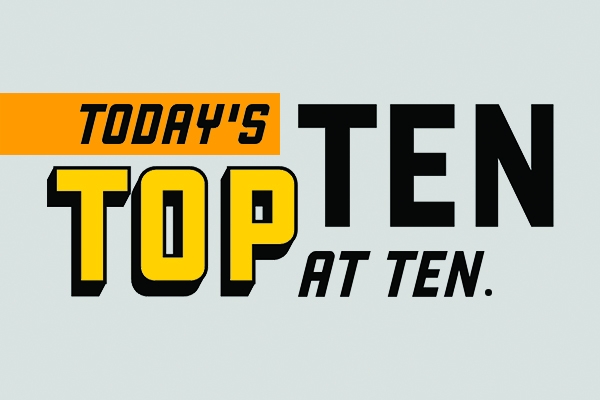 Happy New Year and welcome to this first Top 10 for 2018. This Top 10 is by interest.co.nz's own Gareth Vaughan.
As always, we welcome your additions in the comment stream below or via email to david.chaston@interest.co.nz.
And if you're interested in contributing the occasional Top 10 yourself, contact gareth.vaughan@interest.co.nz.
See all previous Top 10s here.

Two news themes over the summer break have been the fluctuating value of Bitcoin and other cryptocurrencies, and the bizarre world of US President Donald Trump. We'll take a look at both these issues, plus several others, below.
1) "The very essence of a bubble."
At the time of writing Bloomberg has just published an article entitled; Did Bitcoin Just Burst? How It Compares to History's Big Bubbles. The article includes the chart below and was written with the Bitcoin price down 50% from its December 18 high.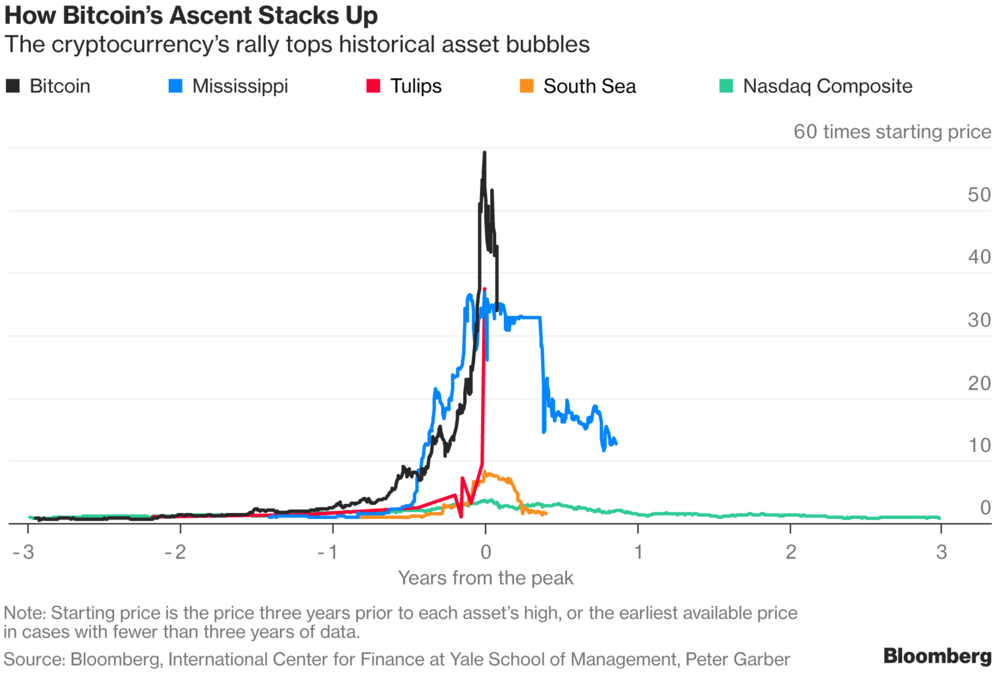 I'm certainly in the camp that Bitcoin, and other cryptocurrencies, are a bubble. And this article from Juha Saarinen reinforces that view.
"Is there any foundation for the rise in Bitcoin's value? Possibly not, as it appears bot trading may have driven the stratospheric rise of Bitcoin," Saarinen writes.
That said, I do believe the blockchain technology behind cryptocurrencies is here to stay and that, in time, some cryptocurrencies will survive a shake-out and probably thrive. 
But, back to Bloomberg.
As the chart shows, the cryptocurrency's nearly 60-fold increase during the past three years was truly extraordinary.

It dwarfed the Nasdaq Composite Index's gain during the headiest days of the 1990s. Going further back, it comfortably outstripped the Mississippi and South Sea bubbles of the 1700s. It even topped the Dutch tulipmania of the 1630s, though that last comparison should be taken with a grain of salt given the scarcity of recorded tulip values. (The chart includes prices for just one varietal; consistent post-peak figures were unavailable.)
The article goes on to quote a serious Bitcoin sceptic.
Howard Wang of New York-based Convoy Investments LLC and Jeremy Grantham of GMO LLC have analyzed Bitcoin's advance relative to past frenzies and concluded that it's unsustainable. Grantham, who helps oversee about $74 billion as GMO's chief investment strategist, summed up his concerns in a Jan. 3 letter to investors: 

"Having no clear fundamental value and largely unregulated markets, coupled with a storyline conducive to delusions of grandeur, makes this more than anything we can find in the history books the very essence of a bubble," he wrote.
And here's a tweet I came across featuring an entertaining Bitcoin chart.
Bitcoin playing out like the classic bubble graph so far. pic.twitter.com/i9v0ssKVuv

— John G Johnston (@jjprojects) January 17, 2018
2) Maersk & IBM working on blockchain-based platform for global trade.
This Reuters article highlights the potential of blockchain. Maersk, the world's biggest container shipping line, is working with IBM in an attempt to create a blockchain-based, industry-wide trading platform.
 Reuters reports that the global shipping industry has seen little innovation since the container was invented in the 1950s, with cross-border trade still creating an enormous trail of paperwork and bureaucracy. 
Success of the platform, which will be made available to the ocean shipping industry around mid-2018, depends on whether Maersk and IBM can convince shippers, freight forwarders, ocean carriers, ports and customs authorities to sign up. 

Blockchain technology powers the digital currency bitcoin and enables data sharing across a network of individual computers. 

It will help manage and track tens of millions of shipping containers globally by digitizing the supply chain process from end to end, the companies said. 

"The big thing that is missing from this industry to digitize and unleash the potential of the technology is really to create a form of utility that brings standards across the entire ecosystem," Maersk's Chief Commercial Officer Vincent Clerc said in an interview. 

A shipment of refrigerated goods from East Africa to Europe can go through nearly 30 people and organizations and involve more than 200 different communications, according to Maersk. Documentation and bureaucracy can be as much as a fifth of the total cost of moving a container. 
Reportedly customs and port authorities in the United States, Singapore, the Netherlands and China's Guangdong province have shown interest in using the blockchain platform.
3) Artificial intelligence that's smarter than humans.
If you're worried that your job's going to be taken by a robot, maybe skip this item and move on to number four below.
For those still reading telecoms.com has a story on the big strides being made by AI, or artificial intelligence, technology. 
Microsoft and Alibaba are the first two firms to officially beat humans using the Stanford Question Answering Dataset, known among researchers as SQuAD.

SQuAD is essentially a reading comprehension test for artificial intelligence algorithms which uses questions based on various Wikipedia entries. University researchers and various businesses around the world can use this test and receive a score to see where their algorithm stands up against the rest of the world.

Over the last couple of days, both Microsoft and Alibaba put their AI up against the team and did very well. Microsoft got a score of 82.650, while Alibaba managed 82.440. Both of these scores beat the human performance of 82.304 for the same test.
So there go the customer services jobs.
This is certainly a positive step forward for the AI world, as while it might seem like a simple test it does demonstrate the potential in customer services. For customer interaction platforms which are text based (as opposed to on the phone), Microsoft and Alibaba have pretty much nailed it. Such scores indicate the human operative can be replaced, in theory, without any negative impact on performance.
Actually maybe not quite yet.
For those who are beginning to look over their shoulder, there are still a couple of hurdles saving our race. Firstly, this is a text system, there will still be millions upon millions of people who will want to actually talk to someone. AI might be able to handle the text interactions, but there will at least be a job for phone operatives for a while. 

Another area is on natural language processing. The majority of these Wikipedia pages will be written in standard, grammatically correct language; this is not necessarily how a customer will interact with a company.
Let's move on from artificial intelligence to the self-proclaimed "very stable genius" that is Donald Trump. Never out of the news for long, the summer holiday period has seen as many Trump stories as ever.
Where to start? There has been the furore around Fire and Fury, Michael Wolff's book on Trump's White House. There's the news Trump's former chief strategist Steve Bannon has been subpoenaed by special counsel Robert Mueller to testify as part of an investigation into links between Trump's associates and Russia. At the time of writing tales of an alleged affair between Trump and a porn star were emerging.
And, of course, there are Trump's comments and tweets, including the "my button's bigger than your's" tweet and the "shithole countries" comment.
DCReport's Terry H. Schwadron sees a case of foot in mouth.
In an instant, Trump showed himself a contemptible public figure, and the source of making America the "laughingstock" he has been accusing investigators of all-things-Russia of having created. In an instant, he threw efforts to address immigration issues, a most serious issue, into a much more complicated pot for resolution.

And in an instant, he has inflamed people of color, Democrats and even Republicans who believe in humanism. After a week of trying to push back against terrible personal attacks against him from the Michael Wolff book that quoted the people around him, Trump has struck again with the worst blow—out of his own mouth.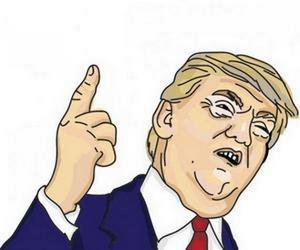 5) Censure Trump for "conduct unbecoming" of a President.
At the Daily Beast Jonathan Alter has had enough of Trump.
The best short-term remedy is censure by both Houses of Congress, a move that would begin the essential process of checking Trump. 

Andrew Jackson—whose painting Steve Bannon told Trump to hang in the Oval Office—is the only president ever censured (for not turning over certain bank documents). Senator Joe McCarthy was censured in 1954 for dishonoring the Senate with his anti-Communist character assassination, which was engineered by Trump's mentor, Roy Cohn. Censure is what I and a lot of other people argued was the right punishment for Bill Clinton in the Monica Lewinsky case. It wasn't enough for Republicans who backed impeachment—some of the same Republicans (I'm looking at you, Orrin Hatch) who today think Trump is "one of the best" presidents.
Censuring Trump would require some bipartisanship, with such a move unlikely to attract enough backing from Republicans. But Alter reckons it should be done in military terms.
 All senior U.S. military personnel—including women— are subject to a court martial for "conduct unbecoming an officer and a gentleman." Such conduct includes dishonest, indecent, cruel and dishonorable acts. Article 133 [of the Uniform Code of Military Justice] charges require no proof of law-breaking. They can be brought for merely "indecorous" behavior, which means acting like an asinine ignoramus. 

If the commander in chief were down a few rungs in the chain of command, he would have been court-martialed months ago for "conduct unbecoming," just as President Clinton would have been court-martialed in 1998 for having sex with a White House intern. It goes without saying that if either president were a mere CEO of a publicly traded corporation, he would have been tossed out on his ear.
Meanwhile, from the horse's mouth...
....Actually, throughout my life, my two greatest assets have been mental stability and being, like, really smart. Crooked Hillary Clinton also played these cards very hard and, as everyone knows, went down in flames. I went from VERY successful businessman, to top T.V. Star.....

— Donald J. Trump (@realDonaldTrump) January 6, 2018
....to President of the United States (on my first try). I think that would qualify as not smart, but genius....and a very stable genius at that!

— Donald J. Trump (@realDonaldTrump) January 6, 2018
6) Attempting to follow the real estate money from China.
For those of us interested in Chinese influence on the Auckland housing market over recent years, this Ian Mulgrew article in the Vancouver Sun is compulsory reading.
It centres on a court case between two wealthy Chinese immigrant families - the Fu family and the Xia family - who fell out over three multi-million homes on Vancouver's west side. The detail is fascinating.
According to the [court] ruling, there were some 174 transactions between the two families during the years in question in both countries, money was loaned in one country and repaid in another, some transactions used false beneficiaries and information about the true source of funds was falsified. 

Justice Griffin said the families agreed it best to structure the transactions in ways that disguised true ownership, "just as they often did when buying properties in China." 

The Fu family used their employees to transfer lump sums just under the personal restriction on transferring more than $50,000 out of China to avoid detection. They transferred almost $1 million in Sept. and Oct. 2012 this way. 

The parties acknowledged that steps were taken to evade Chinese currency controls, minimize taxes, obtain a favourable mortgage, evade Chinese restrictions on the number of properties a person could own or otherwise gain an economic leg-up, Justice Griffin said. 

"The parties admit that their intentions in their dealings were oral and not written and it seemed to me from the evidence that at times the intentions were not even stated but implied," she added. 

Although the justice didn't address it, the duplicitous practices acknowledged by the families are often the badges of money-laundering and created a screen that prevented financial and real-estate regulators from knowing what was truly happening.
7) The Paradise Papers rumble on.
The news flow from the Paradise Papers leak, including from law firm Appleby and trust company Asiaciti, may have slowed but it continues. And I hear some NZ journalists may be getting access to them. So expect news of high profile Kiwis featuring in the Paradise Papers, and it'll be no surprise if some curious NZ foreign trusts also emerge. (See my previous Top 10 on the Paradise Papers here).
In the meantime the International Consortium of Investigative Journalists still has its guns trained on the offshore finance industry.
The offshore industry is a sprawling behemoth so secretive its very size can only be guessed and yet understood to be so large as to distort the global economy. A conservative estimate finds that at least $8.7 trillion, 11.5 percent of the world's wealth, is hidden offshore, diverting billions from strapped national governments to the accounts of powerful corporations and individuals. They, in turn, use their power to further rig the global tax game at the expense of everyone else.

About 63 percent of U.S. multinationals' foreign profits are held offshore, the main reason that effective U.S. corporate tax rates were already relatively low before the new tax law lowered them further. About 10 percent of Europe's total wealth is now offshore, along with almost one-third of Africa's and fully half of Russia's.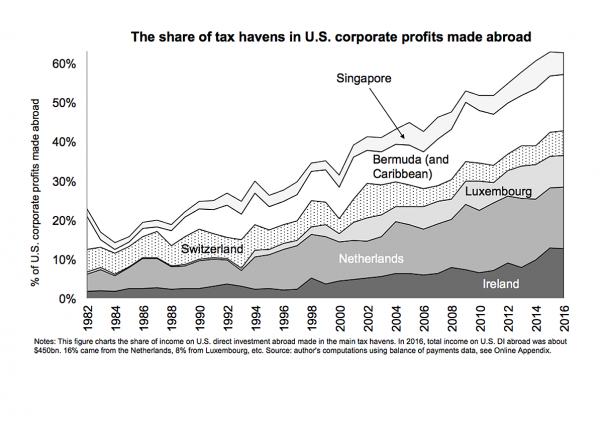 This week's Apple's announcement is worth noting here. The tech titan says it plans to repatriate profits to the US that will see it pay tax of US$38 billion and contribute US$350 billion to the US economy over five years with capital spending and job creation. This has sparked debate over how much credit Trump and his fellow Republicans can claim for Apple's move following their recently announced tax cuts.
8) "Gone are the days when we would be inundated with students who want to go into banking."
The Financial Times reports that banks are losing out to technology companies in the competition to lure MBA graduates. Apparently today's graduates want something that "has meaning and purpose" and quality of life, rather than just a fat pay packet.
Investment banking has lost its business school chic. Finance was the most popular career choice for MBA graduates in 2009, by 2016 it had been replaced by consulting jobs and marketing roles in other companies, according to data compiled by the Graduate Management Admission Council.

Amazon, Google and Microsoft have arrived in force on campuses, and now vacuum up the talent at many leading business schools. Big Tech made the largest group of student hires from Mr Scauzillo's year at MIP.

The biggest recruiter at Duke University's Fuqua School of Business this year was Amazon. The US school's top 10 hirers consisted entirely of tech companies and management consultancies.

"Banks still hire people but they have to up their game," Bill Boulding, dean of Fuqua, says.

"If you are going to attract the current generation of students you have to give them something that has meaning and purpose, not just the opportunity to make a lot of money." 
9) The world's first true narco-state.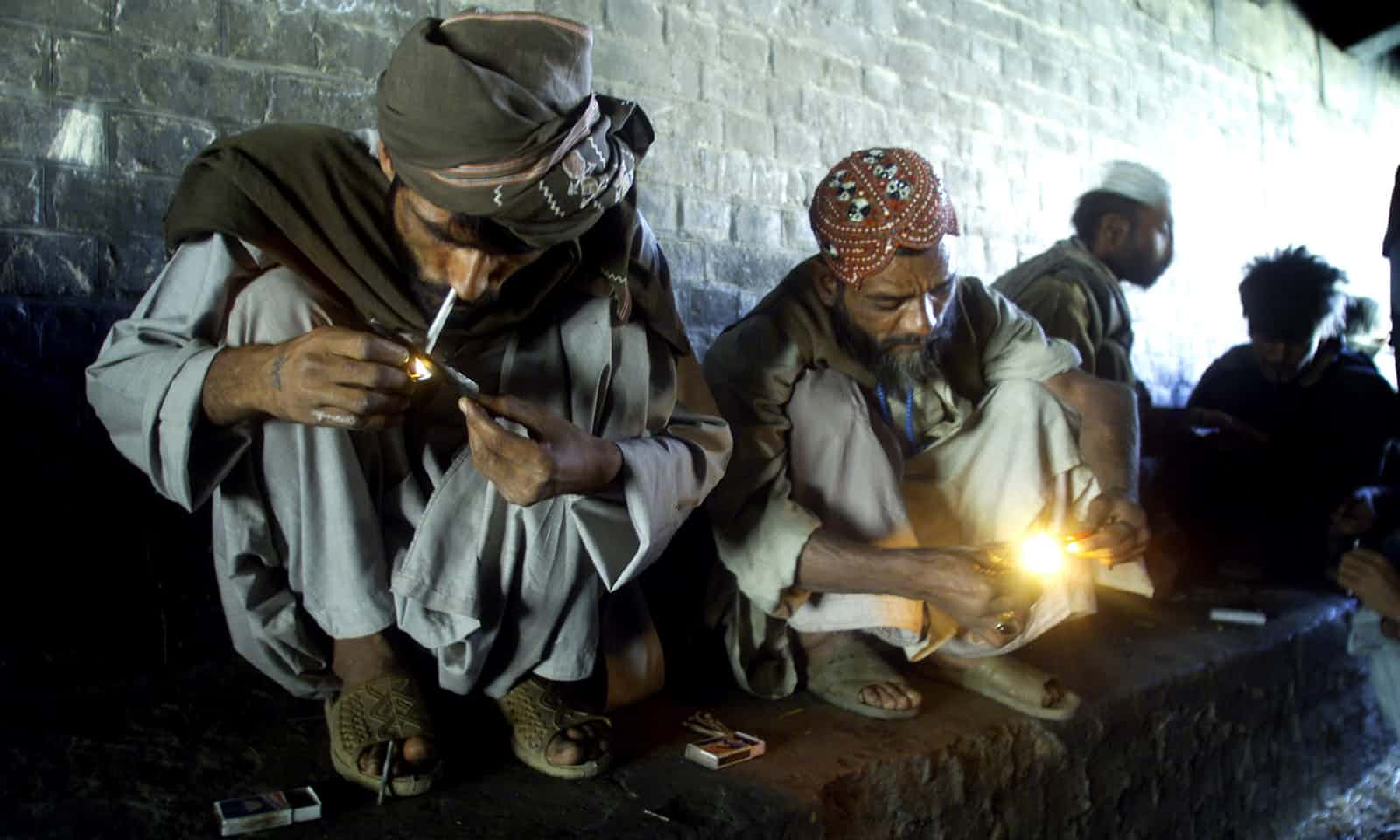 In The Guardian Alfred W McCoy takes an in-depth look at the sad tale of Afghanistan over the past few decades. McCoy notes US intervention since the 1979 Soviet invasion has failed with "Washington's massive military juggernaut" halted "by a small pink flower - the opium poppy."
This, he argues, has created the world's first true narco-state, a country where illicit drugs dominate the economy, define political choices and determine the fate of foreign interventions. 
Throughout its three decades in Afghanistan, Washington's military operations have succeeded only when they fit reasonably comfortably into central Asia's illicit traffic in opium – and suffered when they failed to complement it. 

Despite almost continuous combat since the invasion of October 2001, pacification efforts have failed to curtail the Taliban insurgency, largely because the US simply could not control the swelling surplus from the country's heroin trade. Its opium production surged from around 180 tonnes in 2001 to more than 3,000 tonnes a year after the invasion, and to more than 8,000 by 2007. Every spring, the opium harvest fills the Taliban's coffers once again, funding wages for a new crop of guerrilla fighters. 

To an extent not generally appreciated, Afghanistan had, for two full decades, devoted a growing share of its resources – capital, land, water and labour – to the production of opium and heroin. By the time the Taliban banned cultivation, its agriculture had become little more than an opium monocrop. The drug trade accounted for most of its tax revenues, much of its export income, and a significant share of its employment. 

The failure of America's intervention in Afghanistan offers broader insight into the limits to its global power. The persistence of both opium cultivation and the Taliban insurgency suggest the degree to which the policies that Washington has imposed upon Afghanistan since 2001 have reached a dead end. 

After 16 years of continuous warfare, Washington is faced with the same choice it had back in 2010, when Obama's generals airlifted those marines into Marja. Just as it has been over the past decade and a half, the US can remain trapped in the same endless cycle. As snow melts from the mountain slopes and poppy plants rise from the soil every spring, there will be a new batch of teenage recruits from impoverished villages ready to fight for the rebel cause. 
Despite the grim picture he paints, McCoy does offer a way out.
Even for this troubled land and its dauntingly complex policy problem, however, there are alternatives. Investing even a small portion of all that misspent military funding in the country's agriculture can produce more economic options for the millions of farmers who depend upon the opium crop for employment.

Ruined orchards could be rebuilt, ravaged flocks repopulated, wasted seed stocks regrown and wrecked snow-melt irrigation systems – which once sustained a diverse agriculture before these decades of war – repaired. If the international community continues to nudge the country's dependence on illicit opium downward through sustained rural development, then maybe Afghanistan will cease to be the planet's leading narco-state – and just maybe the annual cycle of violence could at long last be broken.
10) "Our cry against man's inhumanity to man, and man's inhumanity to child." RIP Dolores O'Riordan.
Dolores O'Riordan, singer and songwriter from Irish band the Cranberries, sadly died this week aged just 46. Zombie, probably the band's best known song, is very powerful and moving. It features in the video below.
The BBC published a story this week about the song's roots, featuring quotes from O'Riordan. Zombie was written in response to the killing of two children in an IRA bombing in England, three-year-old Johnathan Ball and 12-year-old Tim Parry.
O'Riordan, who was on tour at the time, found herself deeply affected by the tragedy.

"I remember seeing one of the mothers on television, just devastated," she told Vox magazine in 1994.

"I felt so sad for her, that she'd carried him for nine months, been through all the morning sickness, the whole thing and some… prick, some airhead who thought he was making a point, did that."

The singer was particularly offended that terrorists claimed to have carried out these acts in the name of Ireland.

"The IRA are not me. I'm not the IRA," she said. "The Cranberries are not the IRA. My family are not.

"When it says in the song, 'It's not me, it's not my family,' that's what I'm saying. It's not Ireland, it's some idiots living in the past.
O'Riordan described the song as "our cry against man's inhumanity to man, and man's inhumanity to child."
O'Riordan's lyrics received some criticism at the time. People called her naive and accused her of taking sides in a conflict she didn't understand.

"I don't care whether it's Protestant or Catholic, I care about the fact that innocent people are being harmed," she told Vox. "That's what provoked me to write the song."