It has taken a while but tensions are finally starting to show within the parties that form the Government. Jason Walls argues Andrew Little put it best: 'This is just coalition government'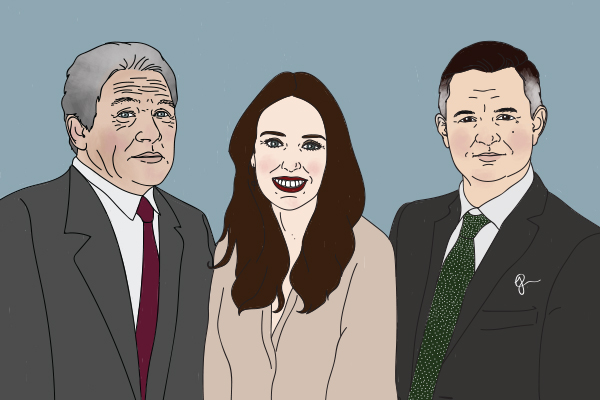 By Jason Walls
It took eight months for the first proper test of this MMP Government to play out – and it did so in spectacular fashion.
This week has seen both the Greens and New Zealand First disagreeing publicly with Labour over key government policies.
NZ First Leader Winston Peters got the ball rolling on Monday after Justice Minister Andrew Little revealed he would not be going before Cabinet to get an endorsement for repealing the three-strikes law.
The reason? "New Zealand First have indicated they would be unlikely to support it."
"This is just Coalition Government," Little said, several times when speaking to press.
His boss, Prime Minister Jacinda Ardern, echoed his comments just hours later.
The next day, it was the Greens' turn.
Land Information Minister, and Green MP, Eugenie Sage and Associate Finance Minister David Clark announced a Chinese bottling company had been given Government approval to purchase a spring in the Bay of Plenty to export a billion litres of drinking water a year.
According to Stuff, Green Party members were furious with the decision.
And rightly so. Before the election, the party had a policy to ban any new water bottling consents, to impose levies on water exports and more concretely respect Treaty of Waitangi water rights.
Greens Co-Leader Marama Davidson was clear in her opposition – "we don't like it," she said.
"The Minister (Sage) was constrained by a flawed law which says we're unable to take environmental and treaty decisions into account. This decision does not sit with Green Kaupapa and longstanding Green Party positions," she said.
Taking these two issues on their own is problematic enough for the Prime Minister.
But add in the fact Peters is suing his own Government for almost half a million dollars and is doing so just as Ardern goes on maternity leave, it's nothing short of a nightmare for the Government.
But that's just MMP
The events of this week were seemingly dramatic, especially after all three parties have been playing nice since the Government was formed.
In April, I wrote about how the Coalition had yet to be fractured and, at least in front of the cameras, Peters, Ardern and James Shaw & Davidson were presenting a united front.
But it was inevitable there would eventually be public tension, especially in a Government where Peters is the lynch pin.
The events of this week should not have been unexpected, however, as this is simply how MMP governments work.
Over the nine years National was in power it faced some similar issues with its partners. However, given the significant difference in Coalition partner sizes, it didn't dominate headlines as much.
In other countries with MMP, this sort of behaviour is all part and parcel of the system.
And people are used to it. In Germany, which adopted the MMP system shortly after World War II, it's reasonably common for coalition partners to be critical of one another.  
But the MMP system of government has only been around for 20 years in New Zealand and many people still have a first past the post mindset.
It is likely to take many more years before displays, like the ones this week, become a monotony and not a spectical.
But if any government is going to help kiwis understand our own system of democracy, it's this one.
Andrew Little, had it right: "This is just coalition government."