Jason Walls says NZ business leaders should take a look at what's going on with our allies before filling in their confidence surveys as political turbulence engulfs Australia & the US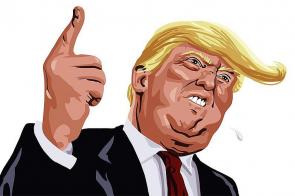 By Jason Walls
Don't tell my editor, but I have spent much of my working week glued to the TV.
Just inches from my desk, I have been watching the Australian Government crumble and the US President's Administration fall (even further) into chaos.
At 5pm on Thursday, my thumb was throbbing from switching between Sky News Australia and CNN.
It was thrilling TV and there was not much of anything going on in New Zealand's Parliament.
In case you've been living under a rock, here is a quick overview of what has been going on.
Australia: Then- Prime Minister Malcolm Turnbull backtracked on key energy policies – this frustrated some of his MPs.
On Tuesday, Turnbull called for a Liberal Party leadership ballot. He won, winning 45 votes to challenger Peter Dutton's 38.
But Dutton was not done. On Thursday, he called for another vote believing he now had the numbers. Turnbull told media if another leadership vote was called, he would resign as leader.
A vote was triggered on Friday, Scott Morrison won and Turnbull resigned.
US: Boy, where to start.
It has been called the most turbulent week in Donald Trump's Presidency so far – and that is truly saying something.
This week, two of Trump's closest former advisors (Michael Cohen, the President's former personal lawyer and Paul Manafort, his campaign manager until August 2016) were both convicted in separate court cases within minutes of each other.
Manafort was found guilty of tax fraud and Cohen admitted to paying off two women claiming to have had affairs with Trump, and he implicated Trump in the process.
It has been a huge week for two of New Zealand's closest allies.
By contrast, it has been boring here. And I used the phrase "boring" through the lens of a journalist covering Parliament.
Others, including investors, would call it "stable."
NZ's political system is boringly stable, right now
At times like these, it is important to take a closer look at New Zealand's political system.
Sure, the Coalition Government is having the odd issue here and there (see Waka jumping bill), but broadly everything is fine.
From a financial standpoint, that's a good thing.
Markets crave stability and certainty – New Zealand's political environment delivers both and then some.
In its assessment of New Zealand's economy in April, Moody's pointed out the country's stable political environment was one of the major factors in its Aaa credit rating.
S&P has a similar outlook.
It's at times like these, where the rest of the world looks so volatile and New Zealand looks so calm, it's worth reflecting on business confidence.
There is no question this has been a thorn in the side of this Government, with Finance Minister Grant Robertson continually having to defend the Coalition every month when a new survey is released.
It is important to note that the plummeting confidence levels are not solely due to the Labour-led Government.
We're coming to the end of an economic cycle and international issues continue to keep markets on edge.
Sure, some businesses are worried about some of the Government's policies around industrial relations and the like.
But compare what's going on in New Zealand to Aussie and the US, and the political environment couldn't be more boringly stable.
On Thursday, ANZ will release its monthly business confidence index.
How much overseas political noise will be picked up in the survey is unclear.
But my advice to those filling out the forms is pretty simple; keep your eyes glued to the TV because we have it a hell of a lot better than most of our closest friends.