Rodney Dickens finds the council-controlled subdivision process, the RMA and increasing infrastructure costs directly contribute to high section prices, and these processes give cover for gouging by developers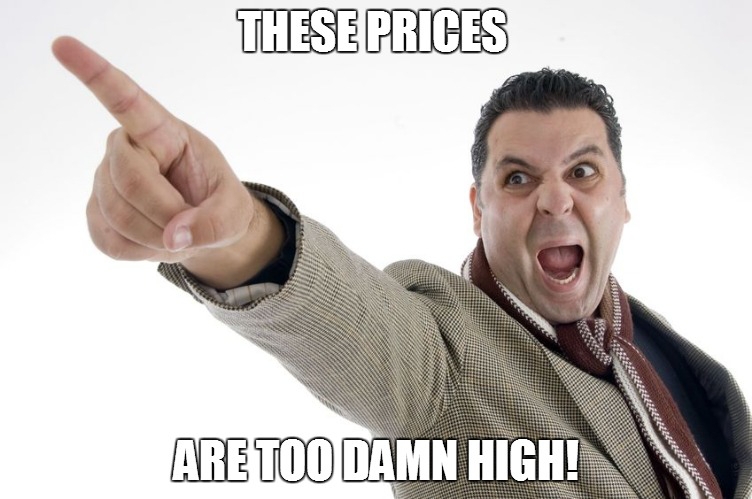 This Raving follows on from the previous one that criticised the government for not doing enough to get down section prices; with high section prices at the heart of the housing affordability problem.
I asked clients, contacts and other recipients of the Ravings for insights into why section prices have increased massively in the likes of Auckland, Hamilton, Tauranga and Queenstown over the last two decades. I thank the numerous people who supplied insights that identified a range of factors that have contributed to the surge in section prices.
The main problems are a slow, expensive supply response in periods of strong demand for new housing and downwardly sticky section/land prices in periods of weak demand. The council-controlled subdivision process, the RMA and increasing infrastructure costs directly contribute to high section prices. More so, the first two and insufficient new infrastructure to facilitate development give land owners that can include developers/builders excessive pricing power (i.e. they facilitate price "gouging"). They also contribute to section prices not falling much in weak markets.
In my assessment the slow, expensive and often torturous process developer have to endure is the single largest factor behind the massive increase in section prices in Auckland over the last 20 years. It is a similar story in the likes of Hamilton, Tauranga and Queenstown aided by Aucklanders looking for more affordable new housing and Auckland investors spreading the problem to other markets.
The government's Urban Development Authority is one possible response to the problem but it may not be a full response or the best one.
The combination of low interest rates and high net migration drove demand booms
A problem in NZ in the last two decades has been the Reserve Bank allowing low interest rates when there have been large net inflows of people from overseas (chart below). This mix drives booms in demand for sections that are aided by increased buying by investors who are encouraged by low interest rates and the prospect of capital gains.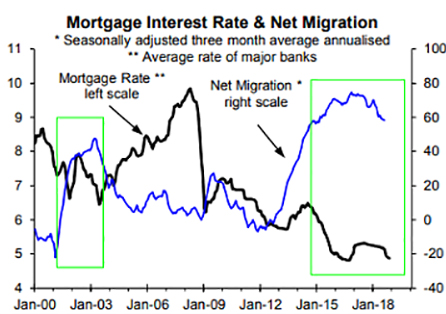 However, lots of products will have experienced high demand as a result of low interest rates and above average population growth in the mid-2000s and again this decade; but most didn't experience massive price increases. For example, the large property price increases and economic affluence that resulted from the last two periods of low interest rates and high net migration will have boosted demand for restaurant meals, but the cost of restaurant meals hasn't behaved anything like Auckland section prices (next chart).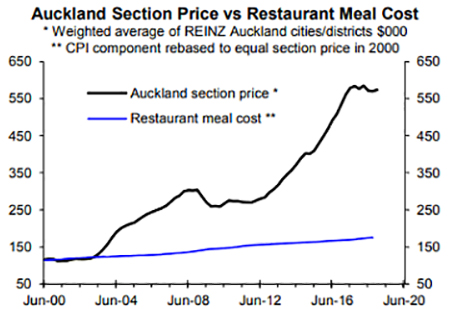 There will have been some differences in how demand has behaved on the section and restaurant meals markets but much more important has been different supply behaviour and different factors impacting on the cost of new supply. The restaurant meal market appears to have a health supply response to periods of strong demand.
In parts of the country and especially the likes of Hamilton, Tauranga and Whangarei part of the demand story is an inflow of Aucklanders and investors from Auckland bidding up local prices. However, the large increases in section prices still largely reflect the same supply factors that have contributed to the huge increase in Auckland section prices (i.e. a slow and expensive supply response to increased demand is also the largest problem in the likes of Hamilton and Tauranga).
We have only collected section for sale listings on www.realestate.co.nz since 2007 but the fall in listings in response to the latest boom in demand gives some indication of the insufficient supply response (chart below). The fall in for sale listings partly reflects a falling share of sections consumed in building being sold via real estate agents. But even allowing for this qualification the chart is still of use. An insufficient supply response to the boom in demand is a major part of the problem.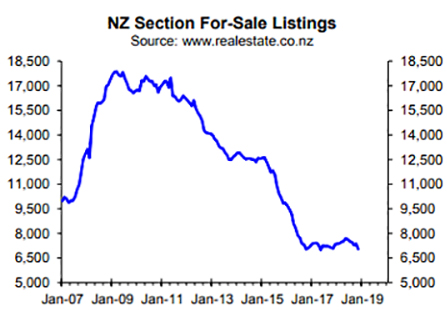 The factors that have inhibited the supply response have also contributing to new sections having much higher prices than those consumed in building. This is illustrated by the next chart that shows Bay of Plenty listing by asking price brackets.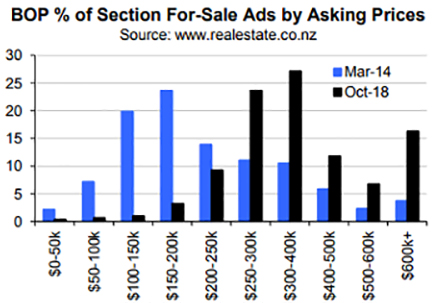 In March 2014 53% of BOP listings had asking prices of $200,000 or less while by October 2018 this had fallen to 5%. This was the result of the cheaper sections being consumed in building and over time being replaced by much more expensive new sections.
The problem is partly a slow response of supply to higher demand that has allowed suppliers to ask higher prices. The problem has continued because of ongoing impediments to supply responding to demand that has facilitated price "gouging" and rising development costs.
Slow, expensive supply response is the main reason for super high section prices
The following insights are based on the feedback received from a number of people. In many cases the comments are quotes. A number of factors have contributed to the increase in section prices but it seems the largest problem is that the councilcontrolled subdivision process, the RMA and not enough new infrastructure have given land owners and in some cases developers/builders excessive pricing power (i.e. there is price "gouging" that adds lots to section prices).
Some examples of what looks like price "gouging" were supplied with gouging possible because of the factors behind the slow and expensive process of bringing new supply to the market.
In one major urban centre raw land costs were said to have escalated from about $700,000 per hectare five years ago to around $2.2–2.6m per hectare now. Land owners were said to do the math and take the developers' margin upfront. At 12 sections per hectare the raw land cost went up from just over $58,000 per section to $180,000-220,000 while section prices were said to have increased from around $180,000 to $400,000-470,000.
In a smaller but still significant urban centre it was reported that sections were rated for development contributions based on prices of $220,000-260,000 but ended up priced at $320,000-360,000 despite no apparent reason for the increase. This fits with another example of the developer rather than the land owner price gouging.
In Auckland the main problem appears to be land owners taking advantage of the situation created by the slow and expensive process of getting new subdivisions and brownfield projects to the market. Wealthy individuals and companies with strong balance sheets are reported to have bought up land for future development and to be only drip feeding it onto the market. This is partly possible because of poor existing and insufficient new infrastructure which means a slow increase of section supply even in well signalled, growing urban limits.
The following are the sorts of mainly council-related issues pointed out by respondents:
• Council's don't plan sufficiently for growth and there is insufficient infrastructure to accommodate growth so section prices surge when demand increases.
• The RMA hugely slows down how quickly development can occur and adds to the cost of development.
• A shortage of residentially zoned land in some places because councils have very conservative, environmentally-minded and inexperienced staff.
• A complex and drawn out process of consulting with councils (can be local and regional), NZTA or other transport agencies and Iwi that greatly adds to the time and cost of development.
• Some councils are heavy handed, veer on the 'safe side' and put so many conditions on developments that often by the time consent has been processed the cost of complying with the conditions means that it is unviable.
• Some council planning officers can be uncooperative and treat developers as the enemy instead of trying to assist and progress applications.
• This occupation was said to draw young people with a fierce environmental bent. They want to save the world and feel they can make their mark by opposing any new development which may pose any risk or change the current environment in any way. They achieve this by writing very negative reports and imposing so many onerous and punitive conditions on consents that many developments become uneconomic.
• Competent planners are often snapped up by private companies leaving councils with inexperienced staff who too often have an unhelpful environmental bent. Time means nothing to them and when you complain or ask for progress they often put you on the bottom of the pile and there is nothing you can do to get things moving.
• A lack of trained council staff, being given incorrect information and costings then having the costings arbitrarily changed (i.e. increased).
• Protracted negotiations with NZTA or the Auckland Transport authority with regular revisions of what they require.
• Protracted consultative process that allows those opposed to any development lots of opportunity to oppose it while most of those in favour of it don't make submissions.
• Increasing development contributions.
• Rising cost of water infrastructure.
• One person pointed out that GST added a huge amount to section prices especially now they are high (e.g. $75,000 to a section for which the pre-GST price is $500,000).
Downwardly sticky section prices when demand falls due to supply constraints
Auckland section prices fell as a result of the 2008/09 downturn in demand but they remained high compared to prices in general (chart below that is repeated from page 2). And now section prices are so high compared to prices in general even a severe downturn like that experience in 2008-09 wouldn't fix the problem.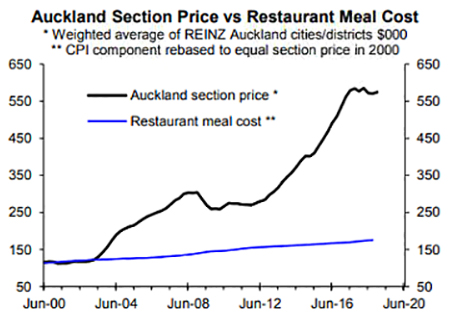 The slow, expensive development process plays a part in the downwardly sticky behaviour of section prices. Developers who have paid high raw land costs and still face high development costs won't rush to cut section prices because doing so would make them fail. The same is true for building companies that own much of the existing section stock in the likes of Auckland and increasingly in the likes of Hamilton and Tauranga. Land owners don't rush to cut asking prices for land because most can survive downturns and it makes more sense to withhold supply to try and support prices and to wait for demand to improve.
Equally, the large increase in supply of sections in Auckland that resulted from 154 Special Housing Areas hasn't resulted in lower section prices; it didn't even stop huge increases in section prices. It did nothing to solve the problems around rising fees faced by developers and price gouging even if it did speed up development and slightly reduce costs.
Two case studies give some insight into the extent of the problem in Auckland
In 2009 a reasonably standard subdivision in Albany was offering sections mainly sized from 540-700 sqm for $300,000-375,000 (i.e. around $600 per sqm). Today I found nine sections for sale in Albany in one development with sizes of 118-264 sqm and asking prices of $382,500-$534,400 (i.e. most over $2,000 per sqm). Albany isn't such a good case study because to some extent it has been built out, but it is still broadly reflective.
In Manuwera in 2009 there were sections for sale with sizes of 430-652 sqm for $150,000-320,000 while now the two for sale with asking prices on www.realestate.co.nz were 448 sqm with an asking price of $419,000 and 449 sqm with an asking price of $479,000. This is a better example.
Rising infrastructure costs, increased council fees, a more drawn-out and more expensive approval process and general inflation have contributed to the huge increase in section prices shown the two case studies and in the adjacent chart. But the largest factor appears to be that the slow council subdivision process, the RMA and insufficient infrastructure via enabling price gouging. As one person put it, the system is broken.
The solution seems to be straight forward:
• Allow developers to buy land in areas where prices aren't already inflated.
• Support this with a new approach to building and funding infrastructure like the MUD model in Texas.
• Adopt a much quicker and less expensive approval and development process including a process staffed by experienced, balancedminded people.
The Urban Development Authority being set up by the government will overcome some of the problems outlined above but it won't fix all of them. I am concerned that the UDA will focus too much on brownfield development and not enough on clearing the roadblocks to greenfield development that will be required if major progress is to be made in getting down section prices and fixing the new housing affordability problem.