A battle for the conservatives: How National is using drug reform and migration to cut NZ First's lunch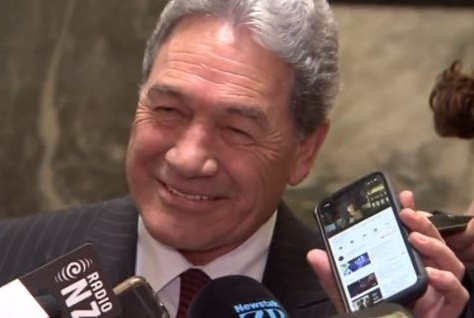 By Jenée Tibshraeny
Winston Peters strikes me as the kind of guy who's mastered the art of ensuring he's the giver, not the receiver, of headaches. 
Some of his Labour/Greens colleagues might say "migraines" is a more appropriate description, but that's a different story...
During the height of the Jami-Lee Ross saga in October, Peters hit peak-smirk when he played a scrum of journalists the song, 'Burning Bridges,' by Mike Curb Congregation.
In another theatrical display of headache-distribution aimed at Simon Bridges, he in July mocked his accent in the House before calling him a "joke".  
Peters was the kingpin while Jacinda Ardern was on maternity leave. While he struggled to remain "prime ministerial" towards the end of his stint, his presence in the House was so large it dwarfed even Gerry Brownlee's attempts to knock him in order.
Fast-forward a few months and Peters should be wary Bridges is out to give him a potentially debilitating headache.
Bridges is a long way off sassing Peters in the House or in front of the media, but he's nipping away at New Zealand First's support base.
He is beelining for the conservative vote.
National's lack of attempts (at this stage) to solidify friendships, make new friends, or create new friends, indicates it's aiming to win the next election on its own, or with that Act Epsom seat.
So where does it take votes from?
Anyone so blinded by the word "tax" they struggle to see what's happening outside the four walls of their house? YES!
The Grey Lynn greenies who can afford to eat organic and spend time tending to their compost because of their corporate jobs? The numbers aren't that huge, but there's potential here.
People worried about more migrants blocking motorways, or half-baked youths dragging themselves off the couch to commit violent crimes or find P dealers? YES!
There's nothing (other than housing) that strikes more of a chord with your average voter than migration, law and order.
Peters knows this. But needs to rein it in and toe the Government's line to stay in government.
His characteristic, mid-electoral cycle drop in the polls reflects his good behaviour… And an opportunity for National.
There are two ways it has seized this opportunity:
By creating a new role – a spokesperson for Drug Reform – ahead of the binding referendum on cannabis legalisation at the next election.
By scaremongering further to New Zealand signing up to the non-binding UN Migration Compact.
Drugs
While the Drug Reform spokesperson job has been given to Paula Bennett – a Westie who's down with the people, so can supposedly view drugs as more than just a law and order issue – National's clearly drawn up the battle lines.
Watch this TVNZ interview with Bennett and the Green Party's Chlöe Swarbrick.
Swarbrick sets Bennett up by commending her for acknowledging that drugs are a health issue, and highlighting the common ground she shares with the Greens.
But Bennett bites: "We do have some fundamental differences.
"I have some real issues with the number of drugs coming over our borders. I believe that we should be increasing the numbers of drug detection dogs in our ports, I believe that we should be going through our containers more than what we currently do.
"I think that we should be much tougher on gangs that do make a huge amount of money. It suits them to get young people addicted earlier. There's a whole education component to this. I do believe in law and order."
Bennett coats her argument with a whole lot of liberal talk that I haven't quoted, but her underlying message is clear – drug dealers are "scoundrels" that we need to be "coming down incredibly hard on".
Migration 
Now to the second way National is dipping into conservative NZ First territory – its campaign against the Government signing a UN migration pact that's non-binding.
Countries sign meaningless agreements by way of virtue all the time. 
If you want your country to be part of the "international community," get air time at the likes Davos, and ultimately secure trade agreements, this is just something you need to do. 
Whatever is in the pact is not going to require every member country to give up their sovereignty and let someone in Geneva tell them how many migrants they need to allow into their country every year. 
National's harping on about this is nothing but an attempt to use fear to pull out the red neck in people; or should I say, NZ First voters.
The irony of course is that National is using migration to do so, having not so long ago relied on what to pump up the economy? Oh yes, unprecedented numbers of migrants.
There's still a lot of water to go under the bridge before the election. But for now, Peters best beware of Bridges... or maybe Judith Collins.
The question is, will the political gems Peters is undoubtedly stashing away be sparkly enough to entice the strays back to his camp in 2020?