Personal Finance
/
news
Institute of International Finance cautions on hidden debt in emerging markets as global debt hits new highs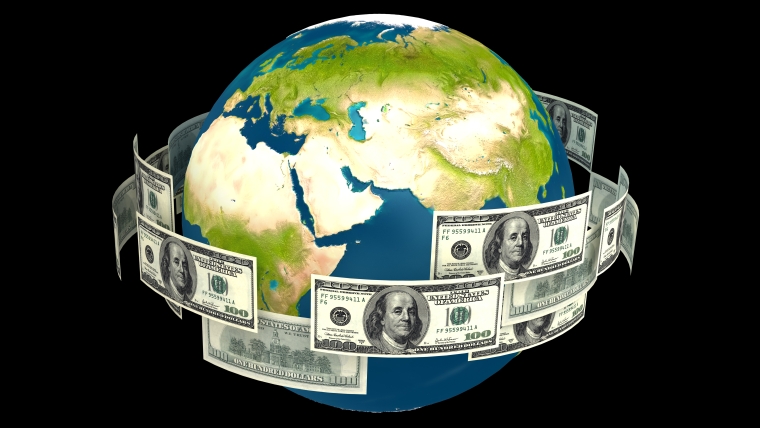 Global debt rose US$3.3 trillion to a new record high of more than US$305 trillion in the first quarter of 2022 driven by China and the United States, the Institute of International Finance's latest Global Debt Monitor shows.
In the latest edition of its quarterly debt monitor the Washington DC based Institute of International Finance, which describes itself as the global association of the financial industry, cautions about hidden debt in emerging markets.
In terms of the overall debt growth, this is largely due to increases in China of US$2.5 trillion and the US of US$1.8 trillion. Corporate debt excluding financials and general government borrowing rose, with debt outside the financial sector now above US$236 trillion. That's an increase of nearly US$40 trillion since the onset of the Covid-19 pandemic.
Emerging market debt is now approaching a record US$100 trillion.
"While levels of debt and debt tolerance differ significantly across emerging market countries and sectors, the sharp rise in emerging market government debt levels has put debt transparency in the spotlight. The lack of timely disclosure of public debt obligations, very limited coverage of contingent liabilities, including SOE liabilities, and the extensive use of confidentiality clauses are the major impediments causing information asymmetries between creditors and debtors," the Institute of International Finance says.
"This lack of transparency often means higher borrowing costs and limited access to private capital markets for emerging market borrowers. While enhancing transaction-level debt disclosure practices will increase borrowers' creditworthiness, it will also significantly improve debt sustainability and cut the time it takes to resolve debt restructurings when they become unavoidable."
The Institute of International Finance also points out that a sharp reversal in global risk appetite amid higher borrowing costs, plus uncertainty about the full consequences of the Russian invasion of Ukraine, has seen a slowdown in ESG (Environmental, Social, and Governance) debt issuance.
"However, the growing focus on energy independence should accelerate efforts to scale up climate finance, supporting the development of climate and more broadly ESG debt markets going forward."
The Global Debt Monitor shows that non-financial firms have taken on more than US$14 trillion of new debt since 2019, bringing total non-financial corporate debt to over US$90 trillion.
"While very large cash holdings of publicly listed firms provide a buffer against adverse shocks, rising debt levels have increased the sensitivity of corporate balance sheets to soaring interest rates. Rising financing costs, coupled with heightened geopolitical risks, have erased more than US$16 trillion from the value of global equities year-to-date," the Institute of International Finance says.
"Despite some correction in recent months, equity valuations are still stretched in mature markets and corporate earnings estimates remain largely upbeat. However, around one-third of small-sized firms in mature markets are now facing difficulty covering interest expenses, making it particularly challenging for central banks to engineer a soft landing this time around."
Government debt is up 14 percentage points, or US$17.4 trillion, to 103% of Gross Domestic Product since the start of the pandemic.
"With government financing needs still running well-above the pre-pandemic levels, higher and more volatile commodity prices could force some countries to increase public spending even further to ward off social unrest, especially if economic growth is lower than expected. This might be particularly difficult for emerging markets that have less fiscal space as interest expense rises."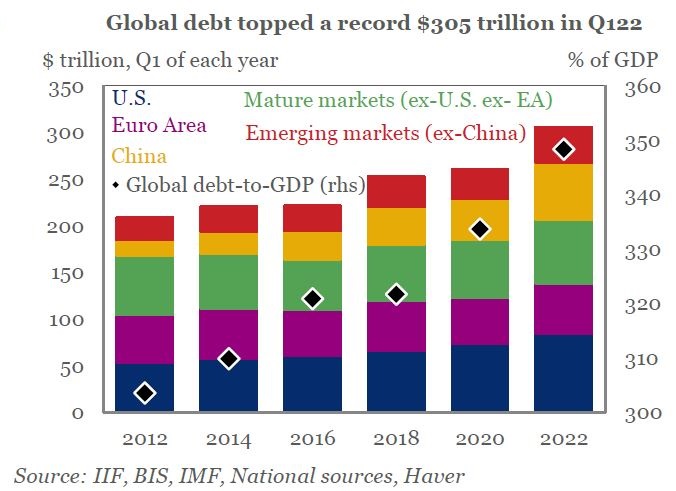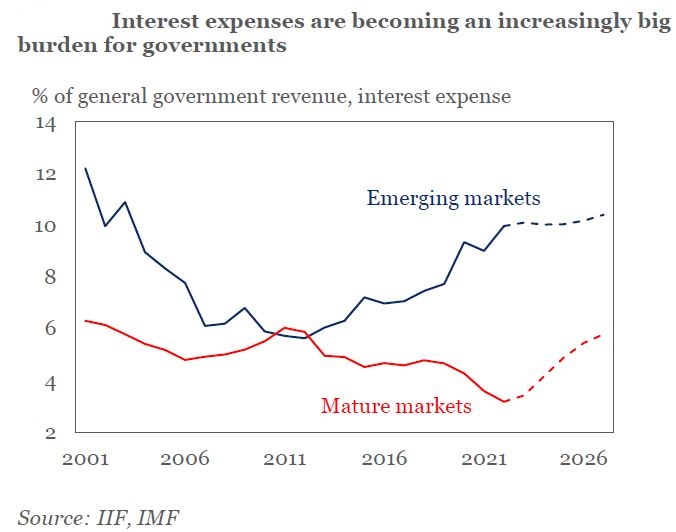 *This article was first published in our email for paying subscribers early on Thursday morning. See here for more details and how to subscribe.