Double shot interview: Amanda Morrall talks to Pathfinder's John Berry about the unrelenting rush for gold and what investors should be watching for
By Amanda Morrall
Amid global economic uncertainty, and unrelenting market volatility gold would appear to have found a safe and shiny place in the investor's portfolio.
Throw in the wedding season in India, which has driven gold prices there to an all time high, and it's an asset class whose glow rivals that of the proverbial blushing bride.
Investors just can't get enough.
According to the World Gold Council's (WGC) Gold Demand Trends report released Thursday, gold demand for the third quarter of 2011, hit 1,053.9 tonnes, up 6% compared to the same time last year. In dollar terms that translates to US$57.7 billion.
The WGC, in its report, says investment demand is the big driver. It's up 33% year-on-year. Overall, 39% of current demand is investor generated. That compares to 10%, 10 years ago.
John Berry, executive director of Auckland-based Pathfinder Asset Management said gold is desirable for a number of reasons, the least of which are its currency-like characteristics.
"It's regarded as a store of value;  a medium of exchange; and if you accept that then you can value gold differently than any other commodity.''
In the last decade, the rise in gold prices have been meteoric. They've risen from US$300 an ounce to US$1,700-US$1,800. Some gold bugs predict it could hit US$5,000 at the height of the present bull period. (See Unstable times see gold in vogue)
Current conditions bode well for that projection. Gold's shiniest moments historically have tended to be a low points for stock markets and sluggish economic growth.
"It's really around uncertainty,'' said Berry.
"If you look at the U.S.there's a lack of confidence. Consumers aren't spending their money, businesses aren't hiring, there are very high debt levels. If we look at Europe, it's an even bleaker story.; zero growth, possibly a mild recession, very high sovereign debt levels and banks need recapitalising. And if we look at emerging markets; they're still growing but there are concerns particularly in China where they've been raising interest rates to try to slow growth down but have they slowed it too fast? That's the question at the moment. Everywhere you look globally there is uncertainty and that's why people are looking at gold as a way of protecting themselves against it.''
But just how safe is it as an investment? And what are the dangers of buying into it when it's red hot?
Berry said investors have good reason to be cautious and should be aware of the risks.
'What is gold really worth?'
"Most investors look at the gold price and say 'What was it last week?' They assume if risk has gone up it must be worth more this week, but that doesn't actually answer the question: fundamentally what is gold worth?"
To answer that question, Pathfinder came up with a nine-point metric relating gold to historical prices, against various economic indicators, assets classes (including equities and commodities) and also comparing it to the cost of production.
It was a close call, said Berry.
"Of nine indicators five were telling us it's overpriced and four of nine were saying it's fair value. So we're kind of in that territory where people are asking whether gold is in a bubble. An asset can't keep going up forever because if you transact the same amount of gold each year and the price is going up you need more and more money to sustain that rally. And where's that money going to come from?
"So there will be a point where the gold price comes off. And the problem we have with bubbles is that when a bubble pricks, it isn't a gentle, gradual deflation of pricing, it's a very sudden and painful collapse of the price."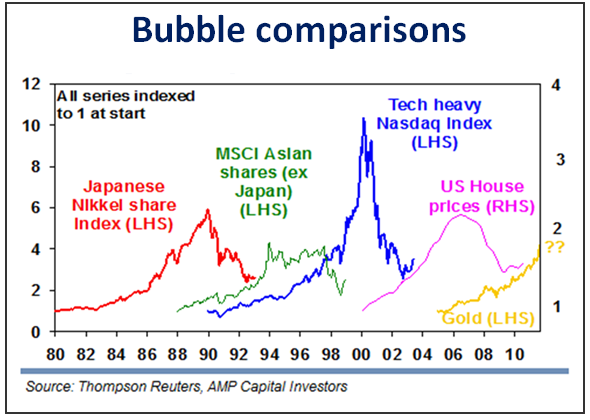 The indicators, in this case, may not be particularly helpful for an investor trying to decide whether to buy or sell.
Berry said the decision ultimately comes down to one's view on where the world is headed and when, if at all, it is going to return to "normal.''
"We're in a very unusual environment at the moment marked by high levels of uncertainty and very low interest rates where every country is trying to debase its currency by printing more money.''
Take away those factors and investors would see the shine come off gold.
"The big question is when is that going to happen,'' said Berry. "No one knows. ''
The estimates are anywhere two and eight years.
"The reality is that it won't be happening any time soon. Don't expect world markets to turn around within 12 months and the world to be a happy place.''
The currency issues
In the meanwhile, Berry said investors with an interest or share in gold, should acquaint themselves with the underlining currency issues tied to gold prices.
"The biggest thing people should concern themselves with is currency and to think about what the NZ dollar is doing in relation to the U.S. dollar because gold is priced in U.S. dollars. Typically the relationship between the U.S. dollar and gold is such that if the U.S. dollar is going down, gold is going up. We're seen the NZ dollar going up and in terms of gold that erodes your returns."
Since 2006, the difference between hedging and not hedging (for a New Zealand gold investor) would have been about a 22% different to your return, said Berry.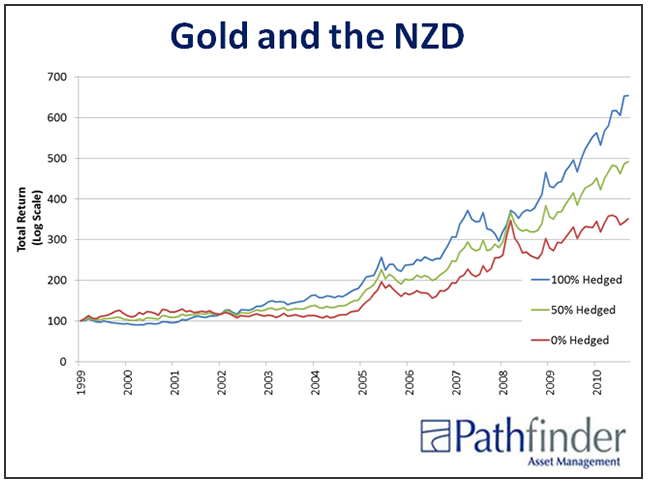 "People should consult with a financial adviser and work out what's best for them,'' recommends Berry.
'Stocks or physical or futures or funds'
Those conversations would include whether it would be best to buy in the form of stocks (in gold producers), physical gold, exchange traded funds (ETFs) or futures. Each investment proposition was unique, said Berry.
"In very broad terms, you can look at buying shares in producers, because they generally track the gold prices although there can be periods where they behave differently to gold prices. There are shares so when equities sell off, gold producers go down and gold prices might be going up. Because they are companies they might also have borrowings or other activities. They might also mine copper or do other things so they can behave differently to gold prices.''
Taking ownership of coins may be one of the simplest ways to invest, however Berry cautioned investors against getting stung on the differential between buy and sell prices, which is close to 10% in some cases.
-------------
We now have detailed gold, silver and other precious metals data updated daily on this service. Here are the direct links to this new daily data ...
gold coins,
gold bars,
gold scrap, and
international precious metals prices.