Amanda Morrall with five reasons on why we should boycott the consumer Christmas binge in exchange for something more meaningful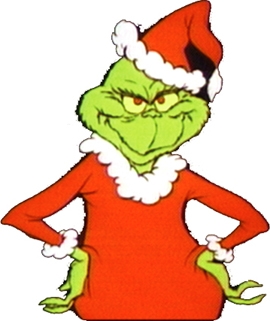 By Amanda Morrall
One of my all time favourite movies as a kid was the Grinch Who Stole Christmas.
I suppose it was a combination of things that made it special. When it aired on television it was a sure sign that St. Nic was on his way. Also, the animation was fabulous as were all the creative and whacky Dr. Seuss characters including the mean old Grinch. I suppose I also came to associate the movie with that time of year when the parental units were more accessible, the arrival of extended family (the normal tensions around which I was oblivious to) and the abundance of sugary treats.
My love for the show had nothing to do with the miserly nature of the gift scorning Grinch. Curiously, in mid-life I have developed an affinity for the green guy. It's not that I don't like giving or stealing gifts from small children. I guess it's just that Christmas has come to represent a gross form of excess and consumer madness that a lot of people feel pressured to participate in.
Yes, I know Christmas is a good time for retailers and many of them depend on this seasonal insanity for their livelihood. I don't begrudge them a living.  What I find more unpalatable and disillusioning is the expectation of a buy-in without any real consideration of the consequences, particularly for those who genuinely can't afford it.
My Grinchiness was called out last night at a dinner party when a friend produced some materials they'd received in the mail trying to capitalise on the Christmas guilt giving. The offensive item was a $2,500 pre-approved loan from an outfit called Finance Now, which is owned by SBS Bank, and came complete with sticky gift labels for the lucky recipients of the credit induced shopping splurge. It made me cross as well as inspired for today's Take Five.
Here's five reasons why I think we should boycott Christmas this year, with the exception of pressies for the little peeps. My heart remains full size still.
1) Debt
While I acknowledge that a lot of folks, especially those visiting our website, aren't easy prey for financial vampires selling cheap credit, for every one of you there's probably at least three others who are carrying high interest debt on credit cards and for whom Christmas poses a major financial liability. As of Oct.31, 2012, New Zealanders were carrying NZ$5.5 billion in credit card debt. (Check our our chart here).
2) Social pressure
Christmas long ago lost any real meaning in the secularised West. To my cynical mind, it's all about the shopping.  More of us abstaining from the madness will give others who can't afford it the mental permission to bow out and find other less materialistic ways to express their care and celebrate their love.
3) Charity
I don't own a lot. In fact my life's possessions are now contained within a two bedroom dollhouse size house with no storage cupboards. Sometimes I wish for more cupboard space but I suspect I'd just fill them up with more junk over time that is underutilised. My basic needs are met which is a lot more than I can say for many people. Perhaps it's time we redistribute our wealth to those who really need it.
4) Waste
Apart from not having any room to store more consumer goods,  there is something inherently wrong, in my humble opinion, with this vicious cycle of pressure fuelled buying that fills our cupboards but leave our wants unfulfilled. No amount of stuff is ever going to fill the void that underlies so much of the unnecessary consumption that takes place. Why not recycle more of what we already have and give Mother Nature a break. 
5) Savings
Would it really be so Grinchy to divert some of that planned Xmas money splurge toward paying off debt (for those carrying it) or else banking it in a savings account to stock up the rainy day account or the retirement fund? It doesn't have to be an all or nothing kind of affair.  A slight pull back in the spending and a redirection in the saving could help to balance the scales and maybe force us to put more conscious thought and action into designing a Christmas that is more merry than hairy - and far less expensive.
To read other Take Fives by Amanda Morrall click here. You can also follow Amanda on Twitter @amandamorrall