Fair Play on Fees pulls ASB, BNZ and Westpac into its representative action over bank penalty fees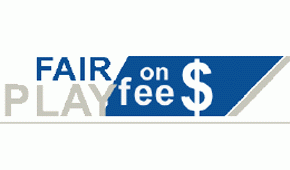 The group already suing ANZ and Kiwibank on behalf of some of their customers over so-called exception fees has extended their representative legal action to include ASB, BNZ and Westpac.
Fair Play on Fees, which includes New Zealand lawyer Andrew Hooker, Australian law firm Slater & Gordon and Australian litigation funder Litigation Lending Services, says court papers will be lodged against the three banks over "unfair penalty fees" on Friday, February 28.
"Westpac, BNZ and ASB customers must register at www.fairplayonfees.co.nz by 11pm on Thursday 27 February 2014 to confirm their inclusion in the case," Fair Play on Fees says.
"The launch of Fair Play on Fees has seen more than 38,800 Kiwis sign up to date, of which over 7,300 are Westpac customers, 5,000 are BNZ customers and 6,000 are ASB customers."
Penalty fees in question include unarranged overdrafts (account out of order fees), rejected payments on deposit accounts (dishonour fees), exceeding credit limit (over limit fees) and late payment fees.
Fair Play on Fees launched cases against ANZ and Kiwibank, that are being defended, last year. Litigation Lending Services stands to pocket 25% of any winnings after costs. Hooker and lawyers from Slater & Gordon are being paid an hourly rate for their services with 25% of this held back pending the outcome.
"The reason why it's important to launch these next three cases is that there are customers of these banks who have paid these penalty fees and wish to be represented in this legal action," Hooker said. See a presentation on the cases against ASB, BNZ and Westpac here, and here's a video from Fair Play on Fees.
"The research we have done suggests the penalty fees they have been paying are at a similar level to those other banks so these customers are entitled to have their fees back as much as Kiwibank and ANZ customers. This launch means that the five banks with over 90% of the retail banking market will all face a Fair Play on Fees case."
ASB, Westpac pledge 'vigorous defence', BNZ to review details of proceedings when served
In a brief response, an ASB spokesman said the bank had not yet had any contact from the litigation funders.
"While we will need to review the proceedings in detail, it is our intention to vigorously defend the claim. We continue to encourage any customers concerned about fees to talk to us directly," the ASB spokesman said.
BNZ said it would review the details of the proceedings when it's served. In a statement BNZ's retail banking director Andy Symons said all BNZ's fees are fully disclosed.
"We listen to our customers and work hard to help them avoid fees where we can and the particular fees being singled out in this case are all avoidable."
"In 2009, in a customer service initiative, BNZ became the only bank to abolish most of these fees and was the first major New Zealand bank to remove honour and dishonour fees on personal transactions and savings accounts," Symons said. "The bank does not charge customers these fees when there are insufficient funds in an account to meet a direct debit payment or cheque. BNZ estimates that this action has saved its customers some $25 million per annum over the past five years."
In terms of unarranged overdrafts Symons said BNZ now only charges a fee if the account is more than $20 overdrawn.
A Westpac spokesman said his bank would review the proceedings "if and when they are filed."
"And it is our intention to vigorously defend any action that is brought. We continue to encourage customers with concerns to contact us directly," the Westpac spokesman said.
'The cost of banking administration these days astounds me'
The lead plaintiff for the BNZ case is Chris Beere, a customer for about 35 years who has faced about $1,400 in default fees over the past six years," Fair Play on Fees says.
"There are times when the penalty fees, excessive or not, can cause significant problems," Beere was quoted as saying. "I had a major health issue five years ago which meant I had to cease work abruptly. Unfortunately, the fees that I was incurring as a result of that situation kept piling up. When I went back through my bank statements I was a bit disturbed to find that I'd incurred nearly $1,400 in these fees during a six year period."
The lead plaintiffs for ASB and Westpac are Alison Withers and Renee and Mike Hau, respectively.
Withers was quoted saying; "The cost of banking administration these days astounds me, predominantly because I use to work in a bank and back then everything was done manually. These days everything administration wise is conducted electronically and yet the fees are a multitude of what they were in the past. I just can't see what justifies these excessive fees."
$1 billion of fees over six years
Fair Play on Fees maintains banks have charged around $1 billion too much for these exception fees over six years, with ANZ accounting for about $250 million of this. But this estimate is educated guess work based on how much banks have disclosed from such fees in Australia. Because unlike in Australia, where the Reserve Bank of Australia makes banks disclose exception fee income, there's no such requirement for New Zealand banks to do so.
In a  similar case across the Tasman an Australian Federal Court judgment last week found no problem in law with honour, dishonour, non-payment and over-limit fees charged by ANZ. However, Justice Michelle Gordon ruled ANZ's credit card late payment fees were "extravagant, exorbitant and unconscionable." In New Zealand the Commerce Commission said in 2010 that late payment credit card fees of up to $15 was likely to be justifiable on a cost recovery basis, telling banks any late payment fees at or below $15 "should not trigger future investigation or enforcement action."
"The case against the bank is based on the principle of penalties. It is unlawful for any business to charge a penalty fee for a default or breach of terms which is out of kilter with the actual cost of the transaction," said Hooker.
"Our legal system in New Zealand recognises that businesses such as banks can't charge more than the actual cost otherwise it's deemed to be unlawful and must be repaid."
'These events probably cost the bank no more than a dollar'
Fair Play on Fees provided the following guides on the fees in question, and how much ASB, BNZ and Westpac charge for them. It says "on average, these events probably cost the bank no more than a dollar."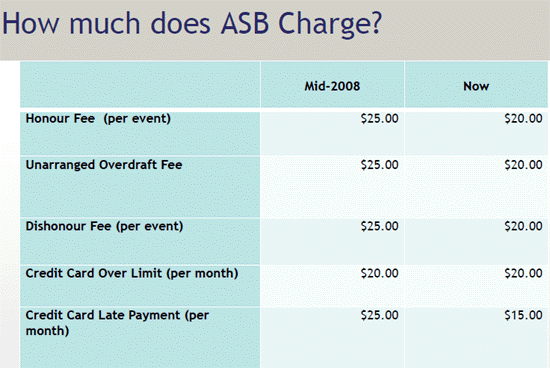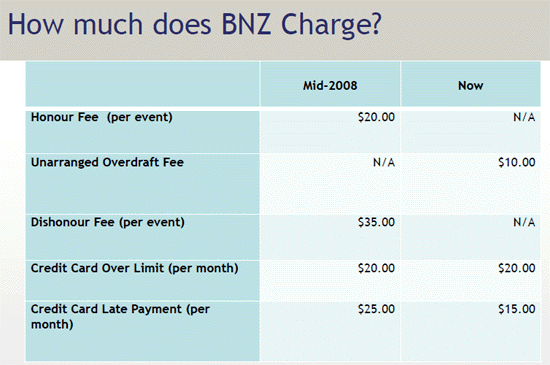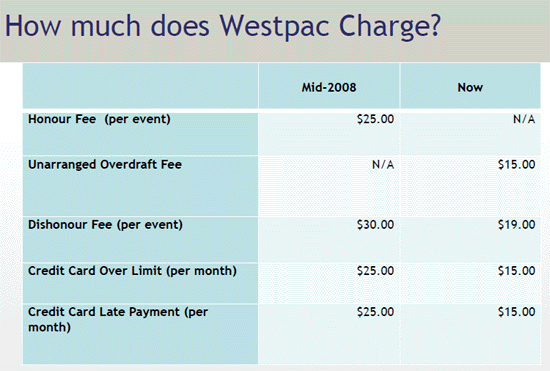 (Story updated with responses from ASB, BNZ and Westpac).