Terry Baucher urges taxpayers to give the Tax Simplification Panel plenty of useful feedback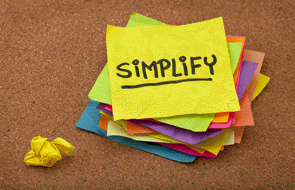 By Terry Baucher*

"We need a simplified, fair, equitable, easy to follow, easy to understand, and easy to comply with TAX CODE"
This was 'Boatman's' enthusiastic response on this website to the news that Revenue Minister Roger McClay is setting up a Tax Simplification Panel.
Boatman's remarks kicked off a lively debate on these pages about the merits or otherwise of the current system and what should be done.   
However, it's unlikely that Boatman's suggestion to "wipe the board clean and start with a clean …page" will be fulfilled, as the Panel's focus will be on tax administration not tax policy. 
Noting that one million people now use Voice ID and more than 1.7 million are registered for myIR, the Minister explained that the Tax Simplification Panel "is a chance for Kiwis to have their say on Inland Revenue's processes, to tell us about the things that might frustrate them, and submit ideas about how things can be done better"…
"I am particularly keen that we engage with individual taxpayers and small-to-medium business owners about how we can reduce the amount of time they spend on red-tape and tax compliance."
Involving the public might seem like a fashionable sop to consultation, but the danger for me and other full time tax professionals is that we are so close to the topic we no longer see the wood for the trees.
Actively involving the public should therefore be a welcome antidote to any professional conformity of thinking. 
So where are the areas I would focus on?
Over the years Inland Revenue's role has considerably expanded so that as well as assessing and collecting taxes it is now involved in redistribution policies such as Child Support, Student Loans, Working for Families and KiwiSaver.
Therefore the first place I'd look for improvements is to ensure that information only needs to be provided once so there is no duplication with other Government agencies.
Nothing is more frustrating than providing duplicate information to different departments, or worse, being asked for additional details, often weeks later.
The second area is around the operation of PAYE. The introduction of PAYE in 1958 was a genuine game-changer in tax administration. But in the past 20 years, the nature of employment has changed considerably.
Consequently, many of the 3 million taxpayers currently on PAYE change employment frequently or work part-time in several jobs.
As PAYE is calculated on a pay period basis for each job, taking no account of a person's earnings to date, this results in many people overpaying their tax during the year.
This problem is compounded by the secondary taxation system.
The result is that right now the whole tax system gets overloaded as taxpayers look to claim back tax overpaid.   
One answer would be to move to calculating PAYE cumulatively as already happens in the UK. This could be allied to introducing another recent UK initiative: operating PAYE in real time or RTI.  Under RTI each employer submits details of the payments made to an employee BEFORE each pay day.  The intention is that providing information earlier allows records to be kept up-to-date enabling a person's subsequent tax liability to be adjusted during the year where appropriate.  It would also enable prompter responses when a person's circumstances change (they retire or become eligible for a benefit of some nature). 
Finally, what about the over 450,000 small and medium enterprises which comprise 97% of all businesses?
There's no doubt they face a significant compliance burden.
Each year a small business turning over, say, $1 million and employing staff must file 12 PAYE returns, 6 GST returns and maybe 4 FBT returns.  It must also pay three provisional tax instalments together with an annual ACC Employer Levy.
That is a lot of interactions and time spent on tax compliance. 
One option might be something similar to the Australian Tax Office Business Activity Statements.  These are quarterly returns of GST, FBT and the equivalent of PAYE and provisional tax.
Other initiatives could include more widely promoting the GST ratio method, revising (or better still, scrapping) the late payment penalty regime, and providing greater incentives (such as more generous use of money interest terms) for the 85% of taxpayers who do pay on time.
Perhaps providing direct support in the form of expanding the subsidies for those businesses who engage payroll agents or tax agents could be trialled.  Helping small businesses become more efficient increases profitability and therefore the tax take, resulting in a win for everybody. 
However, as can be seen, a simplification for a small business might not be easily reconcilable with any additional work arising from improvements for individuals on PAYE such as RTI.
That interaction is just one of the issues the Tax Simplification Panel will need to address and resolve.  (As one of the writers of Game of Thrones remarked, tragedy is often not a choice between good and evil but between two goods).
Last week the influential Trans Tasman Political Report named Inland Revenue as its Government Department of the Year in its 2014 Annual Briefing Report.
As one of the Independent Board of Advisers who made the decision noted, Inland Revenue has become a "good upcoming public sector leader. One of the only Departments leading the charge online for better customer and business interactions".
The call for public input into the Tax Simplification Panel represents a great opportunity for people to have direct input into continuing the IRD's "charge online for better customer and business interactions".
I will be providing feedback and I'd urge you to take the opportunity to do the same.
So get your thinking caps on because as the saying goes, "if you don't ask, you don't get".
---------------------------------------------------
*Terry Baucher is an Auckland-based tax specialist and head of Baucher Consulting. You can contact him here »