Banking Ombudsman sees big rise in AML, KiwiSaver cases as annual payouts to bank customers drop 40%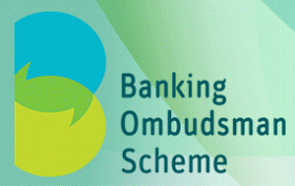 By Gareth Vaughan
A 7% annual increase in new cases for the Banking Ombudsman Scheme included rising volumes of cases about credit card lending, KiwiSaver and anti-money laundering related rules.
Against this backdrop payouts arranged by the Scheme to bank customers fell 40% with the average payment dropping 22% to $1,867.
The Banking Ombudsman's June year annual report shows a 218, or 7%, rise in incoming cases to 3,250, a 172, or 6%, increase in completed cases to 3,232, and a jump of 18, or 30%, in the number of cases carried over into the 2014-15 year.
"Cases" covers all of enquiries, complaints and disputes. Disputes are the most serious of the three, developing when a bank and customers aren't able to resolve a complaint leading to a formal Banking Ombudsman investigation. The number of disputes received fell 5% year-on-year to 259, and the number completed fell 20% to 237. However, the number carried over to the new year rose by 22, or 39%, to 79.
The number of enquiries received, which is when a person contacts the Banking Ombudsman with a question or problem, rose 13% year-on-year to 2,281. The number of complaints received, which is a problem lodged about a bank referred to the bank to try to resolve, fell 4% to 710.
The Banking Ombudsman came down on the side of customers in 17 disputes in 2013-14, down from 22 the previous year. Among the big banks, disputes between ANZ and customers that were settled in the customers' favour dropped to six from nine, ASB decreased to one from three, BNZ was unchanged at four, Westpac's fell to three from four, and one Kiwibank customer was again favoured over the bank in a dispute. (See full bank-by-bank breakdowns in the charts below).
Banks made payouts in 57, or 30%, of 193 disputes settled by the Banking Ombudsman. The 30% figure was unchanged year-on-year. Total payouts totaled $360,350, a drop of $236,981, or 40%, from the previous year's $597,331.
"The drop is explained by the distorting effect of a handful of very large payments in 2012-13. In that year, payments in the $10,000-plus category, the highest band, came to $467,397. This year, there were only four payments in the same band, totaling $277,914. This year's average payment fell 22% to $1,867," the Banking Ombudsman's annual report says.
"Payments can consist of reimbursement for direct loss (up to a limit of $200,000) and compensation for inconvenience (up to $9,000). This year, the split was 85% direct-loss payments and 15% inconvenience payments. Last year, the split was about the same. Of the 44 disputes we ruled to be outside our jurisdiction, 10 went on to result in a payment by a bank. Amounts ranged from $150 to $5,000 and totaled $18,627. In nearly all 10 cases, we declined to intervene because banks had already made what we judged to be a reasonable offer to customers."

"Twenty-four disputes were resolved with a non-financial settlement, such as an apology from the bank (provided in six of the disputes); a reduction of debt (applicable in five); a preferential interest rate (provided in five); the waiving of fees (carried out in five) or an explanation from us (five also)," the annual report adds.
AML case volume explodes
In terms of areas where the Banking Ombudsman is seeing an increase of cases, there was an explosion in cases relating to the Anti-Money Laundering and Countering Financing of Terrorism Act, which took effect from June 30 last year. The annual report says 39 cases were dealt with relating to this Act, up from just 11 the previous year. Of the 39, 32 were enquiries, three were complaints and four were disputes.
"The most common causes of dissatisfaction were that banks had closed accounts in response to the Act; that it was difficult to access funds that banks were temporarily holding under the Act; and that there were unnecessary delays in processing funds because banks were not fully advising customers of new identification rules," the annual report says.
At 87 cases KiwiSaver generated an annual rise of 30, or 53%. Of the 87, 65 were enquiries, 16 complaints, and six disputes.
"Two-thirds related to the withdrawal of savings, especially because of financial hardship. Contentious matters included the amount of time taken to consider withdrawal applications and the amount of supporting information required of such applications. Other cases arose because applications were declined or only partly accepted. In several instances, individuals sought to withdraw savings because they were moving to Australia permanently and/or wished to put their KiwiSaver money towards buying a first home in Australia."
Lending still the main area of contention
The main area of contention between banks and customers remained lending related issues accounting for 35% of complaints and 41% of disputes, which was similar to the previous year. Disagreements about credit card lending rose to 19% from 12% of lending-related complaints and disputes. And lending guarantees were the cause of 12 complaints and disputes, up from none the previous year.
Banking Ombudsman Deborah Battell says the number of property related cases dropped during the 2013-14 year, which is a sign of better economic times. However, there was an increase in the number of cases with an internet and technology-related flavour, which Battell expects to continue in coming years.
"Another trend we noticed was the willingness of banks to propose a compromise at an earlier point. The proportion of disputes resolved by a joint settlement rose during the year. I remain confident this trend will continue. We've also noticed signs of progress in the final, and usually more intractable, stages of disputes, a further sign of a general willingness to resolve disputes as early as possible," Battell says.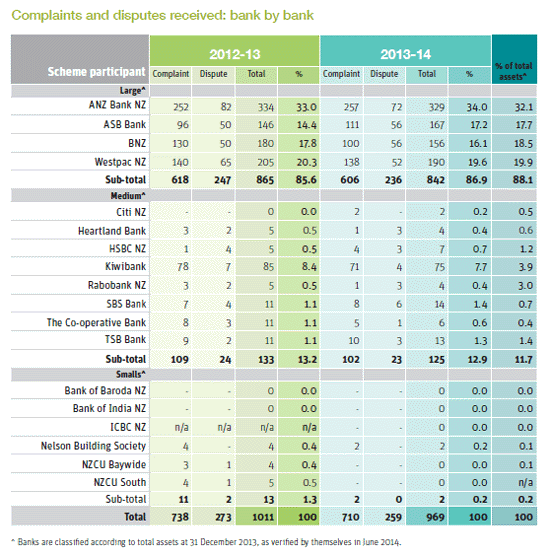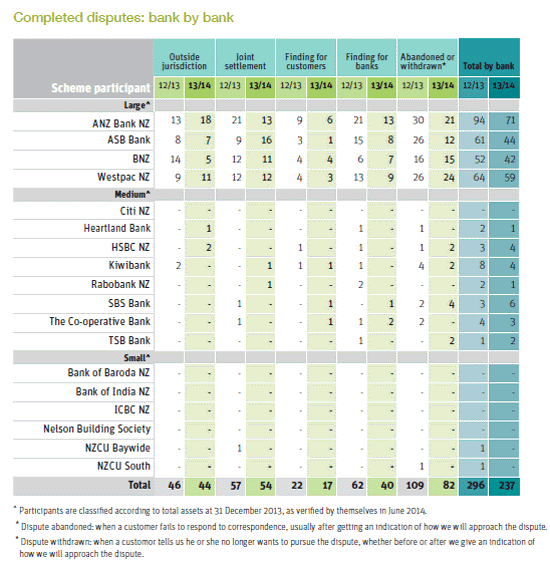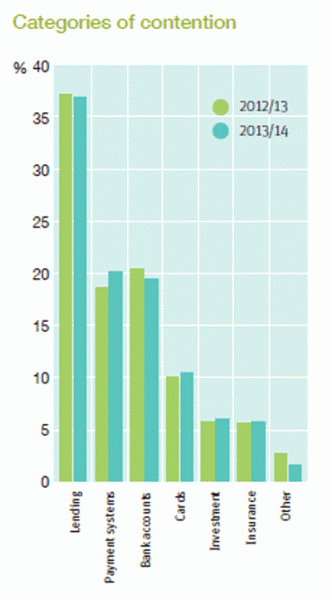 Here's the Banking Ombudsman's full annual report and see our story on last year's annual report here.