Banking Ombudsman annual report shows big jump in enquiries from Kiwibank customers, ANZ resolving all merger related queries internally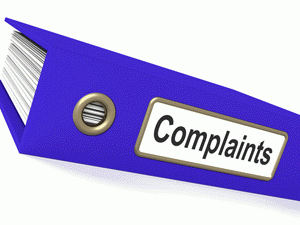 By Gareth Vaughan
The Banking Ombudsman Scheme received 16% more cases in the year to June 30 with the biggest increase among the big five banks being an 82% jump in enquiries from Kiwibank customers.
The Scheme's annual report was released today with Banking Ombudsman Deborah Battell noting a 16% increase in the annual number of cases both received and completed. A total of 3,033 cases were received in the June year, and 3,060 were completed. However, as of June 30 the Ombudsman had 62 cases open, down 27, or 30%, from 89 a year earlier.
"While GFC-related (global financial crisis) complaints are down, contacts remained high due to public interest in legislative change such as the introduction of anti-money laundering legislation, the bank fees litigation and the ANZ/National bank brand merger. Enquiries alone increased by a third," Battell said.
"In addition, complaints from small businesses increased - they made up just over one in 10 complaints. While the GFC is no longer affecting personal banking customers, it appears small business are still feeling its lag effect," said Battell.
"Nearly a third (32%) of 2012/13 dispute cases inside jurisdiction resulted in a favourable outcome for customers, either partially or in full. Customer compensation increased to $598,000 in 2012/13 (up 18%) from $505,139 the previous year."
The average compensation rose to $2,018 in 2012/12 from $1,689 the previous year and highest amount of compensation awarded rose to $160,000 from $59,000.
Across the individual banks enquiries to the Ombudsman from Kiwibank customers surged to 182 from 100 the previous year. However, complaints from Kiwibank customers fell to 78 from 98, or by 20%, and disputes were down one to seven.
Disputes are the most serious of the three categories. They are complaints that have been through a bank's internal complaints process and been unable to be resolved. They go to the Banking Ombudsman for investigation or resolution. Complaints are issues raised with the Banking Ombudsman that are referred onto banks. And enquiries are where the Banking Ombudsman's office gives the enquirer some information, or asks for more information, before referring the complainant to their bank.
The chart below shows the number of cases received from each bank's customers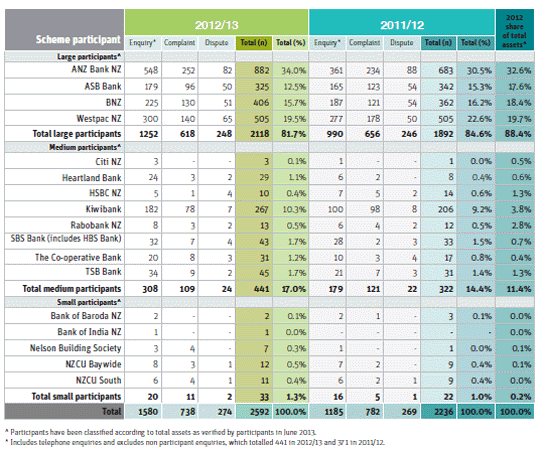 The chart below shows disputes completed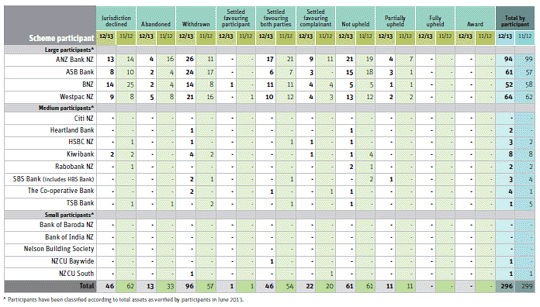 A Kiwibank spokesman told interest.co.nz the critical issue for the bank was the number of inquiries or concerns that are resolved.
"Our percentage of resolutions is very high and only a very small number are considered deadlocked and are taken up for investigation by the Office of the Banking Ombudsman. (The chart above shows eight this year and eight in the previous year)."
"I don't know why customers with concerns come to us via the Banking Ombudsman, perhaps that relates to a higher level of awareness of the scheme. The important thing is that when our customer resolution team receives the complaint or inquiry, the issue is dealt with quickly and effectively. The market share as assessed by the Ombudsman is based on deposits whereas if you use customer numbers it is much closer to matching the data," the Kiwibank spokesman added.
In terms of disputes completed at the big four banks, these were down five to 94 at ANZ, up four to 61 at ASB, down six to 52 at BNZ, and up two to 64 at Westpac.
Total enquiries across all the banks were up 395, or 33%, to 1,580. Total complaints fell 44, or 6%, to 738, and disputes rose five, or 2%, to 274.
Battell said the increase in enquiries was driven largely by industry events such as the ANZ-National Bank brand and technology merger, the rollout of contactless credit cards, and publicity around the bank fees litigation brought by the Fair Play on Fees group, so far against ANZ. The Ombudsman said 74 cases, mostly enquiries, about the ANZ-National Bank merger were referred to the bank for direct resolution with its customers. The bank reported all were solved satisfactorily through its internal complaints process. Total enquiries from ANZ customers rose 187, or 52%, to 548.
Cases against smaller banks increasing
However, Battell noted a developing trend to watch is the shift away from the previous close correlation between a bank's market share, measured by its share of total bank lending, and the number of cases received by the Banking Ombudsman Scheme.
"When we first started comparing a bank's market share with the cases we received, we found that there was a close correlation between the two. If a bank had, say, 20% of the market share, it generally had about 20% of the share of cases we received," Battell said.
"This is changing, along with the balance between large and medium-sized banks. Large banks accounted for a smaller percentage of cases last year - down from 84.6% to 81.7%, compared with 88.4% of the market. Medium-sized participants, whose market share is 11.4%, accounted for 17% of cases compared with 14.4% last year."
"These changes could be due to a number of factors, including that some banks are improving their customer service or complaints-handling more than others, some banks have chosen to make greater use of independent dispute resolution and because newer participants' customers are becoming more aware of the Banking Ombudsman Scheme," she added.
Lending continues to generate the most new complaints and disputes with lending cases accounting for 42% of disputes and 35% of complaints.
There were a total of 57 KiwiSaver cases (up 55%), with 32 enquiries, 21 complaints and four disputes. The biggest increases were in cases about withdrawals due to emigration and alleged misrepresentations.