Westpac swoops on BNZ's Air NZ airpoints gig, BNZ promises new loyalty programme with more flexibility and choice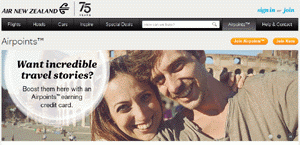 By Gareth Vaughan
Westpac is replacing BNZ as an Air New Zealand airpoints partner and is homing in on the 100,000 or so BNZ customers currently earning airpoints via their credit cards.
For its part BNZ is putting a positive spin on the end of the Air NZ relationship after 16 years saying it's preparing new loyalty offers for its customers with more flexibility and choice.
Interestingly a very chirpy Westpac CEO David McLean fronted the announcement for his bank yesterday, whilst a more subdued Craig Herbison, director of retail and marketing, fronted for BNZ.
Westpac says it has signed a 10-year deal with Air NZ and from May 1 will be offering airpoints with four MasterCard credit cards, plus an airpoints earning mortgage. See more on Westpac's upcoming airpoints offerings here. Westpac joins Air NZ's other airpoints partners ANZ, American Express and Kiwibank. The BNZ airpoints deal ends at midnight on April 30 and BNZ has already stopped issuing new GlobalPlus credit cards. Here's the detail of BNZ's airpoints offerings.
'They're highly likely to switch'
McLean told interest.co.nz Westpac sees good growth potential from the deal.
"For a start there's over 100,000 BNZ customers who won't be able to earn airpoints on their BNZ card from May 1. And we know just from our own general research over the years that airpoints earning capacity is very, very important to this type of customer. They really, really prize it. And if they can't earn it on their card, they're highly likely to switch. So we think that's the big opportunity," McLean said.

"More than 20% of all credit card spend in New Zealand is on airpoints cards so it's really quite a significant chunk of the market. And cards are a great entry point into a banking relationship. The thing with a credit card is you use it everyday. People use it very, very frequently, it's right at the front of your wallet. And for us more than three quarters of our credit card customers have other products from the bank. So from that point of view it's a great entry point into building banking relationships."
"There's something like 1.8 million airpoints members out there and over 100,000 of these (are) BNZ customers. And the fact the credit card proposition is such a core part of everyday banking, we think it's a great opportunity to grow customers," McLean added.
Westpac will make it "as easy as possible" for the customers to switch to Westpac from BNZ via a website launching on Monday.
"They'll be able to get a card approved with just a few clicks online and then they'll get a card before May 1 so they can keep earning the airpoints seamlessly," McLean added.
He said the deal with Air NZ comes after the airline approached the bank just within the last few weeks asking for Westpac to submit a proposal.
"So we had to really scramble around to be able to respond to it quickly. So it has been a very exciting few weeks with them talking to us," said McLean.
"The actual terms (of the deal) are confidential and we haven't seen what BNZ offered so it's hard to know what the (rival) offers were. But the market keeps evolving. Probably we came in with a fresh set of eyes not having been in the airpoints space before and said 'what's the value to us and what value can we add to Air NZ.' And perhaps just coming in fresh to it gave us a chance to keep up to date with current developments or something."
For Westpac the deal comes at a time when consumer debt is growing at its fastest rate in nine years, according to Reserve Bank sector credit data. Consumer debt stood at just under $15 billion at the end of January, up 6.5% year-on-year.
'It's not the 90s anymore'
For his part Herbison said much had changed since BNZ teamed up with Air NZ to offer its customers airpoints 16 years ago.
"And I guess that's the point really. A lot has changed since the 90s. It's not the 90s anymore and customers have moved on and they want more flexibility and choice. And that's what customers have really been telling us," Herbison said. "I guess the exciting thing for us is what we're building for them around that, giving them the ultimate flexibility and choice."
Herbison said customers no longer wanted to be rewarded for their loyalty by earning points and waiting one or two years to take a flight.
"They want other options and that's the stuff we're building out. And we're starting with cash and cash is king," said Herbison.
From May 1 BNZ customers will be offered a cash back offer, where they will receive $1 for every airpoint they would have earned under the airpoints scheme. BNZ would be talking more about what else it has in the pipeline before May 1, he added. 
"We believe cash is a strong alternative for customers today. And what we've got coming in terms of the broader proposition for rewards and recognition across all the products that we seek to deliver, we think that's much stronger than airpoints dollars as it is today and it will hold customers," said Herbison. 
"The airpoints dollar they receive will be converted to cash. We believe that's a much stronger proposition. We believe cash is king for the reason if you want to take your cash you can use that to go buy a flight if you like. If you want to use that cash to go and buy something else you can. But equally if you want to retire some debt with that cash you can do that as well." 
Herbison suggested customers want to be rewarded for their entire relationship with the bank, including the likes of home loans and KiwiSaver, rather than just for their credit card use.
"And so that's a big focus for us, to make sure that we recognise and reward their loyalty across the entire relationship they have with us and across all their needs, not just on their credit card. So that's the exciting piece we're building out," said Herbison.
"Through that we'll continue to have partnerships that we'll move forward with us. Fly Buys is one of those and we may seek to bring other partnerships into the mix as we move forward."
He declined to provide any details of any new partners.
'We couldn't come to an arrangement'
In terms of BNZ's Air NZ deal Herbison said it was up for renewal.
"So we sat down to look at how we wanted to move the relationship forward and how they wanted to move the relationship forward. And at the end of the day we couldn't come to an arrangement which was strategically aligned in terms of what we wanted to achieve for our customers. We wanted more flexibility and more optionality, and I guess we couldn't come to an alignment around that," said Herbison.
In a statement, that an Air NZ spokeswoman declined to add to, Air NZ said it and BNZ had decided not to renew the agreement between them.
"The current agreement will cease at midnight on 30 April 2015, from which point BNZ's GlobalPlus products will no longer earn Air New Zealand related benefits, including airpoints dollars and status points. Westpac joins Kiwibank, ANZ and American Express who already have airpoints earning credit cards available," Air NZ said.
"More than 20% of all credit card spend in New Zealand is on airpoints earning credit cards. As we continue to grow the airpoints programme we are excited to be able to work with Westpac to offer a wide range of airpoints earning products and deliver better earn rates on airpoints members' spend."
"Westpac's new products will initially include Westpac Airpoints MasterCard, Westpac Airpoints Platinum MasterCard, Westpac Airpoints World MasterCard and Westpac Airpoints Business MasterCard. The bank is also offering an airpoints earning mortgage with further products to be announced during the year," Air NZ added.
The airline also said the airpoints programme has grown by more than a quarter of a million members over the last year to 1.8 million.
This article was first published in our email for paid subscribers. See here for more details and to subscribe.