Elizabeth Kerr looks at money from a different - biblical - perspective in response to the Pope's message last week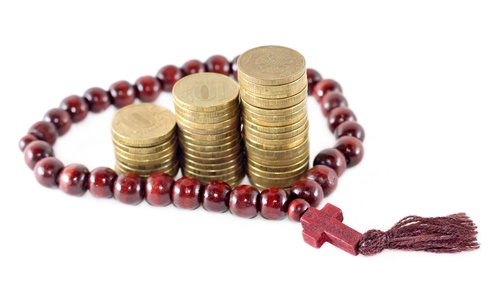 By Elizabeth Kerr

I know what you're thinking..."oh no, don't go there Elizabeth!"
"Oh yes I am", I wink.
Last week the Pope formally presented a letter to his church weighing in on his views on everything from climate change and consumption to the use of technology and exploitation in the pursuit of economic growth.
It wasn't happy reading. According to him we will end up consuming ourselves out of a home planet and are all going to hell in a hand-basket if we don't change our ways.  
"...The emptier a person's heart is, the more he or she needs things to buy, own and consume...Obsession with a consumerist lifestyle, above all when few people are capable of maintaining it, can only lead to violence and mutual destruction..." he wrote.
Ouch!  Talk about giving us all a telling off.
So this week, inspired by the Pope's speech, I thought I would mesh together the two subjects that people go to great lengths to avoid in conversation; wealth and faith. For many people their faith has a significant impact on their perception of money and their attitudes toward creating personal wealth.
Money and faith is a very complex subject, and with many layers, many more than I can acknowledge in one column today. But one of the reasons I want to write about this is because I think some people have self-sabotaging thoughts in this space: 
They think that those who become wealthy must have had to do something immoral and ungodly to get there, or
They feel guilty, as though they are displeasing to their God, for wanting to build a money machine.
Both of those things are ridiculous to me, so I thought I'd have a poke around the Bible and see what I could find. For clarification I am not referring to any particular faith, but I am using the NIV Bible which is a billion times easier for a layman like me to read.
The overwhelming message scattered throughout the Bible about money is that God wants you to be happy, to be prosperous and to have and do that which brings you joy. He is not asking you to absolve yourself of your possessions, embrace extreme frugality or self-denial. Figures in history have taken that approach, some glorifying it as a virtue to holiness, but it's not really written in the Bible that you have to do life that way (or if it was I couldn't find it there now and people are obviously ignoring that part still).
Having said all that, you can't run off to the Mall and buy whatever takes your fancy either, for as far as I could find nowhere is taking on debt, or living beyond your means, mentioned as a good thing. 
Apparently there are over 2000 references to money in the bible. I didn't read the entire book for you this week to find out but I did collect five biblical references for money below which you might find interesting:
1. Money is NOT evil
Most people have heard the biblical saying "money is the root of all evil" from Timothy 6:10. But that's not accurate because the most important part of that verses is at the start which says: "The LOVE OF money is the root of all kinds of evil." Now that changes our perspective a bit doesn't it? There is nothing wrong about money. It is a means of trade and commerce and quite important. But to be in love with money by focussing only on your wealth and financial accomplishments will probably not work out well for you.
Whilst the bible refers to money as a currency like notes and coins, in our present age I think we could take those verses and apply them to a wider definition more suited to our times. For example Money meaning technology, the latest fashions, designer homes, the cars we drive, the clubs we swing and all the other informal currencies that we use to weigh each other up with.  
2. God Wants You to Invest Money
Matthew 25:14-30. A parable about a man who goes on a journey entrusting his three servants with his money each in his absence. Two of the servants invest that money to make it grow (interest). One servant dug a hole and buried it out of fear he would lose it. When the man returned and found out what he had done he was angry and took the money giving it to the servants who had more and fired him. The moral of the story – we mustn't be afraid to invest money, for hiding it away just makes it useless.
3. Borrowing Money is Bad
Proverbs 22:7. "The rich rule over the poor, and the borrower is slave to the lender."
Well that's pretty self-explanatory. If you borrow money you are at the mercy of the lender until it is all paid back in full. On the other hand the Bible does refer to lending money, so, I interpret that as borrowing money is okay but shouldn't be done all the time, and that we should strive to be self-sufficient with our finances.  Again, just my interpretation and I could be wrong.
4. Be Generous
Proverbs 28:27. "He who gives to the poor will not want, but he who hides his eyes [from their want] will have many a curse."
Whether you believe there is a God or just that there is such a thing as financial karma, you can't deny that giving to others is a good and worthwhile thing to do.  How this is incorporated into your lifestyle design/money machine is very personal and different for everyone.
It appears to me that those who DO achieve their money machine all have one special thing in common - an abundance mentality. They believe that there is enough in this world for everyone to have their needs met and they rest assured they can always help themselves should the shit hit the fan. For this reason they are also very generous with what they do have, be it money, skills or time and receive joy from their contribution to their community. They are indeed being generous.
5. Live Within Your Means
Luke 19:17. "Well done, excellent bond servant! Because you have been faithful and trustworthy in a very little [thing], you shall have authority over ten cities."
This passage tells us that if we design a lifestyle that works within our current financial limits that He will reward us with more. Just as though we don't let our kids use the big kitchen knife until they have mastered the butter knife, as is the same for our money.   
This can be a hard pill to swallow when all around us we see people spending beyond their means and looking so fine in their latest gears…but again, whether you believe in God, or want to just stick to the maths, their day of financial reckoning will come and they will have to pay for those overspends eventually.
"Only in America folks"…
If you think the Pope weighing in on our modern day consumer habits is a bit bizarre then you are going to love the 'Life After Shopping Church'. (Yes I am serious… that is what this church is called). It comes complete with a "Not Buying It" band.  
This church is known for singing powerful songs about anti-consumerism, apparently performing public exorcisms on cash registers and busy shoppers. At Xmas time they drive around in a big bus preaching in shopping malls and Walmart hailing the benefits of not spending money.  
In a thick American accent "Let's go Playstation free" Rev Billy preaches, "back away from the Walmart, back away from the Hoooommmme Depot everyone… and leave those products on the shelf, Hallelujah" he says.  
I admit to liking SOME of what he has to say but I honestly can't tell if he is being serious or not. And his hair is truly something else. Click here to see for yourself.
In Closing….
I don't know how comfortable you might be talking about money and faith together. You may have grown up in a church, dutifully putting your loose change in the offering basket as it came around and that was the closest money ever featured in your relationship with God. What I do know is that there will be GFC's, stock market crashes, bubble booms and busts forever more, but if you wanted to get a Godly perspective on it all, the Bible, a book that is thousands of years old, has plenty of personal finance advice that may still hold true today.
More importantly it clearly outlines that having money is not something to feel guilty about, but as the Pope alluded to last week, we might want to rein back our feelings of entitlement.
I close with another quote from his letter:
"Human beings and material objects no longer extend a friendly hand to one another; the relationship has become confrontational. This has made it easy to accept the idea of infinite or unlimited growth, which proves so attractive to economists, financiers and experts in technology. It is based on the lie that there is an infinite supply of the earth's goods, and this leads to the planet being squeezed dry beyond every limit."
Maybe the Pope is "on the money" this time?  -  (Ha! See what I did there!)