Insurance broking and advising industry shake-up will not, after all, include a ban on commissions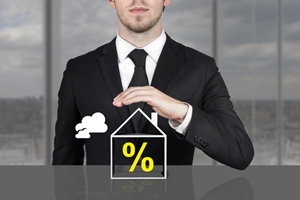 The Government appears to have backed away from the possibility of banning commissions paid to Financial Advisers and insurance brokers.
As part of  its review of the Financial Advisers Act 2008 and the Financial Service Providers Act 2008 the Government earlier touted the idea of following the Brits in banning brokers and advisers from receiving commissions.
However, in a just-released options paper prepared by the Ministry of Business, Innovation and Employment, a ban is not included in any of the three proposed 'packages' of changes. Minister of  Commerce and Consumer Affairs Paul Goldsmith recently gave strong hints that he was against a ban on commissions.
And the latest MBIE options paper, in saying that a ban is "not currently a preferred option", goes on to say that such a ban could "could limit access to advice to those who are not willing to, or cannot afford to, pay upfront for advice".
It goes on to say: "Relative to a broad ethical obligation, it can be difficult to design a ban or restriction without the possibility of advisers finding a loophole in the requirements."
The options papers follows an issue paper on the review, released earlier this year, which asked the public to give their feedback on restricting, or altogether banning commissions.
Submissions are now being sought by February 26 on the latest paper. The final report on the operation of both of the Acts will be provided to the Minister of Commerce and Consumer Affairs by 1 July 2016. This report will include any recommendations for changes arrived at after the options paper consultation process.
The three proposed, alternative, 'packages' outlined in the paper range from very minor tweaks in the rules to slightly more prescriptive changes.
These are outlined in brief in the graphic below.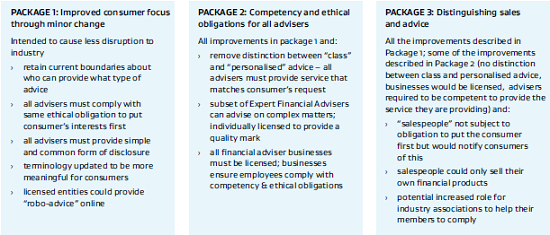 Goldsmith said the Government's aim was to increase consumer confidence in financial advisers and the advice they give, "so that people can make informed decisions about their money".
"We hope to make improvements to this regime so that all New Zealanders, including those with simple questions and without large sums to invest, have access to trusted financial advice should they want it. 
"We've heard, for example, that the current regime is overly complex and that this has reduced access to financial advice. Another complicating feature is that people don't always know whether they are getting genuine advice or whether they are being sold a product, such as insurance or investments.
"Current rules around the disclosure of commissions and potential conflicts of interest are inconsistent. The options paper canvasses different approaches to achieve greater consistency across the board.
"This paper outlines options, ranging from minor changes to more fundamental reform, for simplifying the regime and addressing the issues that were identified in the initial consultation phase.
"I encourage the users and providers of financial advice, across all sectors of the advice industry, to give feedback so that we can get a regime that is workable for the industry and helps improve the financial wellbeing of all New Zealanders."