Elizabeth Kerr could not contain her inner green-eyed monster this summer holidays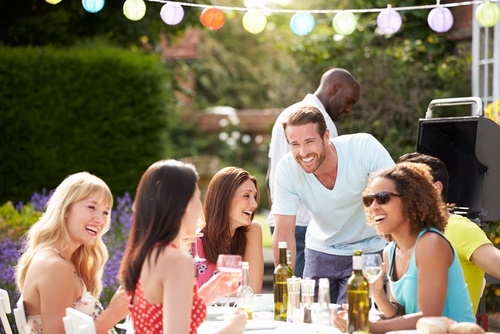 By Elizabeth Kerr

Is it just me, or did everyone else upgrade their lives this summer?
I swear it feels like everyone I know has bought something expensive, larger, more awesome and are just generally having the time of their lives, while we plod along holding on the theme for "no major changes" for 2016.  
Just in my little corner of the universe I can count six new cars, three holiday homes, five adult-only overseas trips, two new bedroom suites, two total home makeovers, and a selection of top of the line BBQ's and new outside dining areas just to mention a few things. 
Adding to all that, I feel like I'm the only person who isn't out burning $100 notes at fancy cocktails bars on sunny afternoons, posting perfectly posed pictures in designer harem pants on Facebook for everyone to see. (If you've seen my tribe at a McCafe you'll understand why, but that's not the point… everyone else seems to be doing it.)
I mention this because even though I write about the benefits of building a money machine, there are no secret super powers that I have access to which make me immune to feeling jealous at other people's shiny new things just like everyone else does. Sometimes I can feel left out too. Sometimes I feel like I want something I can boast about now as well and I fear that without that something then there will be no connection between us anymore.  
Funnily enough early retirement and savings goals usually don't foster much of a conversation.  
Them: "How is your money machine coming along"?
Me: "Good, saving is the only constant."
Them: "Yes you're right. Hey, talking about saving, guess what I got on sale last week… it was three for 80 bucks… bargain!!!"
See what I mean?   Not exactly a topic that keeps people hanging off my every word. Sometimes I have to force myself to celebrate their purchases just as any good friends do. It is of course not about me.  
And that is the point - what other people spend their money on is not about me or you at all. It's their money and their lifestyle design and even though you may be convinced that they are pissing money down the drain it is not for you to say.  
Here are a few things I think I/we need to remember in order to overcome feeling a little jealous and achieve a money machine while keeping our relationships.
Not everyone is on the money machine journey. Although I argue that it should be, it's not for everyone. If you are finding your own feelings about money is getting in the way of enjoying your pals, then you might just be a crap friend. It is not your job to enlighten them about how the money machine works and remind them every time they hand over their eftpos card. It is your job to lead by example with your own spending decisions and answer any questions they may have.
Remember "Hedonic Adaption". This refers to the fact that science has proven that when we lust after something, and then purchase it… our baseline happiness will return to how we were feeling before the purchase was made. There aren't any goods or services out there that you can buy which will raise your level of happiness for the long term.
Don't say anything bad about their purchases. Your job as their friend is to be supportive, let them shine and bask in their moment. Sure, you know hedonic adaption will kick in and in a few weeks they'll stop parking that car in the garage and the seats will be covered in raisins and sticky fingers just like their old one was… but that's not the point here. It would be cruel to take away that moment from them. Smile, nod, ask about the features, congratulate them and just swallow it down.  
Ask yourself if you are jealous because you really want it for yourself, or if the impact on your money machine and extra years of working required to pay for it are worth it? Remember patience attains all that it strives for. If you are consistent you will get there in your own time. 
Remember that there is a very high chance that no one believes you can actually achieve an early retirement in today's market, on your salary without winning lotto. A remodelled kitchen or larger TV will never feel as good as the freedom that comes from having your own money machine and the endless choice this gives you. Not to mention the pleasure of proving others wrong.
It is YOUR life. Yours alone and no one can dictate to you how you should spend your money other than you. I know that the suggestion that you too should take an all expenses charged to your credit card holiday because you deserve it comes from a good place…. but your money is to reflect YOUR choices.
Go back to the drawing board and look at your money machine goals one more time. What will you do differently? (if anything), check you've got the numbers right, brainstorm some ways to get their quicker, talk to someone who is on the journey, email me at Elizabeth.kerr@interest.co.nz, do whatever you need to in order to paint the vision as brightly and attractively as possible to drown out the temptation to spend unnecessarily.
So as we near the end of the summer holidays, I for one am glad to be getting back into the swing of things again.  The summer BBQ bragging was getting just a teeny tiny bit too much to take and there's nothing like some post holiday back-to-work depression to remind me why we are on this journey in the first place.