Yesterday we reviewed the 2016 mortgage rate trends, and noted that the largest bank not only had the highest rate offers during the year, they ended the year with the highest [two year fixed] rates as well.
Today, I want to look at market shares more closely.
And what we find is that same bank is gaining market share.
And those gains are not insignificant.
They are gaining on their four main rivals, capturing significant new share, leaving those rivals with languishing market positions.
The richest is getting richer; the biggest is getting bigger.
Here is the key fact; in the three years to June 2016, ANZ won 40.3% of all new mortgage business, even though it started with just a 26.7% share.
In the 12 months to June 2016, it won 35.8% of all new business.
Mortgages now represent 55.4% of all its loans, a record high for the bank. Commercial and other personal lending are now a minority part of its business.
Meanwhile, the rivals that could challenge it are going backwards.
ASB has seen its market share fall to 22.3%, down from 23.5% three years ago.
BNZ has seen its market share fall to 15.8%, down from 17.1% three years ago.
Kiwibank has also struggled to keep up its earlier market gains. Its market share is now 7.2%, a slight slippage from the 7.3% it had three years ago.
And Westpac has also gone backwards. Its market share is now 20.7%, down from 21.6% three years ago.
All four rivals are conceding ground to ANZ.
The minnows don't count; ANZ grew in 2016 by more than the total mortgage loan book of HSBC, SBS Bank and TSB Bank combined.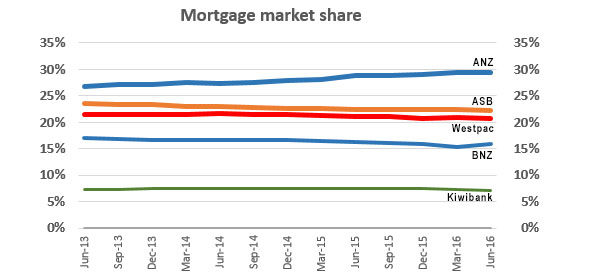 SOURCE: RBNZ G1
In a rising interest rate market, what can its rivals do to stop being run over?
in 2016 we saw that customers ignored ANZ's higher interest costs of up to 25 bps.
A new strategy is required; new tactics are needed.
The problem is that shareholders (especially Aussie shareholders) want their returns and dividends without having to stump up any more capital. Management of all banks are under pressure to keep the profits flowing in the short term. And their bonuses depend on this. Blind eyes are being turned to the atrophy in market share. A short term game is being played here.
Another problem is that mortgages are a commodity, and the cheapest funding goes to the largest player, reinforcing its dominance and its ability to punish rivals who threaten it.
Another brutal fact is that Kiwibank is in no position to shake things up any more - unless its new NZ Super Fund and ACC shareholders are in for a long game of low margins to chase a meaningful market share objective.
It will make for an interesting market to watch in 2017, one that may not benefit borrowers, or in fact any of ANZ rivals.
It is not hard to see [a more activist] Commerce Commission perhaps taking a new interest in our biggest oligopoly. Don't hold your breath, but at some point unless current trends change, 'new management'; at the competition regulator could take an interest.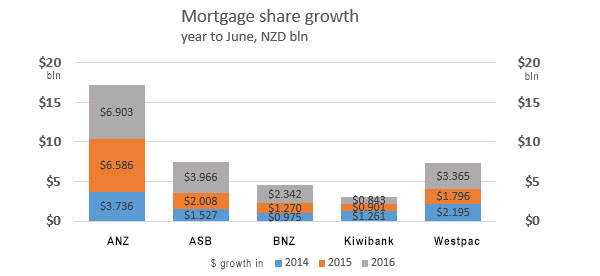 SOURCE: RBNZ G1