The World Gold Council says cryptos failed to act like a safe haven in the Q4-2018 equity market downturn. Only gold did its job as a counter to risky assets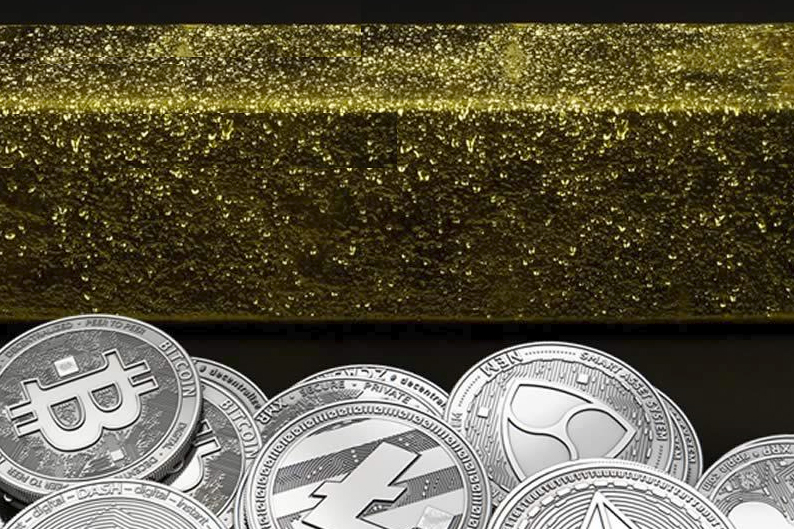 Content supplied by the World Gold Council
In Q4 2018, as global stock markets experienced their worst quarter since 2009, cryptocurrencies had a prime opportunity to demonstrate qualities associated with safe havens like gold. However, cryptocurrencies, such as bitcoin, behaved like risky assets and fell while gold rallied.
Though comparisons have been made, we believe there are several reasons why cryptocurrencies are no substitute for gold. Specifically, gold is less volatile and enjoys a more liquid and established market. It has a well understood role in an investment portfolio and minimal overlap with cryptocurrencies on many sources of demand and supply.
As events of late 2018 indicated, the perceived ability of cryptocurrencies to serve as a liquid, safe-haven hedge and store of value in times of market stress, did not hold.
Bitcoin's price behaviour resembled a technology stock as it fell 55% during the quarter, while the Nasdaq fell 19%
Chart 1: Bitcoin vs Nasdaq and gold
Q4 2018 price performance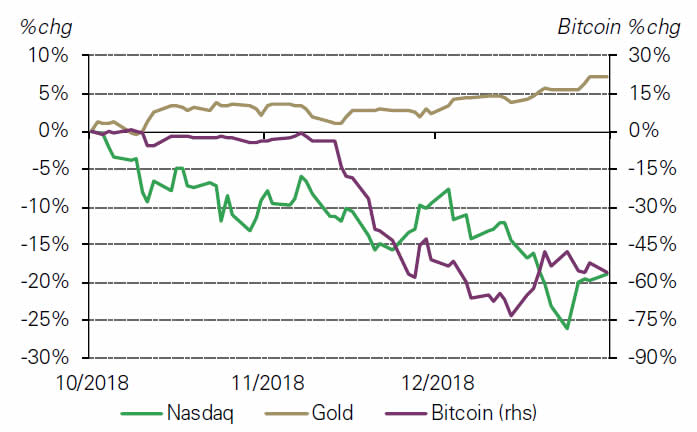 Gold price based on LBMA PM fix price
Source: Bloomberg, World Gold Council  
Bitcoin and the Nasdaq were heavily correlated (0.69); a factor that had not been apparent prior to the market pullback.
Over the same period, gold rallied 9.4% and was strongly inversely correlated with the Nasdaq at (-0.73).   
Finally, the market value traded in the bitcoin futures market fell sharply in the quarter at a time when volumes in global markets and gold rose (Chart 2).
The support of a strong two-way market was lacking, suggesting bitcoin – unlike gold – does not provide the liquidity needed in times of financial tension. 
Chart 2: Bitcoin futures market value traded
Average daily trading value of bitcoin futures fell in 2018
 
5-day daily average of CBOE bitcoin futures volume
Source: CBOE, Bloomberg, World Gold Council
The fourth quarter offered just one data point for bitcoin analysis, but it was an important one. This was one of the few periods during which true market stress has occurred since the financial crisis. And it should lead investors to reassess their reasons for investing in cryptocurrencies.
While cryptocurrencies may have a role to play in the financial markets, their behaviour in an environment of market uncertainty underscored that they are not a viable substitute for gold as a safe-haven.
---
This article is a re-post from here. The original article also has detailed Notes and Sources.
---

Our free weekly precious metals email brings you weekly news of interest to precious metals investors, plus a comprehensive list of gold and silver buy and sell prices.
To subscribe to our weekly precious metals email, enter your email address here. It's free.
---
Comparative pricing
You can find our independent comparative pricing for bullion, coins, and used 'scrap' in both US dollars and New Zealand dollars which are updated on a daily basis here »