Fewer properties on offer at Barfoot & Thompson's latest auctions but more than half were sold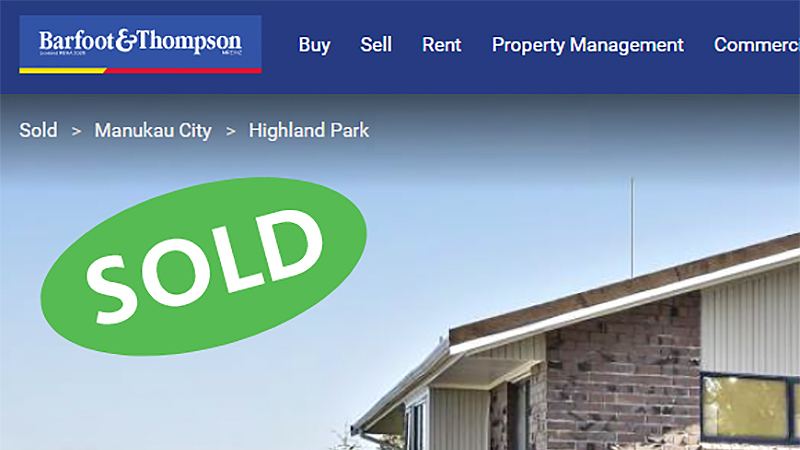 Sales were achieved on more than half of the residential properties marketed for sale by auction by Barfoot & Thompson last week, although the overall number of homes passing through the auction rooms remains low.
Barfoots marketed 65 residential properties for sale by auction last week, down slightly on the 69-75 per week over the previous month.
However, sales were achieved on 36 of those, giving an overall sales rate of 55%, well up on other recent results.
Of the 36 properties that were sold, nine were sold prior to their auctions, 25 were sold under the hammer and two were sold in negotiations immediately after their auctions.
Significantly, the sales rates were above 60% at the big Manukau and North Shore auctions, although only a third were sold at the main Shortland St auction on August 7, where most of the properties offered were from central Auckland suburbs such as Greenlane, Mt Eden, St Heliers, Remuera, Grey Lynn and Herne Bay (see table below for the full breakdown).
Details of the individual properties offered are available on our Residential Auction Results page.
The comment stream on this story is now closed.
Barfoot & Thompson Residential Auction Results

5-11 August 2019

Date

Venue

Sold 

Sold Post

Sold Prior

Not Sold

Postponed

Withdrawn

Total

% Sold

5-11 August

On-site

2

 

 

 

 

 

2

100%

6 August

Manukau

5

 

3

5

 

 

13

62%

6 August

Shortland St

2

 

 

1

 

 

3

67%

7 August

Shortland St

2

1

3

9

2

1

18

33%

7 August

Pukekohe

1

1

 

2

 

 

4

50%

8 August

North Shore

6

 

3

4

1

 

14

64%

8 August

Shortland St

3

 

 

2

 

 

5

60%

9 August

Shortland St

4

 

 

1

1

 

6

67%

Total

All venues

25

2

9

24

4

1

65

55%