The housing market may be at a turning point with prices at the bottom of the market declining in April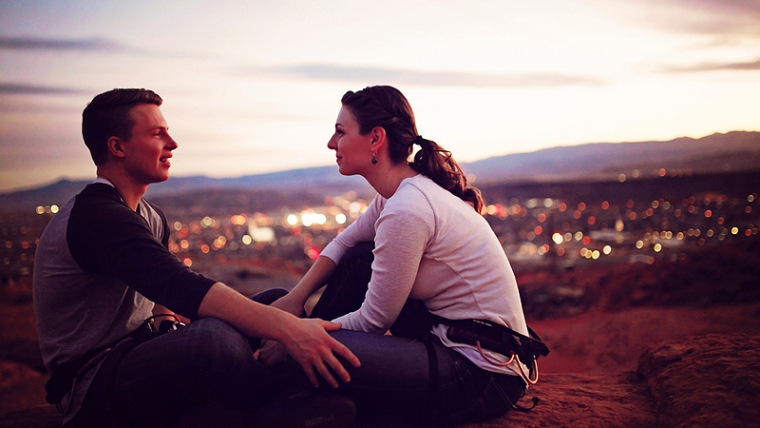 By Greg Ninness
There's a glimmer of hope on the horizon for prospective first home buyers with the national lower quartile selling price declining in April, according to interest.co.nz's Home Loan Affordability Report.
The decline was small, but its significance was underscored by the fact that lower quartile prices declined in the Auckland, Wellington and Canterbury regions, along with those for Bay of Plenty and Manawatu/Whanganui.
According to the report, the Real Estate Institute of New Zealand's national lower quartile selling price declined to $591,000 in April from $598,000 in March.
Although that's a very small drop, it's significant because the only other recent declines occurred in January this year, when the market was in its Christmas/New Year hibernation, and prior to that in May last year when the housing market was severely affected by a COVID-induced lockdown.
The decline in prices was particularly significant in the Auckland region because the lower quartile selling prices in all seven of its main urban districts – Rodney, North Shore, Waitakere, Auckland Central, Manukau, Papakura and Franklin were lower in April than in March.
The price trend was more mixed in the Wellington region with prices down in April compared to March in Wellington City and Porirua, but up in Kapiti and the Hutt Valley.
Other cities to record a decline in their lower quartile prices in April compared to March were Tauranga, Rotorua, New Plymouth, Whanganui, Christchurch, Timaru, Queenstown and Invercargill.
The lower quartile price is the price point at which 25% of the properties sold each month were below and 75% were above, representing the bottom end of the market that is of the most interest to first home buyers and investors.
The decline in prices at the bottom end of the market in April raises the possibility that the tax changes for residential investment properties announced by the Government on March 23, could be starting to have an effect and the market may be at a turning point.
However one month's figures do not make a trend.
Because the size of the decline was small at less than $7000 for the month overall, it could probably be characterised as more of a stalling in the upward price trend that has been apparent for most of the last year, rather than the start of a decline.
It will likely take another couple of months before it becomes apparent whether April's figures represented nothing more than a blip in the upward trend, a flattening of prices, or the start of a decline.
Aspiring first home buyers will obviously be hoping for the latter, especially if they live in Auckland.
The Home Loan Affordability Report shows first home buyers in Auckland would need to save $84,400 for a 10% deposit on a home at the region's lower quartile price of $844,000 in April.
That would take a couple working full time at the median rates of pay for 25-29 year olds in Auckland just over four and half years if they were able set aside 20% of their after-tax pay each week, which would be no mean feat.
However their problems wouldn't end there, because if they were able to scrape together a 10% deposit, the mortgage payments on a lower quartile-priced home would chew up 42.6% of their take home pay, putting it squarely into unaffordable territory, even though interest rates are at record lows.
That would leave them especially vulnerable to any interest rate rises.
The tables below show the main affordability measures for buying a home at the lower quartile price in the country's main urban areas, with either a 10% or 20% deposit.
The comment stream on this story is now closed.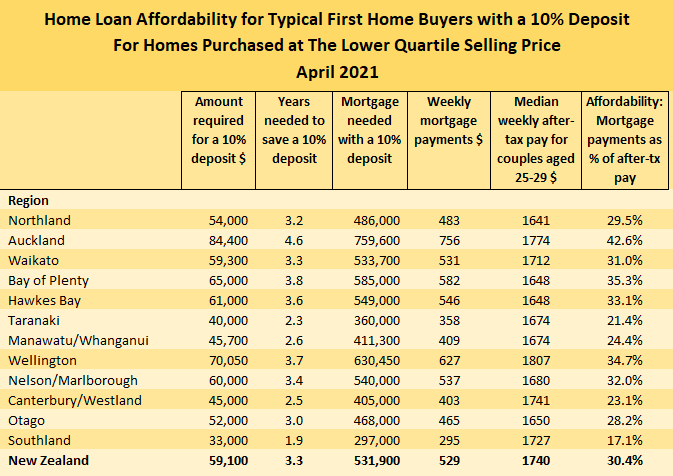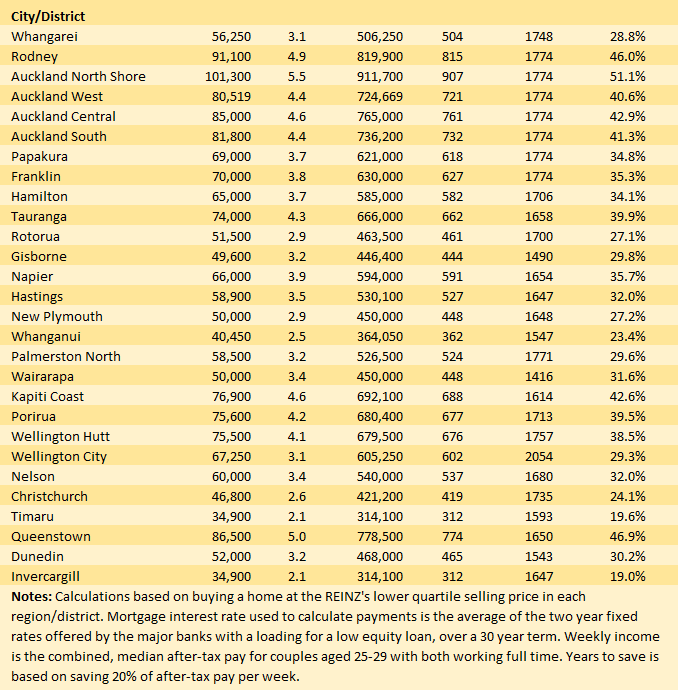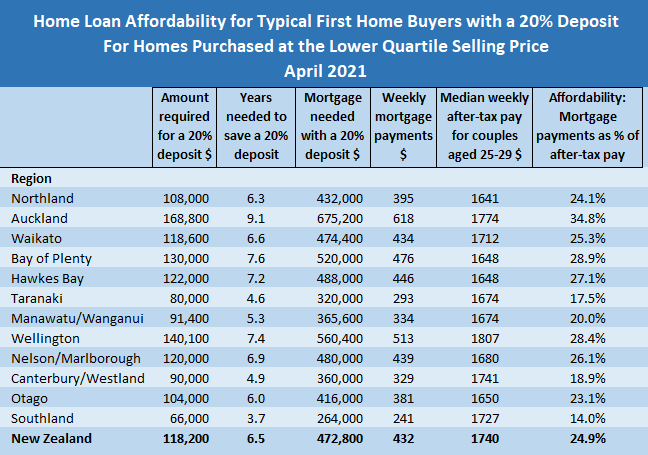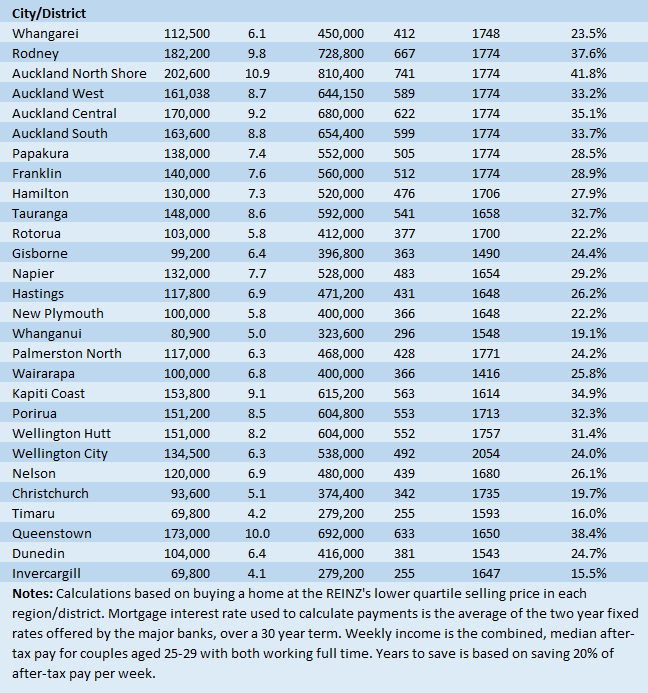 You can have articles like this delivered directly to your inbox via our free Property Newsletter. We send it out 3-5 times a week with all of our property-related news, including auction results, interest rate movements and market commentary and analysis. To start receiving them, go to our email sign up page, scroll down to option 6 to select the Property Newsletter, enter your email address and hit the Sign Me Up button.