ACT's Brash slams Auckland's plan to replace Metropolitan Urban Limit with Rural Urban Boundary as locking out young and poor from housing for 30 years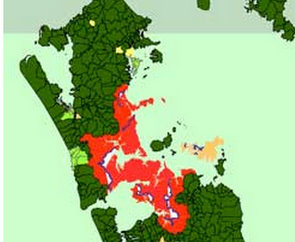 ACT Party Leader Don Brash has labelled the Auckland Council's draft plan to change its existing Metropolitan Urban Limit (MUL) into a tighter Rural Urban Boundary (RUB) as "ridiculous and discriminatory".
Meanwhile Environment Minister Nick Smith said the government was concerned about the council's "ambitious" plan for 75% of future development in Auckland over the next 30 years to occur within the boundary, as that was "very high" compared to Australian cities. Smith said the government was in talks with the council over the relationship between urban limits and section prices, and was worried the council's move would further drive up section prices in Auckland.
Brash said the move would lock the young and the poor out of housing in Auckland for the next 30 years.
"The Auckland Council is effectively ensuring that unless people are wealthy, the Kiwi dream of owning their own home will always be out of reach. This will be a massive blow to a generation of Aucklanders trying to get ahead," Brash said.
"They are the very people we are desperately trying to keep from abandoning New Zealand and this is just one more strong incentive we're giving them to leave," Brash said.
He said the new boundaries would ban urban development outside the rural-urban line and see 75 percent of new housing over the next 30 years built within existing built-up areas.
"This could have a devastating effect on housing affordability," he said.
Brash pointed to research by Motu economist Arthur Grimes showing the existing limit has already made land immediately inside the MUL between eight and 13 times more expensive than land immediately outside the completely arbitrary line. See Interest.co.nz's November 2009 report on the research.
"It defies belief that instead of rectifying some seriously poor public policy, the Auckland Council is planning to make the situation worse."
Brash said the Resource Management Act was another nation-wide obstacle to housing affordability and house prices had doubled relative to incomes since the introduction of the RMA in 1991.
"This staggering increase has seen home ownership decline in every census since 1986.  A major priority for ACT in the next Government will be to make housing more affordable for all New Zealanders by eliminating arbitrary restraints on the availability of land for residential development."
Govt concerned
Environment Minister Nick Smith said the government was concerned that Metropolitan Urban Limits in New Zealand cities had forced section prices up over the last decade. There was an important question to be asked on the relationship between urban limits and section prices, Smith told media in Parliament on his way to Question Time.
"The government's having a pretty constructive dialogue with the Auckland council and their plans around the future of that city. The government is concerned that the draft plan will result in house prices in Auckland becoming too expensive for average New Zealanders," Smith said.
The engagement with the council was "very constructive," as they worked towards and evidence-based solution, Smith said.
"I'm quite sure that we can come to a sensible resolution that gets the right sort of future plan for Auckland."
The programme in the Auckland plan of having 75% of Auckland's growth confined to the existing urban limits was "very ambitious," Smith said..
"It is very high in comparison, for instance, to Australian cities. We worry that is going to drive up section prices, and make homes too expensive for Aucklanders," he said.
"But we're also very pleased to have a constructive dialogue with the City of Auckland about how that can be resolved and make sure that those urban limits are set on the basis of good evidence."
It would be wrong to characterise the two parties' views as one group only wanting urban growth in green-fields, versus all in intensified housing, Smith said.
"It's about what the right balance is. As the Auckland council works through that process, we'll be expressing our view and providing data and information to ensure those decisions are made on an informed basis," he said.
The government-appointed Productivity Commission is currently investigating housing affordability in New Zealand, which included looking at the effects of MULs. See an overview of the Commission's investigation into housing affordability on our website here.
See the Reserve Bank's submission to the Commission's investigation here, where the RBNZ considers the easing of urban limits.
See another take on the Auckland Council's plan here on macrobusiness.com.au, titled Auckland embraces unaffordable housing.
(Updates with comments from Nick Smith, links)