Sort out housing supply issues by looking at construction costs to make biggest impact on housing affordability, RBNZ says
Government policy should be focussed on easing housing supply constraints in efforts to address housing affordability issues in New Zealand, the Reserve Bank says.
In a submission to the Productivity Commission's investigation into housing affordability, the RBNZ said a number of second-tier factors such as the tax mix, monetary policy, easier access to finance, and migration would all have had negative influences on affordability.
But it said the leading factor for house price rises would have been an undersupply in the New Zealand market, an issue the Commission needed to address in its investigation. See an overview of the Commission's investigation into housing affordability on our website here.
In its submission the RBNZ again noted in retrospect it may have been too slow to tighten monetary policy during the latest credit cycle during the previous decade. It reiterated calls that interest should be indexed for inflation (which the government is currently looking at), noting housing was a favoured investment from a tax treatment perspective - something which would influence demand for housing.
Financial liberalisation from the 1980s had made it easier for households to access finance, which, with housing supply slow to adjust to demand, would have fuelled increased in house prices, the RBNZ said. Large positive migration swings also increased demand for housing.
Ease urban limits?
The key supply-side factors appeared to be the availability and price of land for residential purposes and construction costs, the Reserve Bank says in its submission.
"The Resource Management Act, and the way it is applied by local councils, may be playing a role. One solution that is often advanced regarding land prices is for metropolitan planning agencies to ease their urban limits and, more generally, to ensure that residential zoning practices are more directly responsive to market price signals. This will help ensure that land is used for the most economically valuable purposes, as revealed by prices," it says in the submission.
The submission noted research by Motu economists Arthur Grimes and Yun Liang that argued house prices in Auckland had been driven up partly because of the city's metropolitan urban limits, which could be extended to both help economic development in the city and take pressure off house prices.
Environment Minister Nick Smith, who is the Mininster responsible for the government's policy to reform the Resource Management Act, released a paper in October last year which noted urban limits and their effects on section prices were being reviewed.
"Issues have also been raised around the most appropriate way for local council to cover the infrastructure costs around new housing, and whether the move to greater lump‐sum development levies may have played a role in inadvertently exaggerating house price fluctuations," it says in the Reserve Bank's submission.
Construction costs
Regarding construction costs, the Reserve Bank pointed to figures showing the CPI sub‐index for construction had risen by much more than the index for all consumer products, while the increase in hourly wages for construction workers since 2000 had been only slightly higher than for the full workforce.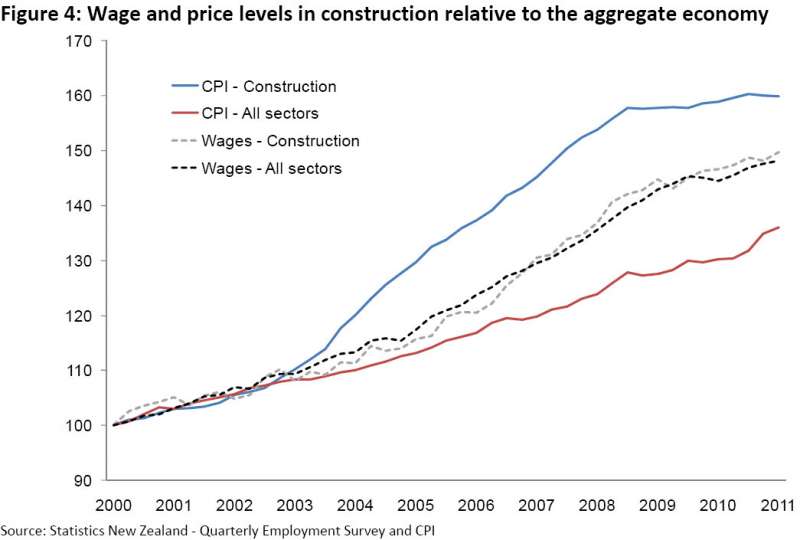 "This is suggestive of low labour productivity growth in construction relative to the rest of the economy (and New Zealand's labour productivity has not been high in the rest of the economy either). Over the very long‐term, and allowing for productivity growth, the prices of other inputs to housing construction like wood, steel and of course unit labour costs, should probably grow in line with the general level of prices in the economy," the Reserve Bank says in the submission.
"Some reasons for this productivity differential probably include the lack of scale in dwelling construction, with many dwellings being built as one‐offs, largely to individual specifications. A lack of innovation in construction methods may be another problem. While it is not clear to what extent the poor productivity performance of the construction sector reflects regulatory constraints, we nonetheless encourage the Commission to look carefully at this issue," it says.
More soon.
(Updates with supply comments)