Productivity Commission wants more land for home building, puts tax changes in 'too hard' basket in draft report on housing affordability
By Alex Tarrant
Tight land supply leading to rising prices, a slow consenting process, and poor productivity in the construction sector have been flagged by the Productivity Commission as contributing to unaffordable housing much more than New Zealand's tax structure.
There was an urgent need for more land to be opened up for housing in urban areas, particularly Auckland, to try and tackle the problem of housing affordability in New Zealand, the government-appointed Productivity Commission said in its draft report to the government on the issue.
The Commission recommended the Auckland Super City Council reconsider its draft spatial plan, as the city faced "significant housing affordability challenges". The Commission said it found the council's current plan, with a target of accommodating 75% of new housing withing existing urban boundaries, would be difficult to reconcile with affordable housing.
Meanwhile, it poured cold water on calls for the introduction of a capital gains tax, saying claimed tax advantages for housing over other asset clases were "much smaller" than often suggested.
Other recommendations included improvements to building consent processes to speed up the service and reduce costs, improving how local council development charges for infrastructure were calculated and applied, and measures to improve productivity in the construction sector.
Read the full 260-page draft report here.
The Productivity Commission was set up by the government through a confidence and supply agreement with the ACT Party following the 2008 general election, with one of its first tasks to look at housing affordability. The Commission is calling for submissions to be made on today's draft report before it releases its final report and recommendations to the government in March.
It's a land thing
There was an urgent need to release additional land for residential development, particularly in Auckland, the Commission said. Section prices in Auckland now accounted for around 60% of the cost of a new dwelling, compared to 40% in the rest of New Zealand. Section prices had grown more quickly than house prices over the last 20 years, indicating that appreciating land prices had been a key driver of house price inflation.
There were immediate issues of affordability closely related to a "chronic and potentially prolonged shortage of new (both greenfield and brownfield) dwellings particularly in Auckland," the Commission said.
"The Draft Auckland Plan for example acknowledges a shortfall of 10,000 homes currently and possible annual demand of 11,000 new homes a year over the thirty years to 2040. This compares with an average of 7,500 new dwellings actually consented in Auckland annually over the ten years to June 2011; and just 4,700 annually over the past five years," it says in the report.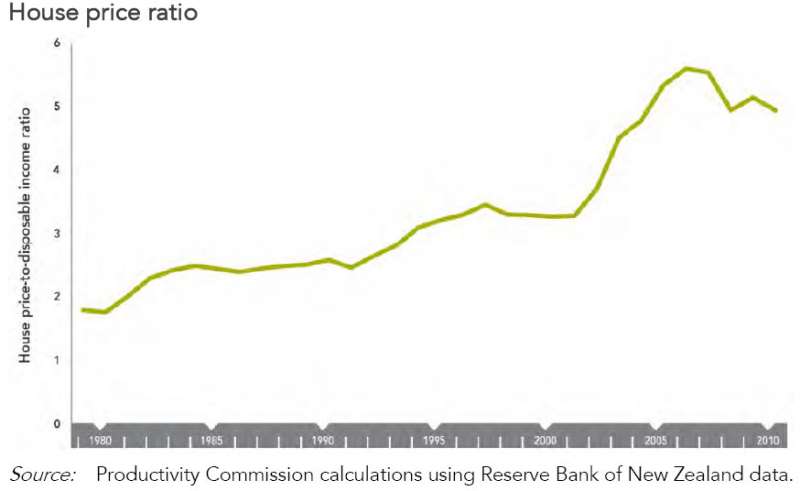 In fixing the problem, the views on whether intensification or greenfields development was more cost effective appeared evenly split, the Commission said.
"While in theory brownfields should cost less than greenfields to develop, the fact that existing services may be close to capacity in older areas and require significant investment in expansion and upgrading reduces their apparent advantage. In any case, even if start-up costs are higher in greenfields, the advantage may not be enough to compensate for their lower land costs," it says in the report.
Do it now
"The Commission believes that an immediate increase in land for development would help address affordability by redressing the current housing shortage. This could be achieved by a combination of bringing significant tracts of greenfield and brownfield land to the market in Auckland and Christchurch (where it is underway as part of the response to the earthquakes) and exploring the options for doing so in other high growth centres (for example, Tauranga and Hamilton)," it says in the report.
"Any such release should, of course, be contingent on meeting requisite geophysical and environmental standards, it should favour land that can be readily connected to existing urban areas and amenities and that can cater locally for employment needs, and that provides for a variety of housing markets (defined in terms of different demand segments or submarkets). The aim would be to identify, assemble, and develop substantial parcels of land for housing and associated uses of such a scale that it leads to a rapid easing of current supply constraints and consequently a reduction in price pressures," it says.
Such a move was likely to require a significant institutional response, and may require collaboration between central and local government, private sector and third sector.
"In the case of Auckland, the task is to identify land that could be immediately released, then identify significant tracts of land with the potential for (say) 50 years development, with at least 20 years' worth under preparation for development. This should cover brownfield and greenfield sites in and around different sectors of Auckland to provide diversity, to ensure competition, and spread risk," it says in the report.
Small-scale investors crowding out larger ones
The Commission made the observation that most investors in the New Zealand rental market were small scale, and large-scale landlords had a very limited presence in the market.
These small-scale landlords were prepared to accept low yields in part because of expected capital gains in the future. The net cash yield on investment properties was estimated to be well below 4% during the house price boom over the 2000s, but capital gains had been relatively strong until recently.
"Outside of student accommodation and retirement villages, large-scale landlords have a very limited presence in the New Zealand market. A low cash yield is likely to be one important reason why institutions have been reluctant to enter the rental property market. In effect, they have been crowded out by small scale private investors," the Productivity Commission said.
"The large scale of investment required to assemble a suitably diverse portfolio of rental properties in different locations with different demographic exposures is also often cited as a barrier to institutional investment in the sector. Challenges around capturing any construction scale economies in the sector may also be inhibiting large-scale involvements," it said.
"Reflecting these barriers, the share of people living in rental properties owned by private businesses, trusts or other organisations has remained low at under 5%, indicative of a very low level of institutional involvement in the sector."
Tax in the 'too hard' basket
The Commission poured cold water on calls to change the tax system, saying it did not favour housing as much as it was believed. Changes to the tax system were effectively put in the 'too complicated' basket in the report.
"The Commission is not persuaded that taxation issues were a principal driver of the recent surge in house prices. The present tax position is long-standing and any tax benefit can be expected to have been capitalised into house prices long ago. Absent change to the tax regime, a tax bias that has already been factored in should not cause movement in prices," it says in the report.
"There is a tilt in favour of owner-occupied housing, but only to the extent that owner-occupied houses are financed by owner-equity. Even there, property taxes (rates) levied by territorial government, and GST, act to level up the playing field," it says.
"Also, to the extent that housing – owner-occupied as well as rental housing – is financed by debt, that debt is taxed quite heavily. This arises since tax is applied to the full amount of nominal, not just real, interest."
However, on the other hand, capital gains on housing were generally outside the tax net.
"Clearly, those gains were substantial during the price boom. However, there are questions about how 'real', and/or permanent, those gains really are, and thus questions about the nature and extent of any tilting of the tax system in favour of housing that stems from their exclusion from tax assessable income," the Commission says.
"In the case of rental housing, the high rate of house price inflation and leveraging up of rental  investments during the 2000s created opportunities for rental investors to achieve positive economic returns, including capital gains, whilst reporting tax losses. However, investors appear to have traded away some portion of those gains by accepting lower rents," it says.
"It is possible that over the longer term the capital gains and 'tax breaks' may come in below what was being anticipated (particularly now that depreciation deductions have been eliminated). If that proves to be the case, the economics of the rental market could look different in the decade ahead, with less investment and higher rents than in the last decade."
'It's not ideal, but changes would be complicated'
Against this backdrop, the Commission said it did not see a pressing need for changes to the taxation of housing. The current taxation of housing was not ideal, but addressing particular anomalies would further complicate the system and could have unintended effects.
"In these regards, the Commission notes that the two most recent major tax reviews to report, the McLeod Committee in 2001 and the Tax Working Group (TWG) in 2010, ventured beyond looking at how to 'adapt' the measurement of income to better cope with asset price inflation. They recognised that adjustments required to achieve that within the existing income tax framework are unavoidably complex, and saw merit in moving to taxing housing capital more directly, and more simply, in particular by applying a 'risk-free rate of return' to the assessed value of the housing investment," the Commission says.
"The 2010 TWG report additionally explored the application of a 'capital charge' and of a land tax. These approaches would all involve a shift toward taxing property, including but not limited to housing, in a manner more similar to how local government rates are struck," it says.
"Potential advantages of these kinds of approach, over applying further patches to address anomalies and inconsistencies in the existing tax system, would appear to be their comparative simplicity, certainty, stability and neutrality in the face of inflation, whether in asset prices or more generally. But they also involve much broader issues, including the appropriate balance overall amongst taxes on income, consumption (GST), and property, and as such, are beyond the scope of the Commission's current Inquiry."
From the report