By Alex Tarrant
The government is confident the Reserve Bank will have a strong influence over the housing market when it decides to raise the Official Cash Rate (OCR), as increasing numbers of mortgages are on floating rates.
Finance Minister Bill English said this was one reason he was not worried about the property market running back into bubble territory, despite prices in the Auckland market hitting new highs in recent months.
Household credit growth was also subdued, at just above 1% per annum, down from the lofty highs between 10% and 18% from 2003 to 2008. While activity in Auckland was picking up, this indicated credit was not being pumped in to other parts of the housing market at Auckland's rate.
Much has been said on Reserve Bank Governor Alan Bollard's new-found 'potency' for when (or if) he does decide to raise the OCR from its record low of 2.5%. That's because the OCR has much more influence on floating, and short-term fixed, mortgage rates.
More than 60% of all residential mortgages are now on floating rates, while that number was below 20% during many of the boom years last decade as Bollard hiked the OCR up to as high as 8.25% to try and cool the rampant housing market.
At a Wellington Employers' Chamber of Commerce lunch on Thursday last week, Finance Minister English was asked whether he was worried about signs the Auckland housing market was taking off again.
Recent developments there did not yet pose a risk, English replied.
"There's no across the board [nationwide] evidence that [the housing market recovery] is a problem. In fact, we want the property market to start showing a bit more life. It just gets things moving again, it's a bit of an indicator of confidence," he said.
There had been a lot of attention placed on a few transactions where there were huge price increases.
A current constraint on the housing market moving back towards bubble territory was that credit growth for households was subdued, compared to what was seen last decade.
"So there really isn't the room – if someone's going to push prices up over here, and credit growth stays at zero, or one or two percent, then it's got to come from somewhere else. So I don't really see the capacity for it to move away," English said.
"The other thing to keep in mind is, everyone's gone on these floating rates. So they're going to be quite 'interest sensitive'.
"If the Reserve Bank Governor had got out of bed this morning and said, 'I'm going to put up interest rates by 1%,' I think you would have heard a pretty sharp intake of breath around the country," English said.
"He's got a wand there, and I can tell you when he waves it, this time it's going to work."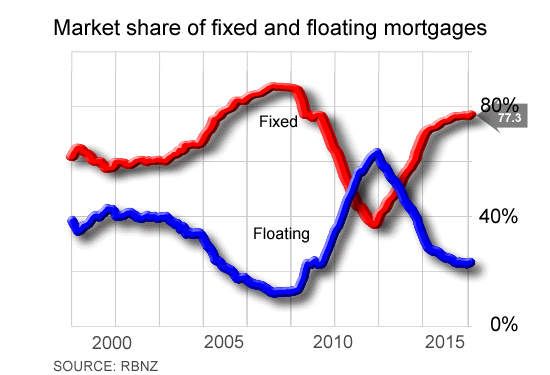 This article was first published in our email for paid subscribers on Friday morning. See here for more details and to subscribe.