Wholesale changes to how government approaches housing affordability as it drops helping demand and focusses on supply side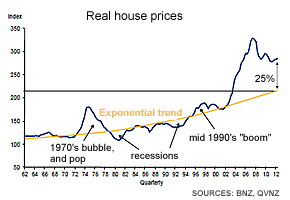 By Alex Tarrant
Wholesale changes are coming to how the government approaches housing affordability, with the focus turning to influencing the supply side of the market.
A repsonse to the Productivity Commission's recommendations on improving housing affordability is being tied in with the government's local government and Resource Management Act reforms.
See the Commission's recommendations here: Productivity Commission recommends immediate release of land for residential development in Auckland, Christchurch, in final housing affordability report.
The size of the policy work programme means a large package may still be some months off. But it is likely to set benchmarks to be hit over the next three to five years aimed at improving the ability of the market to supply much more affordable, lower quartile housing.
The government has become disillusioned with 'rinky-dink' demand-focussed schemes such as Gateway, which was dropped this year by Housing Minister Phil Heatley.
Gateway allowed people to buy properties on state-owned land and delay paying for the land portion for ten years. This type of scheme did little to actually boost the supply of housing, and helped only a handful of people into home ownership. Just 32 properties were sold through the scheme.
This was the same with the former Labour government's Shared Equity scheme. Sure, it might have helped people into home ownership, but ownership at overvalued prices meaning large mortgages. The pilot of the Shared Equity scheme ended in 2010, and was not renewed by the current government.
The thinking in the Beehive is these schemes did nothing on the supply side of the equation.
"You can do much more on the supply side," one official said.
That means a focus on development costs and land availability.
Pressure off govt books
This change, from a demand to a supply focus, is also set to reduce pressure on the government's balance sheet by taking pressure off the accommodation supplement rental subsidy, and also schemes like Working for Families, which is viewed as effectively a rent/mortgage subsidy for the middle class.
While Treasury and the Ministry of Social Development only forecast Accommodation Supplement payments to rise slightly from NZ$1.2 billion in 2011 to NZ$1.3 billion in 2016, they were warned by the government-appointed Housing Shareholders Advisory Group in 2010 that the annual cost could rise to over NZ$2 billion by 2016.
That's goodbye surplus for a couple more years if so.
Finance Minister Bill English refered to this while addressing The Herald's Mood of the Boardroom meeting in Auckland on Thursday:
"The prices you pay for a house are ridiculous and they look that way to 24-year-olds with lots of student debt and the prospect of better pay in Australia," English said.
"The most unfair aspect of it is that there's no housing being built for people in the lowest quartile of income. Like none. That is clearly unsustainable," he said.
"If we want to get back to surplus and keep it there, we cannot afford to have the Government providing growing subsidies to a housing market that then flow into higher levels of debt. That cycle does not make sense and we intend to break it."
They're actually doing research now
Meanwhile, officials at the Department of Building and Housing have started actually talking to the big housing developers in New Zealand. This seemingly common-sense approach is just a recent occurence, interest.co.nz has been told.
They rang up the big developers to ask them what was standing in the way of them building large swathes of new housing. They even asked about timelines for development costs over a five year track. A sensible approach? Of course, but heads had to be banged together to get there.
That begs the question: How is a government supposed to run an effective housing policy if officials are not out there talking to the main players? It's not as if there are many of them either - only five companies in New Zealand build more than 100 houses a year.
The Productivity Commission's investigation into housing affordability has given government housing officials a massive kick to actually get out there and talk to people.
That it needed the government to set up a group like the Productivity Commission to get officials to do their job properly has definitely cemented some views in the Beehive about the public service.
"No wonder they were moved into the new Ministry," one official said of DBH being disbanded and its team becoming part of the new Ministry for Business, Innovation and Employment.
And no wonder why Bill English has started publicly making comments about needing the public sector to engage in some fresh innovative thinking. Yesterday he told the Australia New Zealand School of Government meeting:
"Other people can help us. In fact, I would say this: Unless you are working with other people, you've probably got it wrong. If you're still living in a little bubble where 'the public service cares, and we know what we're doing, and other people are a bit stupid,' you are wrong.
"I haven't come across a single example in the last three-and-a-half years where that's the correct diagnosis of the situation," English said.
Auckland Council has no where to run
The government also got the Auckland Council along for the ride.
As one official said, the Council can't be seen to be opposing measures which would make housing more affordable in their city. The aim isn't just sprawl either. There is plenty of room in Auckland for more brownfields development.
On Wednesday the Auckland Council paid lip service to improving the supply of affordable housing in the city. See the Auckland Council's comments below.
It followed a meeting between senior Cabinet Ministers and the Council last week about how they would work on a joint approach to improving housing affordability in the city.
A supply approach.
Alex Tarrant will be interviewing Housing Minister Phil Heatley on TV3's The Nation programme, airing at 9:30am on Saturday and 8am on Sunday morning.
See comments from the Auckland Council:
Auckland Council is making steady progress in its campaign to make housing more available and affordable, says Regional Development and Operations Committee chair, Councillor Ann Hartley.

The committee endorsed a two-stage approach to a housing strategic action plan.

Stage one focuses on the tools the council can use to improve housing supply and affordability. These include assessing the impact of regulatory fees and rates on housing costs, using council land and development partnerships to increase housing, further improvements to consent processes, and incentivising upgrades of existing houses.

New zoning options and future urban land requirements will be incorporated into the new Unitary Plan.

The committee will receive a report on stage one proposals in December this year and a report on stage two scoping in March 2013.

"The council is talking to many people across the housing industry and with central government to achieve some consensus on how best we can all help ease the housing burden on our citizens," says Councillor Hartley.

"We know Auckland is in the grip of a housing crisis but all industry parties have to contribute to the solution.

"The Auckland Plan gives strong direction on how we can build up the housing stock through the principles of a quality compact city which aims for well-planned, well-designed higher density housing offering a range of housing choices.

"The Unitary Plan, which will set the rules, will play a major part in ensuring a quality approach with a mix of dwellings and neighbourhoods across Auckland," she adds.

Auckland needs about 10,000 to 13,000 new dwellings a year but is currently only building around 2,500.