National residential property values rose in August and are now just 0.4% below the 2007 peak, QV says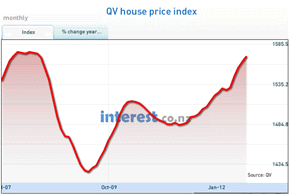 National residential property values have continued rising, with values now up 4.8% over the past year to just 0.4% below the 2007 market peak, government valuer Quotable Value (QV) says.
Values in the wider Auckland area now 6.5% above the highs of five years ago.
QV, which released its index for August today, said the main centres continue to lead the growth in national values, unsurprisingly with values increasing fastest in Auckland.
"Wellington and Tauranga are the notable exceptions, with values in both remaining steady for the past few months," said Jonno Ingerson, QV.co.nz's research director. "Outside of the main centres values in most areas have remained relatively stable for the past year."
QV said values are up 1.6% in the last three months.
"Across most of the country there are a few common trends; a shortage of listings leading to a lack of choice for buyers, first home buyers are active due to low interest rates, investors are back in the market for properties that can return a good yield, and it appears that there are about to be more properties coming onto the market as we head into spring," said Ingerson.
"Typically at this time of the year we would expect to see more properties come onto the market, with the number of sales increasing each month from now through to November. This trend looks set to continue in most parts of the country this year, although the low level of stock may constrain the number of sales in some areas."
He said values in the broader Auckland area are up 2.6% over the last three months and 6.8% over the past year.
"Over the past year values have increased the most in old Auckland City, where they are up by 7.7%, but Manukau (up 6.8%), Waitakere (6.2%) and North Shore (6.0%) aren't far behind. In the past three months Manukau has increased the most (up 3.2%) with the other three areas mentioned up between 2.3% and 2.7%."
Auckland 6.5% above 2007 levels, but 'heat off over past month'
Compared with the previous market peak in late 2007, QV said values in the wider Auckland area are now 6.5% higher, with the old Auckland City up 9.3% since peak, North Shore up 5.1%, Manukau 3.9% and Waitakere 2.5%.
However, QV Valuer Jan O'Donoghue said there hadn't been the same heat in the Auckland market over the past month as had been seen for much of the last year.
"Buyer enquiry dipped, and a few properties were selling below expectations. This is in stark contrast to the strong activity through winter, and came as something of a surprise," said O'Donoghue.
"There are pockets of property close to the CBD, such as Sandringham and Mt Albert, where values are catching up to the rest of central Auckland, and so recent increases in value have been quite strong," O'Donoghue added.
Annual Christchurch values up 5.5%
In earthquake hit Christchurch values are up 5.5% over the past year and 1.4% over the last three months.
QV said there was still strong demand for properties in the least affected parts of Christchurch, and areas that had "largely" been repaired. The strongest activity, and the most competition, was in the NZ$300,000 to $NZ400,000 range.
"In contrast the affected areas of the city, including the eastern and hill suburbs, have stumbled through the last few months, with limited volumes of sales. For some home owners in these areas repair dates are still a long way out," said QV valuer Daryl Taggart .
"Properties in the TC3 (technical category three) zone have not been selling well with buyer resistance to the amount of damage still to be repaired," added Taggart.
Meanwhile, values in the Waimakariri and Selwyn Districts continue to increase faster than anywhere else in the country, with both now "well above" the 2007 peak. Waimakariri is up 13.4% over the past year, and Selwyn up 14.4%.
See QV's comments on other regions below:
Hamilton and Tauranga
Values in Hamilton have risen 1.3% over the past three months, and are now 3.5% higher than the same time last year. First home buyers and investors are driving the lower end of the market while there has been a steady level of sales and enquiry at the upper end of the market. This positive activity is likely to carry on through spring.

In Tauranga values have faltered in recent months and are only 1.2% above the same time last year.

Wellington
In the Wellington area values have been flat for the past six months, and as a result are only 2.0% above the same time last year.

QV Valuer Pieter Geill said "there is still a lack of choice for many buyers who have been searching for some time, but like other main centres there are signs that people are now preparing their properties for sale in spring. Although confidence is still low overall, some top end properties have been selling well and first home buyers are still actively looking for homes and smaller apartments".

Dunedin
Values in Dunedin have increased 1.1% in the past three months, and up 4.9% over the past year.

QV Valuer Tim Gibson said "there is strong interest at the lower end of the market with good turnouts at open homes. Affordable, well presented properties are getting multiple offers particularly in good suburban areas such as Mosgiel. There continues to be a shortage of good properties on the market".

Provincial centres
Values in most of the provincial centres have remained relatively stable, with changes over the past year falling within a 2.2% band. The exception is Gisborne, which is down 3.6% over the past year.
And see QV's full press release here & its monthly price index here.