Barfoot & Thompson says average selling price of Auckland house rose $9,000 in November to record high of $627,721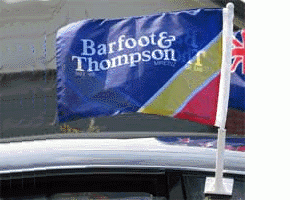 Barfoot & Thompson say the 'average price' of all homes they sold in the Auckland market in November was a record at $627,721, a rise of $9,014 from the previous month and a massive $60,231, or 10.6%, above the price in the same month one year ago.
Barfoot sold 1,124 residential properties, compared with 1,081 in October, and 894 in November 2011.
"In the past two months we have seen house values lift to a new high water mark," said Peter Thompson, the firm's managing director.
"For much of this year the average price moved between $580,000 and $590,000 but with two consecutive months of trading at an average price well above $600,000, the entire pricing structure has lifted."
Inventory lowest since 2003, drop out rate highest since 2004
The number of Barfoot's listings rose in November to 1,769 (October 1,645) and were 13% above the 1,562 listed in November 2011. But they only had 3,816 properties listed on their books at the end of the month, well down from the 5,046 they has in the same month a year ago. This November listing inventory was by far the lowest level for the firm for a November for at least the last twelve years.
Barfoots now has 14.8 weeks of inventory at the current selling rate, the lowest level since October 2003. Their listing drop-out rate rose however to 17.3%, its highest level since 2004. The listing drop-out rate measures the number of listings that do not sell with them.
"The driver that is causing homes values to increase so quickly is buyer demand. It has led to prices increasing across all price brackets," said Thompson.
"Telling signs that higher prices have become entrenched are the 146 homes that sold for in excess of $1 million, a quarter more than we have ever sold in one month previously, and that 43% of homes sold for less than $500,000, whereas on average the number is normally half."
Typically, the period December to April see the lowest number of listings.
"While we may see some easing of average prices during the Christmas/New Year period, during the prime summer trading months of February and March average prices are likely to return to the low $600,000s, said Thompson.
Auckland housing market 'cooled' in November, Westpac says
Meanwhile, Westpac economist Michael Gordon said the Barfoot & Thompson figures show Auckland's housing market cooled a little in November compared to a frenetic October. Gordon said seasonally adjusted sales fell 6.3% in November, though this followed a 15% rise in October. Similarly he said sales prices fell 1.1% after a 3.2% jump in October.
"This measure is not adjusted for the composition of houses being sold, so we put less weight on monthly movements," said Gordon.
Furthermore he said supply in the Auckland housing market has tightened even further.
"New listings were 2.9% higher for the month, but they have been broadly flat over the last six months, failing to match the upturn in sales over that time. As a result, the total number of listings is now equivalent to just 3.5 months' worth of sales, down from 3.7 months in October. This is the lowest ratio since December 2003," Gordon said.
"Setting aside the choppy monthly details, the housing market still appears to be in a strengthening phase. With record-low mortgage rates already clearly boosting the market, and with the Reserve Bank now obliged to monitor asset prices under its new Policy Targets Agreement, we suspect the Reserve Bank will have little enthusiasm for Official Cash Rate cuts."
(Updated with more inventory detail and Westpac comments.)