Auckland Council releases an action plan covering twelve priority areas to address the affordable housing crisis in the city. Your view?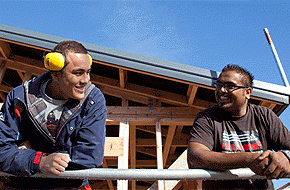 The following is the foreword to Auckland Council's Housing Action Plan - Stage 1, released online today. A copy of the full 36 page .pdf document is here »
We have just received this document and we ask for readers assistance in analysing its contents. Post your findings in the comment section below (you need to be logged in to do this).
-------------------------------------------
By Len Brown*
Next to transport, housing is the biggest issue that Auckland faces.
It has become a problem of such scale that the Auckland Plan refers to it as a housing crisis, and calls for a housing action plan to be developed and implemented urgently.
Most people know that there is an affordability problem in Auckland and there has been extensive media coverage recently.
We know that house prices in Auckland keep on rising, the median price currently being more than $500,000.
We also know that there are many hard working families and people who simply cannot afford to buy a house.
Yet we may not always appreciate the depth and scale of the problem.
It is projected that, by 2040, only around 30% of households will be able to afford a house over $400,000. Another 30% (around 120,000 households) will need a house in the $275,000 to $375,000 price range, and there will be 40% (around 160,000 households) who probably cannot afford to buy a house and will need affordable rental accommodation.
This is not a situation that supports the stable families and communities that are so important for a healthy society.
Auckland will need around 400,000 new dwellings over the next 30 years.
The market – our developers and builders – will deliver the bulk of those.
I believe that once the economy recovers, the market will respond accordingly, but perhaps still not sufficiently.
There is particularly a shortage in the lower end of the price range - $300 000 to $400 000. To create the communities we want, and to make Auckland the world"s most liveable city, this gap in the market must be addressed.
We have to find ways to deliver more homes and more affordable homes.
Central government has responded to the Productivity Commission"s investigation into housing affordability with a programme of its own, which focuses on the supply side of housing.
The Council"s Action Plan looks at the role that the Auckland Council can play in both the broader issue of housing supply, as well as the role it can play in affordable housing – the tools and levers the Council can use to influence housing.
The matter of land supply is not dealt with in this Action Plan, but rather through the Unitary Plan currently being developed.
This Action Plan will also be followed by a second phase that will look at the broader housing market beyond the Council"s control, and what additional levers can be used to positively influence the market.
Aucklanders must be housed in a way they can afford.
It is estimated that we are already short of between 20,000 and 30,000 homes.
Now more than ever, Auckland"s housing issues have to be addressed.
We clearly have a leadership role and the Council can and will play its part in achieving the goal of housing our people.
-------------------------------------------------------
Len Brown is the Mayor of Auckland