Housing market inventory falls to record low levels, adding further pressure on buyers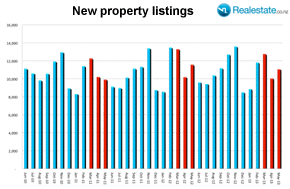 Content supplied by realestate.co.nz
The average asking price by property sellers reached a new all time national high in May of $454,795, with Auckland and Central Otago also reaching all time highs of $631,656 and $707,510 respectively.
The Central Otago figure is the first time any region in New Zealand has surpassed the $700,000 threshold in average asking price.
Data released today in the NZ Property Report – a monthly report of housing market activity compiled by Realestate.co.nz – showed that inventory of houses for sale dropped to record low levels of just 25.4 weeks (seasonally adjusted).
Both Auckland and Canterbury had the lowest recorded inventory levels for their markets, of only 12 weeks and 14 weeks respectively.
Inventory is measured by the number of weeks it would take to sell all unsold housing stock on the market. The long-term national average is 38 weeks.
Paul McKenzie, Marketing Manager of Realestate.co.nz says that the ongoing demand for homes in both Auckland and Christchurch drove the fall in inventory, with the nation's biggest property market registering a 14% fall from the previous month in housing stock for sale, and a 42% drop on the same time last year.
"Low levels of inventory were seen across almost all regions in the country, indicating a national continuation of a sellers' market. Southland was the only region with an inventory above it's long term average, all the other 18 regions have figures lower than their long term average, with some quite significantly under this mark."
The low inventory, a sign supply is not keeping up with demand, helps explain the new high in national average asking price which reached $454,795, above the previous record set last month of $447,275. Auckland, Central Otago and Manawatu/Wanganui all reached record high in asking prices.
The national average asking price of vendors is up 1.7% on last month's previous record figure, and up 4% year on year. Auckland saw its average asking price in May rise by nearly $20,000 to a high of $631,656, while the Central Otago figure also increased to $707,510, almost $30,000 higher than the previous high mark set last month.
May saw 11,045 new properties come to the market, up 10% on the prior month and down 4% year on year, but this did nothing to ease the market pressure, evidenced by the new record low in inventory.
McKenzie says, "lack of supply is what is really driving the low inventory and high asking price, but the demand is very real; we had more than 1.5 million visits to our websites in the last month, a 20% increase from the same month last year, which shows that despite the high in asking price there are still plenty of people looking to buy."