Auckland Council staff are rolling up their sleeves as they take on a tough target of 39,000 new houses in three years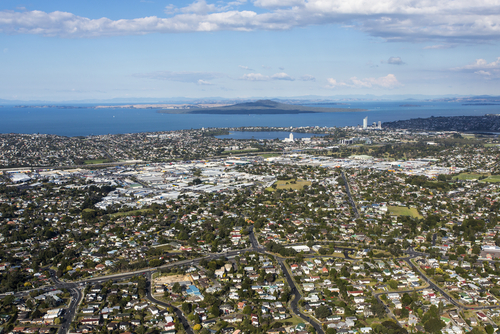 By David Hargreaves
More "Special Housing Areas" for Auckland are expected to be announced before the end of this month as part of the drive for 39,000 new houses in the region over the next three years.
The announcement of further fast-tracked housing areas will come hard on the heels of the recently announced first tranche of 11 areas that may ultimately provide up to 6000 new houses. The first consents to build houses in these areas are expected before the end of the year.
In addition, after this month's announcement of more special housing areas, there's likely to be another announcement in March. Future special housing areas may well be somewhat larger than the ones announced to date.
Also, while most of the first sites announced were "greenfield" sites - those not previously developed on - future announcements will feature more "brownfield" - previously used - sites.
All this comes as the project team driving the ramping up of Auckland's housing activity is considering between 70-80 expressions of interest from parties looking at undertaking new developments in the region.
Auckland's attempting to play catch-up with its new house construction. In the years from 2001 through to 2003 it averaged over 10,000 new home builds a year. But these figures fell away in the mid 2000s and then collapsed after the Global Financial crisis - with annual construction averaging under 4000 between 2009 and 2011.
This figure blipped up a little - to 4500 last year, while for the year to September 2013 about 5600 new houses were consented.
Roaring house prices
But while this represents a recovery, in the meantime Auckland house prices have been roaring ahead. The overheated nature of the Auckland market in particular has been a significant factor in the Reserve Bank's decision to put "speed limits" on high loan-to-value lending, principally to protect financial stability, but with an eye to cooling the housing market - while the perceived shortage of supply is addressed.
Future development in Auckland will come under the auspices of its new rulebook, the Auckland Unitary Plan.
But since that won't be coming into force for three years, as an intermediate step there is now the Housing Accord agreed between the Auckland Council and the Government. The accord was officially enacted by the Housing Accords and Special Housing Areas Act, which was rushed through Parliament after May's Budget and came into force in September. See here for previous articles on the accord.
Following the Auckland Council's official signing up to the accord, the council moved quickly to establish the Housing Project Office, to handle the drive to meet that 39,000 houses in three years target.
Up and running
The office was up and running by October 1. It will ultimately have about 40 staff, mostly seconded from other parts of the council or its offshoots. But there will also be central government representation on site - a Ministry of Business, Innovation and Employment adviser will be in the office full-time, while there will also be regular attendance of a representative from Housing NZ.
Heading the new office up under the official title of Project Director - Housing, is Ree Anderson, who was previously the council's Manager, Regional Strategy, Community and Cultural Policy.
The 39,000 target's seen as a tough one. Even the RBNZ has indicated it doesn't think it will be met. The latest building consents figures showed that the rate of growth in activity in the Auckland market this year has actually flagged somewhat recently.
But Anderson's not feeling under pressure.
"No, I think that we've had our foot on the pedal from day one," she says.
She says the office will build on work that was already being done within the council.
The one-stop-shop
The aim of the office is to have a completely integrated "one-stop-shop" (the office is located on one floor of the council's Civic Building in central Auckland), where people looking at undertaking developments can "see all of council" in one location, including offshoots such as Auckland Transport and Watercare.
"The whole rationale is that the applicant can come to us and there's one point of contact," Anderson says.
"...We are just building on a lot of work that we had already put in place. The Auckland Plan identified that housing was a crisis, the Unitary Plan was fast-tracked because we needed to release development capacity, not just in greenfields and land supply but also development capacity within the existing urban area so that there is an incentive to develop.
"We had done a housing action plan looking at all non-regulatory opportunities that could also support housing initiatives and more particularly we had started a forward land and infrastructure programme and that was where we were working across council together with central government input and saying how are we going to release land and deliver infrastructure in the same place at the same time so that when you have an area that is zoned the development capacity can be taken up.
Not all together
"That's always been the problem for Auckland. Those things have not come together well in one place at the same time. This is allowing us to do that at a faster rate now."
"...What we are doing is making sure is that we meet the targets that we said we would meet, IE we would have enough land supply and that we have an average of seven years serviced land supply. At the moment we have around three."  
Ultimately of course, the council's team can only create an environment for building. It can't build the houses itself.
"We are not going to do it by ourselves," Anderson concedes.
"Council's role is to create the conditions by which others can actually build and deliver. We are only one part of the puzzle. The Government's another part of the puzzle. The development and private sector, the community housing sector, iwi authorities - who are also huge investors - they are all part of the puzzle.
Making it happen
"What we have to do is try to work together to make sure that that delivery can happen. So, outside of everything else we are doing, we also need to be concerned and the [housing] accord does refer to this – what are the issues associated with the cost of construction and materials? What are the issues associated with the skills that we will need with respect to labour?  How much will we need?
"We are not only just thinking about land and development capacity. We are also thinking about those other elements, other pieces of the puzzle, so that we can solve, or help to solve the problem and do our part. We can only do our part. But I have to say that we are doing everything to do our part."   
In terms of the publicly visible activity to date, Anderson says the first announced tranche of special housing areas was "small".
"There's probably a greater emphasis on greenfields. There is a need to balance that with brownfields as well.
"Necessarily the first tranche had to be small because we were going at pace. Greenfields has fewer owners so it was easier to be engaged with those owners and understand what their plans were. But moving forward we would probably anticipate more opportunities in the brownfields and probably some of those special housing areas might be a bit bigger, particularly when we start to look at reporting next year.
"...As we go into the next realm it will become a little more complex with brownfields, but we are already working on that now as well."
Reporting progress
The project office will be undertaking periodic reporting of  it progress.
"We'll have probably have another report late November around a second tranche and then again of March next year and maybe periodically after that."
This actually will put the council well ahead of the targets Housing Minister Smith stated when the accord legislation was passed, because he talked about having sites for 5000 houses before Christmas - a target that's already been exceeded.
Anderson won't talk about the numbers involved in the next tranche of housing areas to be announced, but affirms that, particularly next year, the areas are likely to be bigger. 
"Rather than having lots of little SHA's [special housing areas] its better to identify some bigger SHAs as well so the intention going forward would be to do that."
Interest picking up
Anderson says development interest is definitely picking up, and the office is dealing with between 70-80 requests from would-be developers.
She's reasonably cagey about who these would-be developers are, though they come from throughout the region.
"They are quite different. Some are small and some are large. The identification of special housing areas isn't just based on the request. If we get a request the idea is that we would also look and say 'well what else is happening in that area? Is there any logic in going beyond where that request is to create a special housing area?'
"You have to have a geographical boundary. You have to look at logic around geographical boundaries, of catchments of roading, infrastructure networks – due diligence."
Anderson stresses that the 39,000 target involves consents for both houses and site - rather than physically completed houses. And she says it will be important to monitor progress.
"In the Auckland Accord it is highlighted that there is a need for a monitoring programme.
"We are just in the process of developing that with central government right now. That does need to be reported through both to the Minister and to our Mayor, Deputy Mayor and councillors.
Monitoring framework
"So, we will have a monitoring framework around the targets. We are looking at different ways of doing that.
"So, we would want to monitor consents for example across Auckland. But we would also want to geographically isolate out those that are consented within special housing areas. So, that we can assess how much is occurring as a consequence of the special housing areas and the new zonings versus how much is happening in ordinary business.
"So, when you think about those targets, the 39,000 isn't just to be achieved within the special housing areas, it is across Auckland. So, we are setting up a monitoring framework around that. And then we will do that on a timely basis. We haven't determined how often that will be at the moment, but we will. So, we are tracking, see how we are tracking against those targets.
"But additionally I'm also concerned about quality as is our council.
"So, we also want to set up a framework whereby we monitor the quality of what is produced. And my view is that we should have an independent review on probably three facets: Design quality of the neighbourhood, the affordability provisions and probably also commercial viability. So, we are thinking about that right now too.
"We often forget monitoring the outcome, what's produced on the ground. We want to monitor the targets – are we achieving the volumes? We also want to monitor what's on the ground. If you monitor what's on the ground then you can determine whether the way the policy was set up whether the conditions on the consent are working and if they are not you can change it and improve. So, we are about learning and improving as we do things all the time."
Affordable housing
One contentious aspect that the council will have to deal with is that of affordable housing. 
Anderson says included in the first tranche of special housing areas was an option that includes a "relative affordability criteria". This means that a percentage of houses in developments over 15 units have to be of a "relative affordable nature". 
Anderson says for the first tranche generally the percentage was 7% or less. But it varies and there were some exemptions.
And the definition of "relative affordability? Well, 75% of what the median household price is.
"So, you might require to have 7% , if you are doing more than 15 dwellings, 7% that are somewhere in the order of $416,000 to $420,000," Anderson says.
She concedes that building "affordable" houses is challenging.
"From my conversations with the development sector it is hard to produce new housing at what we would call affordable cost based on median household incomes.
"So, to produce a new house at $420,000 is quite hard. So, new ways of doing that need to be explored.
More density
"Now, increasing density is one of those ways. So, the Unitary Plan and the mixed housing urban gets rid of density and we've heard from some of the development sector that means they can get more housing but also better amenity as a consequence of that.
"That's one mechanism. Another mechanism might be that the houses are smaller - and there are different markets out there at the moment. So there are those single households for example where there is a market for smaller houses or first home buyers, people who want to get a foot in the door a step on the ladder.
She cites the current Hobsonville development as an example of where the developer is required to put in affordability in a range of ways.
"Not everyone with their first house can end up having a three bedroom or four bedroom and two or three bathroom house. It's too costly. So, there is something around people's expectations changing."
The housing project office is set to exist for only three years - the state term of the accords legislation. 
But Anderson's hoping that the practices and attitudes it instals will be ongoing.
"We have to do stuff well – and do it fast – and then build on that. That will create its own momentum. So, getting exemplars out there and showing and having how it is demonstrated is important.
"So, the private sector has a key role. But Government, both central and local has a key role as well in terms of exemplar demonstration projects.
"...The seriousness of the issue is such that people want to make it work. It is like when we first came into being with Auckland. People wanted to make Auckland work and Auckland has to work for New Zealand as well and so we are kind of at those crossroads again."