English says NZ Initiative's 'big bang' housing reform plan 'pretty radical', but well focused on supply and affordability; Water review underway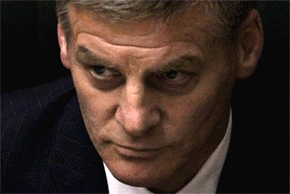 English says NZ Initiative's 'big bang' housing reform plan 'pretty radical', but well focused on supply and affordability; Water review underway
Finance Minister Bill English has described a plan unveiled yesterday by the NZ Initiative thinktank to improve housing affordability as a "pretty radical" change to the funding arrangements for councils, "so we're not going to be rushing into that."
The NZ Initiative proposed in its 'Free to Build' report that Councils receive 'Housing Encouragement Grants' for every new house built, funded through the GST raised from the building of the house. It also proposed the private financing of the infrastructure for new developments that would allow companies to effectively levy rates on residents instead of councils, and it proposed water infrastructure be taken off councils and given to five new regional water companies able to set their own levies. See more here in David Hargreaves' article. 
English told reporters before a meeting in parliament of National MPs that the Government agreed with the report's strong focus on housing supply.
"I haven't seen the detail of their proposals, but some of them sound pretty radical. In fact they'd change the basis of local government in New Zealand, so we're not going to be rushing into that," English said.
English acknowledged the Government needed to better understand the incentives facing councils, which the NZ Initiative said were currently stacked against Councils encouraging development because Councils were forced to fund expensive infrastructure for such development upfront.
"We need to understand the decision makers quite a lot better than we do. We've come quite a long way by working closely with the Auckland Council through the Housing Accord. I think central government has a better idea, but there's still a long way to go understand just why councils make the decisions they do and get a better understanding of the connection between those decisions and housing prices, because New Zealand has among the least affordable housing in the developed world, and we've got to do something about it," English said.
Water reforms
Asked about the NZ Initiative's proposal to strip councils of the water infrastructure companies and create new regional ones, English said Local Government New Zealand and the water industry "were doing a pretty hard look at the water industry right now."
"Everyone acknowledges it could be managed better. They'll come and tell us what they think and in the meantime we're just focusing on our programme of getting the special housing areas out, getting the Resource Management Act through, and working with the councils on how to do more," he said.
Asked again about the proposal for the effective privatisation of water rates, English said that was a matter for councils.
"The councils control and run water. We don't, and we're not making policy of their behalf."
Health changes?
Elsewhere, English was asked about proposals in a report released yesterday by Parliament's Health Select Committee to spend more on early childhood health to prevent diseases and ill-health, rather than spend large amounts in the last two years of life.
"It has been estimated that well over half of Vote Health is spent on the last two years of life. This report advocates investing an equitable share in the very early years of life where there is clear evidence that it is most effective," said the report authored by retiring National MP Dr Paul Hutchison.
English agreed the Government would look closely at the report and had already introduced a similar 'investment-led' approach in welfare.
"The Government's implementing an investment approach where we're getting a better understanding of the long term payoffs of spending upfront, and clearly with children there will be long term payoffs and a clearer idea we can get about those the more likely we can invest, and that seems to be where the select committee is going," English said.
"In Welfare, we're creating a way of measuring that and we want to take that kind of approach to other parts of the public sector. Part of the challenge is to show that the interventions being proposed actually work, because where they work the government will try and find the money to fund them. Too often though, our interventions skate over the surface of the problem or don't quite reach the people who are in need," he said.