Realestate.co.nz says NZ residential property listings rose 5% in January year-on-year but inventory 10 weeks down on long-term average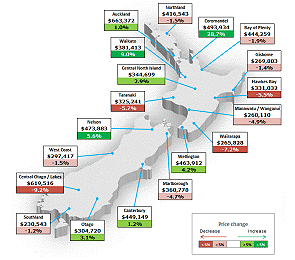 New residential property listings across New Zealand were 5% higher in January than the same month last year with the seasonally adjusted mean asking price up 8.2%, Realestate.co.nz says.
The 9,267 properties listed in January was 418 higher than in January 2013, and 1,257, or 16%, higher than December's 8,010.
However, at 27 weeks, the number of available homes for sale on the market remains well below the long-term average of 37 weeks. At 26.8, January 2014's weeks of stock available was down on 28.7 in January last year. The record low of 18.4 weeks was recorded in February 2007.
At $476,797, what's described by Realestate.co.nz as the national seasonally adjusted truncated mean asking price for new listings wasn't far shy of last October's record high of $482,063. Record high asking prices were recorded in Canterbury of $449,149 which was up 11.5% year-on-year, and Otago of $304,720, up 1.6% year-on-year.
Auckland's mean asking price rose 1% to $663,372, and Wellington's increased 4.2% to $463,912.
Weeks of stock available in Auckland fell to just 13 in January from 14.8 a year earlier. Auckland's low point in Realestate.co.nz's records was 11.1 weeks last August. Realestate.co.nz says Auckland reported 2,723 new listings, a rise of 1.2% from January 2013.
"Of the 13 regions that reported higher new listings than January last year the most significant increase in listings was seen in Coromandel, rising 39.8%, Central North Island, which rose by 29%, and Waikato, where listings were up 25% year on year. Record low numbers of new listings were seen in Gisborne – which had just 52 new homes listed in January."
Meanwhile Realestate.co.nz, which is the official website of the real estate industry, says early indications of higher buyer demand are being seen through its record website traffic of some 1.6 million visits last month.
"It will be interesting to see how this increase in site traffic translates into sales in the coming months," Realestate.co.nz says.
                                                                                New Zealand