Surging migration means demand for housing in Auckland will outstrip supply by a considerable margin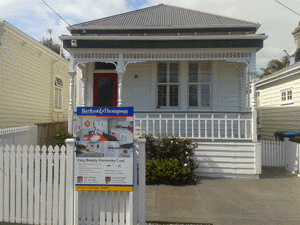 Auckland could be about to face one of its worst housing shortages in more than 10 years due to the current surge in migration.
Population and building consent figures suggest construction of new homes in the Auckland region has not kept pace with its burgeoning population since 2005, but as the region's population growth accelerates, the housing shortage could be about to take a turn for the worse.
The accompanying table shows the Auckland Region's population growth from 2004 to 2013, as estimated by Statistics NZ.
It shows that from 2005 to 2013, Auckland's overall population growth has been reasonably consistent, at about 20,000 to 25,000 new residents a year.
But that could be about to blow out to about 42,000 new residents a year if current migration trends continue, increasing the pressure on the region's already tight housing supply.
Census data suggests that the average household size in Auckland has been between 3 and 3.1 residents per dwelling over the last decade
Assuming an average household occupancy of 3.1, there would need to be 8065 new dwellings added to its housing stock for every 25,000 new residents.
The last time the supply of new dwellings exceeded the region's population growth was 2004 - 2005, but that was driven by the shoebox apartment building boom in the CBD.
Building consent figures suggest that the supply of new homes has been falling woefully short of what has been needed since 2006, when the region's population grew by an estimated 24,100, which using average occupancy of 3.1 people per household, would have required an additional 7,774 homes.
But only 7,250 new dwellings were consented during that period, leaving a shortfall of 524 homes.
That shortfall got bigger every year and peaked at 4,380 homes in the year to June 2011, before dropping back in 2012 (shortfall 2771 homes) and 2013 (shortfall 1,689 homes) as building activity rose to meet demand.
Those shortfalls are significant because until the supply of homes starts to exceed demand again, they are cumulative.
Equivalent of Hawke's Bay population added to Auckland in 7 years
From June 2006 to June 2013 the region's population is estimated to have increased by 156,400, roughly equivalent to the entire population of Hawke's Bay, including the cities of Napier and Hastings.

To accommodate all those extra people, 50,451 new homes should have been built, but between June 2006 and June 2013 only 32,352 new dwellings were consented in Auckland, leaving an accumulated shortfall of 18,189 homes.
The figures for the 12 months to June this year are not yet available, but if the trends until April this year continue until the end of this month, Auckland's housing shortfall could have ballooned out 24,943 homes, largely due to a surge in migration numbers.
It is often assumed that overseas migration is the main contributor to Auckland's explosive population growth but that's not the case.
Statistics NZ estimates that from 2011 to 2013, the region's population gains from net external migration (the difference the number of people arriving from overseas to live in the region and those departing to live overseas) accounted for about a quarter of its growth. The rest was due to internal migration (people moving to Auckland from other parts of the country) and the region's natural increase in its population (the extent to which births exceed deaths). But in the 12 months to June this year, growth from migration is likely to be much higher.
That's because in the year to April, the latest period for which figures are available, the national net migration gain was 34,366, compared with just 4776 in the previous 12 months, caused by a 13.3% rise in the number of immigrants coming to this country, and a 21.8% decrease in the number of people leaving to live elsewhere.
Auckland is by far the biggest destination for migrants coming to this country, and Statistics NZ estimated that two thirds of the net population gain from migration in the year to June 2013 occurred in Auckland.
If that figure holds true for the current year, Auckland could be looking at a net increase in its population from migration of 25,500 in the year to June, a near five fold increase on the figure for the previous 12 months.
And if internal migration and the natural increase in the region's population continue at previous level, the region's total population could have increased by about 42,000 by the end of this month, compared with a year earlier, equivalent to the population of Wanganui.
Housing that many people comfortably would require around 13,548 new homes to be built and although residential building activity in Auckland has been steadily increasing, the current rate of construction is nowhere near enough to meet such a big surge in demand.
Shortfall of 25k homes since 2005
If the rate of residential building consents issued up until April continues, it's likely that only around 6,794 dwelling consents will have been issued in the year to June, leaving a shortfall for the year of 6,754 dwellings and taking the accumulated shortfall since 2005 to about 25,000 homes.
That ongoing shortfall between supply and demand is probably the main reason that house prices in Auckland have so far largely resisted the onslaught the residential mortgage Loan to Valuation restrictions the Reserve Bank introduced last year, and more recently the impact of rising mortgage interest rates, while prices in most other major centres except Christchurch, have been flat or falling.
The figures will give anyone renting or looking to buy a home in Auckland little to cheer about because the surge in demand is likely to, at the every least, support currently high property prices and rental levels and has the potential to push them higher.
But property developers, landlords and people who already own a home will be laughing because the increased demand and limited supply could lift the value of existing homes and increase their owners' equity, and landlords will be buoyed by the prospect of improved rental yields and equity levels.
However finding additional properties to add to their portfolios at prices that could provide an adequate return could become more difficult, because in the current market cycle, property prices have tended to rise faster than rents.
Housing Supply & Demand
Auckland Region
Year to June
2004
2005
2006
2007
2008
2009
2010
2011
2012
2013
2014*
Estimated population
1,326m
1,349m
1,373m
1,396m
1,417m
1,439m
1,462m
1,486m
1,508m
1,529m
1,571m
Annual increase
28,400
22,900
24,100
23,100
20,700
21,800
23,300
24,100
21,600
21,800
42,000
New dwellings required**
9,161
7,387
7,774
7,451
6,677
7,032
7,516
7,774
6,968
7,032
13,548
New dwelling consents
12,937
9,435
7,250
6,781
5,769
3,212
3,656
3,394
4,197
5,343
6,794
surplus /deficit
3,776
2,048

-524

-670

-908

-3,820

-3,860

-4,380

-2,771

-1,689

-6,754

 
 
 
 
 
 
 
 
 
 
 
 
Net migration to Auckland
12,150
6,814
7,753
8,319
6,134
8,611
8,805
6,220
5,079
5,286
25,500
Dwellings required for migrants** 
3,919
2,198
2,501
2,684
1,979
2,778
2,840
2,006
1,638
1,705
8,225
 
 
 
 
 
 
 
 
 
 
 
 
*Year to June 2014 figures are indicative forecasts by interest.co.nz, based on migration and building consent data to April. 
** Assumes one new dwelling required for every 3.1 extra people.
 
 
 
 
Source of data: Statistics NZ.