RBNZ's Wheeler says annual Auckland house price inflation of 8.5% "not a bubble", but it would have been a bubble over 20% without LVRs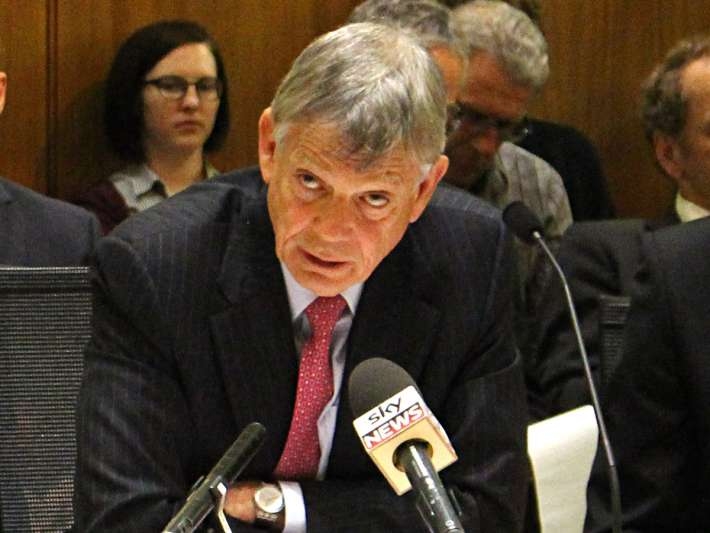 By Bernard Hickey
Reserve Bank Governor Graeme Wheeler has told Parliamentarians that Auckland's housing market is not in "bubble territory", but there had been a serious risk of it becoming a bubble before the Reserve Bank introduced its high LVR speed limit in October last year.
Wheeler was asked by New Zealand First Leader Winston Peters in a Finance and Expenditure Committee select committee if Auckland's housing market had become a "speculative bubble."
Wheeler said Auckland's housing market suffered supply shortages and the combination of interest rates at 50 year lows, aggressive bank lending and rising net migration had created momentum in the Auckland housing market through 2012 and 2013. The high LVR speed limit had helped to reduce Auckland's annual house price inflation from around 17% at the time to around 8.5% now, he said.
"I don't think it is a bubble at present at 8.5%. I think we ran the real risk of a serious bubble had we not introduced these measures back in October last year. At that point house price inflation was running at 17% in Auckland. I think it would have gotten well above 20%," Wheeler said.
Asked again if Auckland house price inflation was a bubble, he said: "Not at present in terms of the rate of increase - but if you said to me: 'are house prices over-valued in Auckland?' I would say 'absolutely'."
"I guess there are two ways to think about the bubble. Most people think about a bubble in terms of the rate in increase that's happening at any particular time and what degree of momentum is there. So that's why I was referring to house price inflation now at 8.5%. Without these measures it was 17 and I think it would have gone above 20% - and I think then in terms of rate of increase you are in bubble territory."
Deputy Governor Grant Spencer later pointed out that leverage ratios of household debt to income levels had been broadly flat to falling in recent years.
"That's another reason why we wouldn't call it a bubble," he said.
Did LVRs hit first homers and help investors?
Elsewhere, Wheeler and Spencer pushed back against Labour and New Zealand First arguments that the Reserve Bank's high LVR speed limit had shut first home buyers out of the market and hit regional housing markets much harder than those in Auckland and Christchurch.
Wheeler pointed to Core Logic data showing the proportion of sales to first home buyers had averaged 19% over the last decade, but had only fallen to 17% since the introduction of the high LVR speed limit.
He said the bank had been concerned about house price inflation in more areas than just Auckland and Christchurch when it imposed the high LVR speed limit. He pointed to house price inflation in Taranaki, Nelson, Central Otago and Hawkes Bay running at 6-8% before the high LVR speed limit.
"The impact has been fairly evenly spread across the country," Wheeler said, adding that house sales volumes had fallen around 13% nationwide, but had actually fallen more than that in Auckland.
He said the bank had estimated the high LVR speed limit would reduce annual house price inflation nationwide by around 2.5 percentage points and the result had been a slightly greater fall.
Spencer said the high LVR speed limit had helped reduce house price inflation, which was a positive for first home buyers and reduced the potential capital gains for investors.
Housing supply
Wheeler emphasised that Auckland's house price problems were caused in part by supply shortages, which had been variously estimated from 5,000 dwelling units to 30,000 units.
"What's absolutely critical is that we get housing supply increased. It's encouraging to see what's happening in Auckland with the increase in housing permits, but it's still a long way short of where it needs to be," he said.
"We really need to see a stronger supply side response if we're going to see a better balance in the market."
Asked what the reasons were for the lack of supply, Wheeler referred to the costs and delays from development contributions and building consents.
Asked about foreign buying in Auckland, Wheeler referred to the now defunct BNZ-REINZ survey, which he said showed foreign residents responsible for 6.5% of property sales. He said it was "unfortunate" the survey had been discontinued.
Political reaction
Peters said the Reserve Bank's decision to keep the LVR limit in place until it saw migration falling reinforced his call for restraints on migration.
"New Zealand First has consistently warned about the negative effect of record migration topping 40,000 a year, yet the government fails to move. A simpleton could recognise that immigrants need somewhere to live and will add to the demand for houses," Peters said.
"The Reserve Bank is leaving the loan to value ratios in place to try and hold down housing prices, disappointing many young Kiwis who want their first home but will struggle to find the required deposit under this scheme. The Governor warned of a resurgence in the housing market prices, pointing to the migration figures. New Zealanders can rightly blame the government when this occurs," he said.
Labour Housing Spokesman Phil Twyford pointed to Wheelers' comments about supply shortages.
"The thousands of first home buyers who are shut out of the housing market may have hoped for a lifeline from the Governor by easing LVR restrictions today. They will be bitterly disappointed. But they should point the finger of blame at the Government which has failed spectacularly to increase housing supply," he said.
(Updated with more details from committee appearance, political reaction)