Migration adds another 47,684 residents in the year to October, could reach 55,000 next year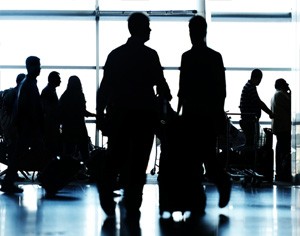 The surge of people moving to New Zealand shows no sign of abating.
The seasonally adjusted number of people coming to this country on a permanent or long-term basis (12 months or more) surged to an all time high of 5,200 in October, compared to the previous monthly record of 4,800 set in August, which in turn surpassed the previous record of 4,700 set in February 2003, according to Statistics NZ.
The actual (non-seasonally adjusted) figures show there was a net gain (the surplus of long-term arrivals over long-term departures) of 6,371 in October, compared with 4,101 in October last year, 1,785 in October 2012 and 824 in October 2011.
On an annual basis, the net population gain from migration was 47,684 in the year to October, compared with 17,684 in the previous 12 months.
Statistics NZ said the big jump in migration figures between October 2013 compared to October 2014 was mainly due to an increase in the number of non-New Zealand citizens coming to this country.
The figures also reveal that for the first time in 23 years, the number of permanent and long term migrants coming from Australia, exceed the number of people leaving this country permanently for Australia.
In October 1714 migrants arrived from Australia, while 1697 left New Zealand for that country,  giving a net gain of 17 people from across the ditch.
In the year to October, the country sustained a net loss of population to Australia of 5,311 people, well down the net loss of 23,493 in the year to October 2013 and a net loss of 39,330 in the year to October 2012.
Over the last 12 months, the biggest net gain in migrants has come from India (9,512), followed by China and Hong King (7,729), the UK (5,315), The Philippines (3,427), Germany (2,558) and France (2,289). 
Westpac senior economist Felix Delbruck said if the monthly net migration trend continues, as it is likely to do while the Australia labour market remains weak, annual net migration would be on track to hit an unprecedented 55,000 people a year by the middle of next year.
"This month's outcome was even stronger than we had expected, and will certainly come as a surprise to the Reserve Bank," Delbruck wrote in a First Impressions update  on the migration data.
"With mortgage rates now having eased back as well, these strong migration figures must raise the Reserve Bank's concerns about the likelihood of a second wind for the housing market."