Three government departments and a district council needed to decide how high a reception counter should be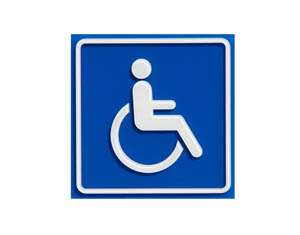 The Department of Corrections has been told to lower the reception counters at its Community Corrections Services offices to make them more wheelchair friendly, in spite of the security issues this has raised.
The issue was the subject of a Building Act Determination after Corrections made alterations to the reception area at its Greymouth office.
The reception counter was built to a height of 1.2 metres, whereas the Building Act required it it be 90cm to be accessible to people with disabilities.
The building was described as one where its staff  "would manage community-based offenders and where offenders meet probation officers."
Corrections said it wanted the reception counter to be 1.2 metres high because "a lowered counter allows offenders to easily climb the reception counter and also more easily reach over to attack staff and steal items from staff desks."
However it did mot want to instal a security grille above the counter because it wanted to strike a balance between security concerns and providing an open and welcoming experience for visitors that was not foreboding or confrontational.
"Presenting a Fort Knox style interface to offenders serves only to antagonise," the department said in its submission on the issue.
It also said that interviews were not carried out at the reception counter and it was not used for filling out forms.
Those functions were carried out in adjacent meeting rooms which had desks that were suitable for people in wheelchairs.
Corrections sought a waiver from the requirement to have a 90cm counter, and this was supported by the Grey District Council which was the consenting authority for the building work.
The issue was referred to the Ministry of Business Innovation and Employment (MBIE) for a Determination and MBIE in turn sought input from Office of Disability Issues (ODI) at the Ministry of Social Development.
In its submission on the issue, the ODI noted, "...in addition to the counter presenting a barrier to visiting offenders and their support people it would similarly impact on any staff who may, in the future, acquire or have an impairment limiting their mobility."
MBIE's determination found that Corrections was not entitled to a waiver and the counter would need to be 90cm high for consent purposes.
However that decision will be likely to affect more than just the Greymouth office, because in its application for a waiver, Corrections referred to a number of similar facilities being upgraded/installed nationally. 
---------------------------------------------------------------------------------------------------------------------------------------

Our free Property email newsletter brings you all the stories about residential and commercial property and the forces that move these huge markets. Sign up here.
To subscribe to our Property newsletter, enter your email address here. It's free.
----------------------------------------------------------------------------------------------------------------------------------------