Want to see what movement in the NZ median house price excluding Auckland would look like? All is revealed here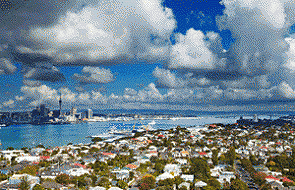 By Gareth Vaughan
We all know that if you took the Auckland housing market out of New Zealand the overall housing market picture would look very different.
Would the Reserve Bank have ever felt the need to introduce restrictions on banks' low equity residential mortgage lending without Auckland? Very unlikely.
And would the likes of Brian Gaynor be raising eyebrows with warnings that house prices could fall by up to 25% if it wasn't for the Auckland market? Nope.
Just how big a driver Auckland is on national house prices is made clear in the table below.
Based on Real Estate Institute of New Zealand (REINZ) data, Auckland's median house price rose $238,000, or 54%, in the six years from December 2008 to December 2014. Over the same time period the national median price rose $121,500, or 37%. But the national median price excluding Auckland rose just $50,000, or 17.5%.
Figures for the 2014 calendar year are perhaps even more stark. The REINZ Auckland median price was up $78,000, or 13%, last year to $678,000. The national median rose $23,000, or 5.4%, to $450,000. And the New Zealand median price excluding Auckland rose just $3,500, or 1%, last year to $335,000.
So if you take Auckland out of the picture, where according to REINZ about 38% to 40% of national monthly sales are made, the national median price barely budged last year. No wonder many people outside the City of Sails get so grumpy about the Auckland housing market and the Reserve Bank's high loan-to-value ratio restrictions.
In fact if you dig into interest.co.nz's median house price growth chart for some regions around the country, over certain time frames, the Gaynor worst case scenario has almost played out.
For the year to June 2014, for example, the Southland median house price fell 17.9%. And in the year to January 2009, the Southland median dropped even further, by 22.2%.
For the purposes of balance, if you go back even further you can find a period where the Southland median price rose by levels that would be eye popping even in Auckland, given there was a 44.2% jump there in the year to February 2008.
But to emphasise to the doubters in Auckland that house prices don't necessarily rise everywhere forever, other New Zealand regions that have experienced chunky falls in recent years include Northland where the median price dropped 12.4% last year, Manawatu where it fell 7.8% last year and 13.8% in the June 2008 year, Taranaki where it fell 10.7% in the October 2012 year, Wellington were it declined 8.2% in the August 2011 year, and Otago which recorded a 10.6% median price fall in the year to January 2009.
Hawke's Bay in the June 2011 year recorded a median price drop of 10.9%. And even Auckland's median price fell 5.8% in the year to August 2008.
Month
Akld
median dwelling price
Akld
12 month
% change
NZ median dwelling price
NZ 12 month % change
NZ excl. Akld
median dwelling price
NZ excl. Akld
12 month % change
Dec 14
$678,000
13%
$450,000
5%
$335,000
1%
Dec 13
$600,000
12%
$427,000
10%
$331.500
7%
Dec 12
$535,000
10%
$389,000
10%
$310,000
3%
Dec 11
$484,375
6%
$355,000
1%
$300,000
2%
Dec 10
$455,000
-3%
$352,000
-2%
$295,000
-1%
Dec 09
$470,000
7%
$360,000
10%
$297,000
4%
Dec 08
$440,000
---
$328,500
---
$285,000
---
What goes up can also go down, as demonstrated in the Southland median house price chart below.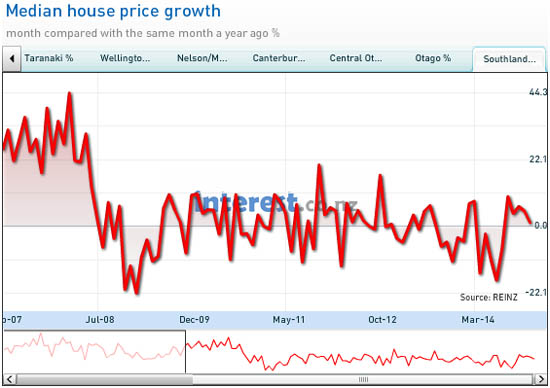 This story was first published in our email for paying subscribers early on Wednesday morning. See here for more details and how to subscribe.