Frustration growing over slow house-building progress at flagship Tamaki Redevelopment project with Council and Housing NZ at Glen Innes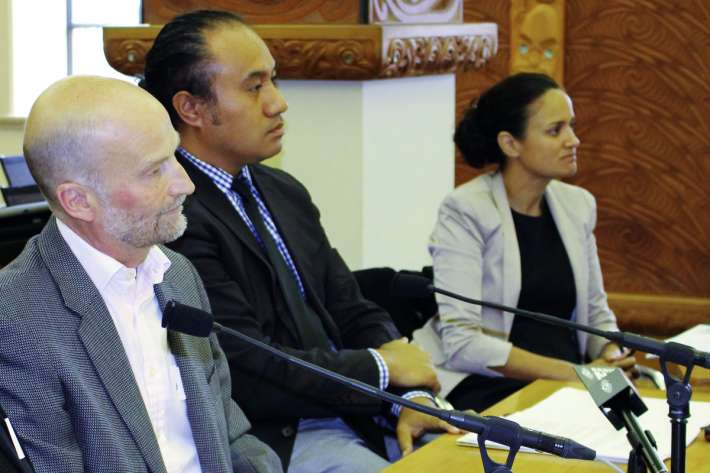 By Lynn Grieveson
The Government's flagship project with Auckland Council to redevelop state houses and Crown land at Glen Innes in Auckland and substantially increase the supply of affordable housing is struggling to make fast progress.
The frustrations of working in partnership with Housing New Zealand were apparent when board members of the Tamaki Redevelopment Company (which is charged with redeveloping the Auckland suburbs of Glen Innes, Point England and Panmure) appeared before parliament's Local Government and Environment select committee on Thursday.
The project is being closely watched as debate grows over a shortage of housing supply in Auckland that MBIE has estimated at over 20,000 dwellings, and which is not expected to be reduced much by the Government's already announced Special Housing Areas and plans for RMA reforms. See more on MBIE's proposals for substantial new interventions here and here.
Finance Minister Bill English also focused on the Tamaki project last month when he signalled the Government was looking at ramping up the Tamaki project to build a net new 5,000 homes over the next decade. See more here on that announcement.
Currently the only Tamaki housing project underway is the "Fenchurch project" – 32 houses and an early childhood centre on a previously empty block of Crown land.
Asked by Labour's Phil Twyford if the government's stated aim of building around 7,500 new dwellings in Tamaki was realistic given the "snail's pace" of housing development so far, TRC Acting CEO Peter Fa'afiu said it was dependent on whether the "current scenario" of partnership with Housing New Zealand remained unchanged.
"There are two scenarios. There is one, which is the current one, in which you work in partnership with Housing New Zealand, and then there's other scenarios as well," Fa'afiu said. 
"You mentioned the 32 homes. We are building those in partnership with Housing New Zealand. You described it as a certain pace. In partnership we will continue that pace. But is there an opportunity to bring in other partners to accelerate that? That's always the case, but those questions are also questions for shareholders."
'New levers required'
Fa' afiu told the committee that the agency was confident it could deliver the housing faster "if set the right environment and provided the right levers."
"Once provided a scenario by shareholders we can move on those targets we have," he said.
TRC board member Martin Udale said: "Market analysis work we have suggests we could probably get up to around 300 - 400 new homes a year, which would suggest somewhere in the order of 12 to 15 years to get through that redevelopment programme."
Earlier, Udale told the committee that the agency believed private sector investment was critical to the project.
"As we look to accelerate the programme, we expect the private sector to play an increasing role and we expect to leverage that participation not just in a financial sense but more broadly across the range of regeneration outcomes we are looking to achieve," Udale said. 
The select committee heard that 57% of the residential properties inside the Tamaki boundaries are owned by Housing New Zealand, taking up around 175 hectares of Crown land.
Fa'afiu said that the community of 16,000 Tamaki residents (50% of whom are Pasifika and 23% Maori) was now "ready and waiting" for the pace of redevelopment to pick up despite a "challenging" legacy from the initial Northern Glen Innes development project.
"We needed to go back into that community and regain that social license to operate. That was critical," Fa'afiu said. "Given the legacy issues, the false starts, we needed to go back in and re-engage with the community before we had conversations with them about accelerating the programme. So we have got to the point now, after 2 and a half years, where we can have those conversations with community about picking up the pace."
Fa'afiu, who was careful to describe Housing New Zealand as a "good partner", "from an operational perspective", said "it's their role to set the scenario for us and set the envelope for us and we will deliver the number."
He said current plans were for "somewhere between a third and two-thirds" of the new housing on the Crown land to be sold as private housing, but this would include some sold under "assisted affordability" measures such as shared equity or rent-to-buy arrangements. Roughly a third would be social housing – "no less than the same number of current social housing."
Housing NZ criticised
Speaking after the select committee meeting, Twyford said: "Housing New Zealand is the problem here, they need to be told to get with the programme."
"It's been seven years of basically no action, no progress. And the reason is that Housing New Zealand, they own all the land, all the property and they are a dysfunctional organisation. They got all their own agendas."
"These sort of projects need clear mandate and governance with a power to lead and drive it forward, and Housing New Zealand has got a million other things it's trying to do," Twyford said.
He said either the land assets and responsibility should be transferred to TRC or another urban development agency, or else Housing New Zealand should set a plan "and then step back and let the TRC get on and do it."
"Basically it's a failure that they have had no progress over seven years and the people in that community have had all these false starts and announcements."