Company co-owned by government, Auckland Council to take charge of major Auckland state housing redevelopment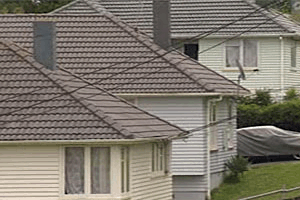 The Government says it's transferring about 2,800 state houses in the Auckland suburbs of Glen Innes, Point England and Panmure to a company co-owned by the Government and Auckland Council to encourage regeneration of the Tamaki area in east Auckland.
At the same time ownership and management of the Housing New Zealand Corporation (HNZC) houses is transferred to the Tamaki Redevelopment Company (TRC), the Government's lending it $200 million of taxpayers' money to get on with things.
TRC is 59% owned by the Crown and 41% by Auckland Council.
Finance Minister Bill English and Housing Minister Nick Smith say by March 31 next year HNZC tenants who live within the TRC "catchment areas" of Glen Innes, Point England and Panmure will have a new landlord. However, there will be no immediate impact on the tenants, with existing tenancy agreements transferred to TRC with no change. This transfer is separate to the Government's plans to sell between 1000 and 2000 state houses.
English says TRC plans to replace about 2500 existing houses with about 7500 over the next 10 to 15 years.
"Over half of the new houses will be sold to help offset construction costs, and the remainder will be retained as social housing. Our bottom line is that there will be at least as many social houses in Tāmaki as the 2800 there now," English and Smith say.
Cabinet has also approved a $200 million loan for TRC to help the company "accelerate" the regeneration of Tāmaki. The loan will be available before the transfer of the houses to let TRC push on with its development and planning. 
"This is about giving TRC the tools it needs to develop the homes on-site to make a difference to people with high housing needs," Smith and English say.
"The loan facility will mean more houses being brought on-stream faster, giving more people the chance of home ownership sooner than they would have had otherwise. Making more houses available as efficiently as possible is also essential to ensuring there are enough houses available to re-home tenants in the area as redevelopment gets underway." 
The ministers say HNZC developments underway in Fenchurch will continue with no slowdown in activity before it is handed over to TRC as part of the transfer.
"A business case is being developed by the Government, Auckland Council and TRC in the next few months that will look at how future developments will be best undertaken. We are in the early stages but the purpose of our announcement today is to make abundantly clear that we are serious about seeing action in an area that desperately needs it," say English and Smith.
They say driving through parts of Tāmaki brings home why the Government wants to do a better job of social housing.
"It also illustrates the development opportunities in some of the HNZC-dominated suburbs in Auckland. The Government owns 1 in 16 houses in Auckland and we need to do a better job with them for the sake of tenants and aspiring homeowners, as well as for the neighbourhoods they live in and the wider city," English and Smith say.
Auckland Mayor Len Brown says the Tamaki redevelopment is part of Auckland Council's aim to create liveable communities and affording housing options.
"Tamaki is one of seven key priority growth areas identified within the (council's) Auckland Plan and represents an ideal opportunity to cater for Auckland's growing population and demand for housing by increasing supply, quality, choice and affordability. With close proximity to the CBD as well as major public transport routes, the Tamaki transformation provides the council with an opportunity to demonstrate intensive, mixed-use development while also articulating the Auckland Plan's vision for a quality, compact city," says Brown.
"Eleven houses have already been built by the Tamaki Redevelopment Company in partnership with Housing New Zealand in the Glen Innes neighbourhood of Fenchurch, with construction of homes also underway in Overlea, soon to be followed by Panmure."
 "We congratulate the Government for equipping the TRC with greater resources and assets to deliver on the city's ambitious housing goals for Tamaki," adds Brown.
'Reckless'
Labour's Housing spokesman Phil Twyford described the move as reckless, placing a massive taxpayer-owned asset, and the lives of 8000 residents of the state houses in the hands of a tiny, three-year old organisation with no experience of being a landlord.
"Acting Prime Minister Bill English has been casting around to find someone, anyone, who will take state houses off him, in order to give his sell-off policy some legitimacy after the Salvation Army and the Methodist Mission panned the policy and ruled themselves out as buyers," says Twyford.
"The Tamaki Redevelopment Company has been setting itself up to lead the redevelopment of the area's housing stock. Now Bill English's desperation to sell off state houses has seen him foist 2800 houses on them, forcing them to become one of the country's biggest landlords overnight. The Company has not even been asking or planning to become a landlord," Twyford maintains.
Brian Donnelly, TRC's chairman says residents want the company to move faster on rejuvenating their community, and the people of Tāmaki are "at the heart of everything we do," with TRC to "continue listening to their voices."
Here's some questions and answers on the project issued by the Government.