Olly Newland responds to 'Generation Rent' crisis, calling for the govt to incentivise rental property investors to get life-long tenants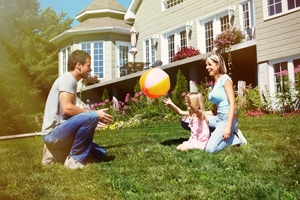 Property investor Olly Newland is calling on the Government to incentivise residential landlords to sell extra long-term leases to tenants keen to "rent for life".
He says encouraging investors to be driven by long-term cash flows, rather than capital gains, will up the supply of longer-term rental properties, demanded by the increasing number of people who want to enjoy the benefits of living in their own home, without buying their own home.
Newland makes this suggestion in the wake of economists, Shamubeel and Selena Eaqub, calling for tougher regulation of the rental property market in their new book, 'Generation Rent: Re-thinking New Zealand's priorities'.
The Eaqubs say exuberant property prices are causing an increasing number of people to be forced to rent. They say renting needs to be made a more desirable option, so renters aren't stigmatised and pushed to the margins of society.  
Newland agrees with the Eaqubs in the sense that he acknowledges "renting will become a way of life for many people – whether they choose to, or whether they're forced to".
However he says we should create a system where people can rent for life.
He suggests a tenant pays the landlord a "goodwill" premium of say $50,000, as a form of refundable bond, to rent their property for 20, 30 or 99 years, for example.
Like a commercial lease, the tenant is responsible for maintaining the property's interior, while the landlord is responsible for maintaining the exterior.
The tenant can do all the painting, picture hanging, and kitchen renovating they want to make the place feel like their home.
Furthermore, they can have the peace of mind knowing they're not going to get booted from their property when the landlord gets an enticing offer for the place.
If the landlord sells the property, the existing conditions of the lease would continue under the new ownership.
Conversely, if the tenant leaves the property, they could on-sell their lease or the landlord could buy it back. Yet Newland says landlords should still have the right to refuse tenants they deem unfit to take care of the property.
Newland says tenants will also have to return the property to the landlord in a similar state they received it in, as is the case in countries like Germany and Switzerland.
'There should be a reward'
Rent will be adjusted throughout the duration of the lease in accordance with market rates.  
"There should be some advantage – possibly tax, possibly something else – for a person who buys a property and rents it out for a long period of time", Newland says.
"There should be some sort of reward or return… You are handing over your property, and any capital gain is locked away."
Other than a tax-break or other financial incentive that would need to be on offer, Newland says landlords will be able to take a more hands-free approach to property management.
"It's a pain as a landlord to be rung up at three in the morning, because the stove [in your rental property] isn't working, or light bulb isn't working. It's nuts! The tenants wore the stove out or burnt the bulb out, so they should replace it, and the rent should reflect it."
Furthermore, Newland says tenants will take better care of the property if they feel they can take some ownership of it.  
"I think you'll find the psyche of tenants will change if they can rent a place for life", he says.
Newland says property investment firms and syndicates would be best placed to enter into such "rent for life" agreements.
"It's a good time for some brave person to form syndicates to buy rental property on a large scale and rent it out long term.
"The important thing is to make sure people have a "Home" with a capital "h", so they don't live in something like a motel."