Smith and Brown announce two new greenfield Special Housing Areas in South Auckland for up to 1,800 new homes as Auckland Council appears to end moratorium on new greenfield SHA consents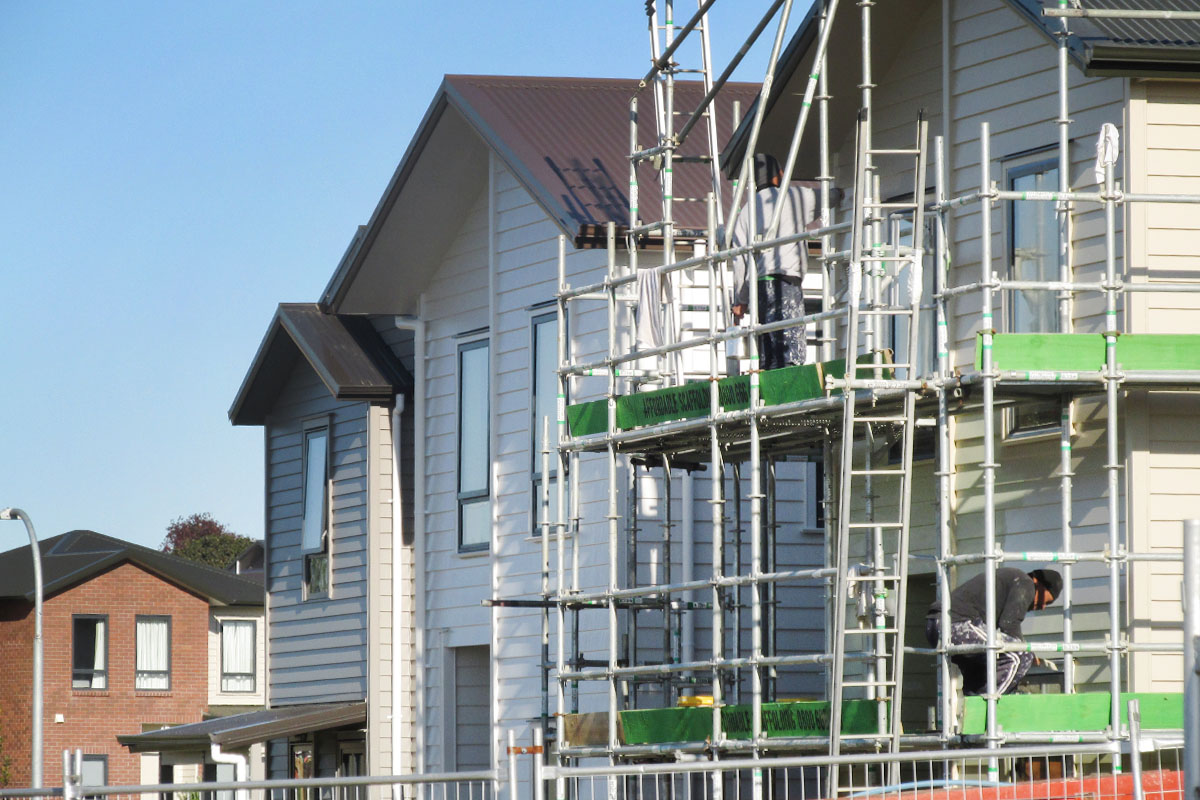 By Bernard Hickey
Housing Minister Nick Smith and Auckland Mayor Len Brown have announced the creation of two new greenfield Special Housing Areas in South Auckland for up to 1,800 new homes, appearing to end a suspension on the issuing of new consents for SHAs in greenfields areas in Auckland.
Deputy Mayor Penny Hulse said in May that approvals for consents for three SHAs at Huapai in north west Auckland had been deferred while the Council discussed infrastructure funding with the central Government. She said then that Council would prefer SHAs in future to be in brownfield areas to avoid costly new infrastrucure.
See my column on this from early May. The move was seen as Auckland suspending new greenfields SHAs while it clarified funding of transport and water infrastructure.
Smith and Brown announced the creation of two new SHAs in a media event in South Auckland on Friday.
"These two latest Special Housing Areas at Glenbrook and Drury in Franklin now bring the total number of Special Housing Areas in Auckland to 86, with a combined potential yield of up to 45,000 new homes," Smith said.
"I am particularly encouraged that Auckland Council is continuing to advance greenfield sites for Special Housing Area status. This is welcome progress, in both scale and momentum, to help address Auckland's issues of housing supply and affordability," Smith said.
The two new SHAs were at McLarin Road at Glenbrook, with 87 hectares for 800 homes, and at Bremner Road at Drury, with 68 hectares for at least 1000 homes.
"Both of the new sites are already closely located to amenities such as local halls, reserves and education centres, and we are confident that the proposed housing developments at these sites can be well-serviced by existing or planned water, waste and roading infrastructure," Brown said.
"I also commend the undertaking from the developer to build at least 150 affordable homes at Bremner Road – or 15 per cent of the total project. This is above the 10 per cent affordable housing provision which is required in the Special Housing Area by the council," he said.
Brown said the council would be considering additional SHAs over the next few weeks and hoped to recommend more locations to the Minister in coming months.
Smith and Brown also announced a 5.2-hectare extension to an existing 29-hectare SHA at Fred Taylor Drive in Massey.
'More to come'
Smith later told Interest.co.nz there had never been a suspension of consents for new greenfields SHAs, but that decisions were being made on a 'case by case' basis.
He said he remained hopeful that the areas in North West Auckland could be approved in future and the Government was working with the Council on others.
Auckland Council Manager of Growth and Infrastructure David Clelland said there had never been a moratorium on the approval of new SHAs.
"The council simply deferred decisions on some SHA requests and indicated a strong preference for brownfield SHAs pending progress on infrastructure discussions with central government," Clelland said.
"The council also said that with the expected release of a draft Future Urban Land Supply Strategy (FULSS), that would be a key factor in determining future greenfield SHAs.  The council has a number of greenfield SHA requests under consideration and we continue to talk to these applicants," he said.
"Once the further SHA decisions the Mayor referred to are assessed later this month (all brownfield), we will be reviewing and reconsidering the existing greenfield SHA requests in light of the content of the draft FULSS, and any other relevant matters."
'Life of transport poverty'
Green Party Co-Leader Metiria Turei said the new greenfield SHAs would condemn thousands of Aucklanders to "a life of transport poverty."
"Because this Government is obsessed with building motorways and with pushing Auckland's city limits further and further out, the people who live in these houses will be forced to spend hundreds of dollars a week just to drive to and from work," she said.
"And it's not just going to hit individuals at the petrol pump; we know that having Aucklanders sitting in traffic jams is terrible for the country's economic productivity, the environment, and for people's health and quality of life."
(Updated with comments from Smith, Auckland Council and Green Party)