PM John Key says non-Aucklanders tell him they would love more Chinese buyers; says Aucklanders like it when house prices are rising, but would prefer slower rises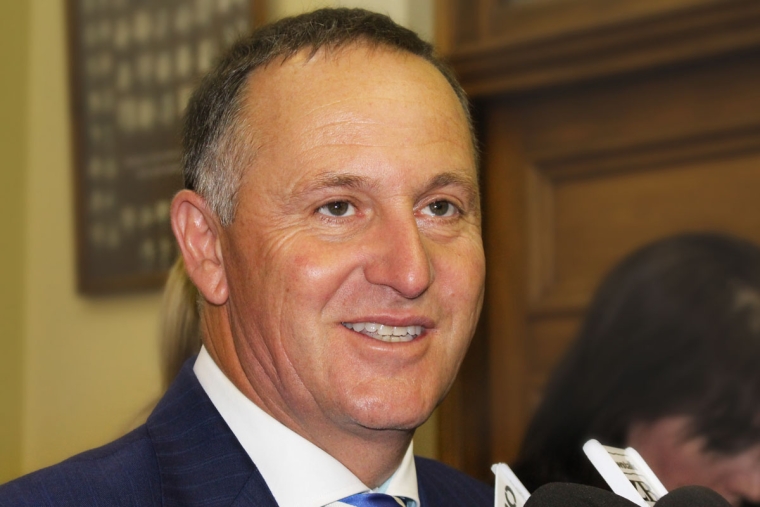 By Bernard Hickey
Prime Minister John Key has told a talkback audience in Auckland that non-Aucklanders have told him they would like to have more Chinese buyers in their regions to push up their house prices and wealth.
Key told Leighton Smith on NewstalkZB that Aucklanders liked their house prices going up because it made them richer, but they and the Government preferred that they did not go up quite so fast.
"Aucklanders are getting wealthier," Key said, referring to front page newspaper articles in Auckland about house prices.
"I don't want to be unkind to news outlets that run these stories, but the truth is, people are interested. They either own a home, want to buy a home, or have sold a home. It generates interest in their magazines and their newspapers," Key said.
"The point is there is over 500,000 Aucklanders that own a home. They are significantly wealthier. I go around the rest of the country and people say to me 'Can we have a few of those Chinese buyers in Wellington and other parts of New Zealand because actually we want our house prices to go up'," he said.
The comments are the strongest from Key suggesting the Government is comfortable with rising Auckland prices and with the current levels of Auckland house prices, which the OECD, the IMF and Reserve Bank have argued are over-valued and creating risks to financial stability. Finance Minister Bill English has even argued that Auckland's unsustainable house prices created child poverty and income inequality.
Members of the Government have privately said that rising Auckland house prices are good in a political sense for the Government, given home owners who are voters feel richer and happier when they rise. Key's comments are the closest he has made that support those views in public.
Key pointed to recent falls in house prices in Christchurch because of rising housing supply and that the Government was focused on increasing housing supply in Auckland. He said Aucklanders may not welcome a similar trend.
"Let's just take the counter-factual for a moment. Would you want your house price going down?," Key said.
"And what most Aucklanders say to me is 'I'd rather my house price went up, but I'd rather it went up a little more slowly than this'."
Twyford accuses Key of being out of touch
Labour Housing spokesman Phil Twyford said the Prime Minister's comments showed how out of touch he was on Auckland's housing crisis.
"John Key claims Aucklanders want the value of their homes to keep rising. But for most, that paper wealth won't be realised unless they sell up and move cities," Twyford said.
"Even people who own their own houses are concerned their kids and their grandchildren will never be able to own a home in Auckland," he said.
"The Prime Minister speaks on behalf of those who own property. But the majority of Aucklanders rent. He has a duty to also represent the generation of young New Zealanders who are locked out of the Kiwi dream of homeownership," he said.
"The housing crisis is a disaster for the country; it's driving up inequality and sucking vast amounts of investment into unproductive real estate speculation. No one wants to see Auckland house prices go bust. But the biggest risk to the Auckland property market is National's hands off approach to the housing crisis which has allowed a bubble to develop in our biggest city."
"John Key is happy to talk down concerns about the Auckland housing crisis because with the collapse of dairy prices and the Canterbury rebuild coming to an end, the bubble is all that's left."
'Cynical calculation'
Twyford said Key's comments were the most revealing he had made.
"It's a pretty cynical political calculation that there are enough home owners who stand to gain from Auckland's housing crisis and skyrocketing house prices that he's willing to throw under the bus the half of people in Auckland who are renters and a generation of young New Zealanders who are locked out of the housing market," he said.
"The conventional wisdom for quite a long time now is that politicians and political parties have more to gain by pandering to home owners, but I think there's been a really significant political change in recent years. Even people who are watching their net worth go up by NZ$500 a day in Auckland if they happen to own a house, they know that the way things are currently, their kids and grandchildren will never own a home in Auckland."
"There is a realisation this is bad for our families, bad for our kids, bad for our communities and bad for New Zealand. The Auckland housing economy that John Key is comfortable about is bad for the whole economy. We're ploughing billions of dollars of capital into unproductive speculation in real estate and watching a generation of young New Zealanders being condemned to being renters and tenants in their own land in the Prime Minister's words."
'Two track housing economy'
Twyford said he had also received feedback from outside Auckland from those who wanted capital gains driven by buyers from China. Key's comments served to emphasise the divergence between Auckland and the rest of New Zealand.
"We've got this two track housing economy in New Zealand. Auckland is utterly out of control with rampant property speculation and an acute shortage of housing, and in other parts of New Zealand house prices are either stagnant, and in many regions declining, and people are facing negative equity because their local economies are going backwards," he said.
The Government needed to build up regional economies, crack down on speculators and unleash a massive house building programme.
"John Key is comfortable to sit there and let this thing unfold because he has made some kind of political calculation that home owners in Auckland are happy to see their prices go through the roof, but it's not real wealth because unless people are willing to move out of Auckland they can never cash that up," he said.
"That's the sort of Ponzi logic of this housing economy that John Key is comfortable with, and that's why you can't blame people under this Government's housing policy for thinking that the only way to get rich in New Zealand is by speculating in residential property."
(Updated with more comments from Phil Twyford.)