Tony Alexander says offshore Chinese property buyers and undercapitalised kiwis buying duds for the sake of getting into the market, are starting to close their wallets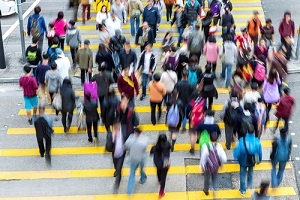 Cashed-up Chinese, and kiwis suffering from a fear of missing out (otherwise known as 'FOMO'), are pulling back from the flaming Auckland property market, according to BNZ's chief economist Tony Alexander.
Alexander says he has heard a "plethora" of anecdotes suggesting some Chinese offshore buyers are walking away from deals, encountering too many "little roadblocks" in their way.
In his latest Sporadic, Alexander notes "none are running scared and no one has any stories of properties being sold", but there is evidence of people backing away.
Barfoot and Thompson managing director Peter Thompson says there's been a decline in the number of both offshore and New Zealand born Chinese in auction rooms over the last couple of weeks. Yet a good portion of them are still buying.
Interest.co.nz's property editor Greg Ninness has made similar observations after attending auctions in recent weeks.
What's sparking the Chinese pull back?
Alexander says there's no single deal-killer, but rather a number of factors that are getting in buyers' ways.
These include the government, as of October 1:
Requiring non-residents and New Zealanders buying and selling any property other than their main home to provide a New Zealand IRD number;
Requiring non-residents to have a New Zealand bank account and to get a New Zealand IRD number;
Introducing a "bright line" test to tax gains from residential property sold within two years of purchase.
And the Reserve Bank, as of November 1:
Requiring residential property investors in the Auckland Council area using bank loans to have a deposit of at least 30%.
Alexander says the fact consultation is underway on a withholding tax from July next year is another roadblock.
Thompson agrees these restrictions have impacted Chinese buyers, but notes they haven't done so more than they've impacted buyers from other parts of world.
He says, "You always do see a little bit of hesitancy [when new laws come in], but you also see new opportunities for a different group.
"A lot of these rules are only going to apply to investors who sell within two years, but people may be looking to more long-term investment, rather than short-term investment. That gives them a greater opportunity than the short-term people at the moment.
"You can turn a negative into a positive and a positive into a negative."
With immigration at record highs, Thompson says it's also important to remember the Chinese are only a portion of buyers, with a number coming from Russia, the UK and Europe.
He says China's market turmoil, as well as the Chinese government's restrictions on the amount of money the Chinese are able to take out of the country, should also be factored into the equation.
Thompson says this sort of uncertainty tends to spark a slowdown for a month or two until people get a better idea of how things are going to pan out.  
This aside, he believes activity from Chinese buyers will pick up again in October, as China's annual holiday period begins.  
Undercapitalised buyers with FOMO
As for New Zealanders, Alexander says "Inexperienced, undercapitalised people who were entering the housing market from early this year feeling that they had to buy any old piece of crap to avoid missing out on 'easy' money have also backed away – thank goodness.
"The figures do not show this yet, but they probably will before the end of the year."
Thompson says, "We haven't seen the number of sales fall off. It's just most probably the number of buyers that have been attending the auctions.
"The clearance rate at auctions has come down 2-3%, but a large number of properties have sold after auction either conditionally or to people who have negotiated the price with the vendors after auction."