Tony Alexander picks house prices outside of Auckland to rise 10% to 20% this year forcing the RBNZ to introduce tougher LVR restrictions south of the Bombays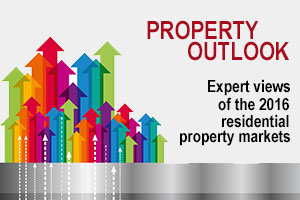 This is the second in a series of articles that each feature the views of a different commentator on the outlook for the housing market in 2016. In this article the BNZ's Tony Alexander gazes into the crystal ball.
BNZ chief economist Tony Alexander thinks low interest rates, the continuing risk of a major share market decline,  strong population growth and a tight supply of new homes will combine to keep pushing up house prices this year, although he thinks they will rise more slowly in Auckland than elsewhere.
"One of the major factors will be low interest rates and the expectation they will remain low, That gives good affordability for owner-occupier purchasers," he said.
"For investors looking for yield, it's a world with a lot of uncertainty with what's happening with overseas economies, and the share market's highly volatile and I still believe there's a risk of a major share market decline.
"That's going to give people encouragement to invest in property," he said.
Alexander also believes that strong migration-fuelled population growth and ongoing difficulties to boost the supply of new homes will mean that demand for homes in Auckland will continue to outstrip supply.
"All this turmoil overseas can do nothing other than encourage people to shift back to New Zealand, migrants to come to New Zealand and discourage people from leaving New Zealand," he said.
"So that very strong population growth is going to continue." 
However he thinks migration will likely peak this year but doesn't see it falling back strongly.
"There's a high chance it will peak this year," he said.
"When you've got a net gain of almost 64,000 a year, that's a lot of people.
"At some stage it's going to peak and my best guess is it will peak this year.
"But will it reverse strongly or rapidly? No it won't because the usual cause of a rapid reversal is Australia looking a heck of a lot better.
"I believe the Australian economy is in reasonable shape but they are not going to have another commodity boom for a generation.
"So the migration numbers will stay high and that's positive for the housing market."
But while that will keep demand for property high, Alexander believes the supply of new homes to meet that demand is likely to be disappointing.
"It's not going to be what people were hoping for and in Auckland we are seeing evidence of the growth [in new housing] plateauing," he said.
There was an ongoing shortage of builders, and construction companies were finding it difficult to get the staff they needed, he said.
"That will take away some of the optimism which many people still have regarding supply coming forth," he said.
"Supply will remain tight and there's going to be more gnashing of teeth and a realisation in Auckland that supply is not coming forward over the next few years as had been planned and hoped for.
"And that will encourage buying in a low interest rate, high population growth environment."
'Catch up in full swing'
However investors were likely to keep looking for properties outside of Auckland, where they could achieve better yields.
"A year ago Auckland reached a point in the cycle where investors started looking for better yields and lower prices elsewhere, and that's in full flight now in regional markets and that will continue through this year," he said.
"So the story for 2016 will be the regions, not Auckland.
"I see Auckland prices still rising 5-10% and the rest of the country 10-20%. There's a catch up - it's in full swing now."
Alexander believes strongly rising prices outside of Auckland make it a "high probability" that the Reserve Bank will extend the LVR restrictions which limit bank mortgages to 70% of an Auckland residential investment property's value, to cover the rest of the country as well.
"The difficulty for the Reserve Bank is that interest rates are no longer a tool at their disposal given New Zealand's and global low inflation.
"They need and are now using other tools to influence the housing market," he said.
Alexander also believes property buyers from China, who were such a feature of the housing market until a few months ago, particularly in Auckland, will eventually return.
"I think they will definitely come back," he said.
"I don't think any of us have enough information to say when, but if you stand back and look at what's happening in China: investing in the share market - not many of them did that and most of them now will be deciding not to.
"They'll be looking for for somewhere else to put their money.
"Their economy's slowing down, people are looking for investments overseas.and I can't help but think more of them will be thinking of getting assets out of China.
"So those buyers will come back.
"Will it happen before the end of this year?"
"I don't know," he said.
(You can see the first article in this series, covering the views of Westpac chief economist Dominick Stephens, here).
-----------------------------------------
If you'd like to be automatically emailed property-related articles like this one you can subscribe to our free Property Newsletter, which will keep you up to date with auction results, changes in mortgage interest rates and all of our other property-related stories. The newsletters are free, we don't pass on your details to third parties and you can unsubscribe at any time. Sign up here.