Bayleys has 71% clearance rate at first auctions of 2016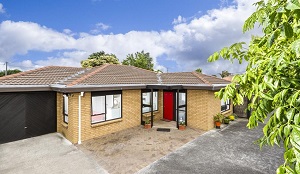 Bayleys had a flying start to their 2016 auction season, selling five of the seven Auckland homes they auctioned this week.
Six of the auctioned properties were on the North Shore, with four of those sold and two passed in, giving a 67% clearance rate.
Prices ranged from $955,000 for a modern three bedroom/one bathroom, brick and tile home in Bayswater (pictured) to $2.67 million for a five bedroom/four bathroom on a 1468 square metre section at Greenhithe.
Just one property was auctioned in Bayleys central city auction room this week, a 49 square metre studio just off the Karangahape Road ridge, which sold for $235,000.
See below for photos and details for all the properties that were auctioned, including those that didn't sell:
You can receive our auction and interest rate updates automatically by subscribing to our free email Property Newsletter. This will deliver all of our property-related articles directly to your in-box 3-5 times a week. We don't share your details with third parties and you can unsubscribe at any time. To subscribe just click on this link, scroll down to "Property email newsletter" and enter your email address.