The REINZ's median house price smashed all records in many parts of the country last month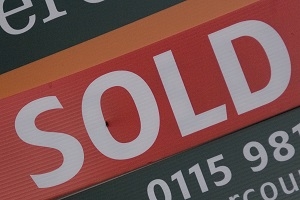 House prices rose strongly in March with new record median prices being set in Auckland, Waikato/Bay of Plenty, Wellington, Nelson/Marlborough, Canterbury/Westland and Central Otago/Lakes, according to the Real Estate Institute of NZ.
The REINZ's national median selling price was $495,000 last month, a new all time high and up 10% compared to February.
In Auckland, the median selling price hit a new all time high of $820,000 In March, up 9.3% compared to February and up 13.9% compared to March last year.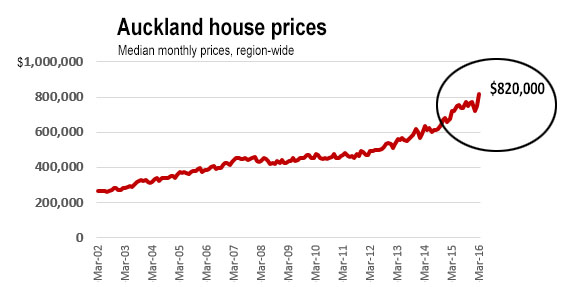 Within the Auckland region the biggest increase occurred within the central suburbs that used to fall within the boundaries of the former Auckland City Council, where the median jumped 16.7% for the month to $856,000.
The North Shore remains the country's most expensive district with a median selling price of $1 million in March, up 6.4% compared to February.
In Waitakere the median price rose 7.2% for the month to $732,500, in Manukau the median was up 2.7% for the month to $770,000 and in Rodney it was up 1.3% to $770,000.
There was an even bigger increase in the number of homes sold in Auckland, with 3230 selling throughout the region last month, up a whopping 66.8% compared to February although that was still down 12% compared to March last year.
Other parts of the country to post strong gains in prices last month were Hamilton up 7.5%, Tauranga up 3.6%, Mt Manganui/Papamoa up  5.4%, Gisborne up 9.4%, Levin up 8.5% and Queenstown up 4.2%.
Prices were a bit of a mixed bag in the Wellington region, with double digit gains for the month in its eastern and western districts, but falls in its central and southern suburbs, which saw the regional median price rise by 1.8% for the month. 
In Christchurch prices were largely flat, with the median up 1.1% for the month but perhaps more significantly, up just 1.1% compared to March last year.
Areas to post a drop in the median selling price last month were Rotorua -6.3%, Taupo -9.6%, Napier -2.3%, Hastings -2.3%, Palmerston North -3.4%, New Plymouth -15%, Hawera - 22.9%, Central Wellington -23.8%, Nelson -3.5%, Timaru -4%, Rangiora -4.6%, West Coast -7.8%,Dunedin -1.6%, and Invercargill -2.8% (see the interactive chart below for the median selling price movements in all regions).
REINZ chief executive Colleen Milne said there was a noticeable surge in sales of higher priced properties in March, especially in Auckland where the number of homes selling for more than $1 million accounted for 35% of sales last month.
"The data demonstrates a generally robust real estate market across New Zealand, with Auckland appearing to overcome the changes to tax and LVR's introduced towards the end of last year and anecdotal evidence of surging investor demand in a number of regional markets," the REINZ said in its March report.
RBNZ to pause for thought with the Auckland housing market back in the game?
In a First Impressions note on the REINZ figures Westpac chief economist Dominick Stephens said the strength of the housing market would be problematic for the Reserve Bank and may cause it to pause for thought about the pace and extent of further cuts to the OCR.
However in her Quickview newsletter on the figures, ASB economist Kim Mundy said although the Auckland housing market appeared to be "well and truly back in the game," the latest figures did not change her view that the Reserve Bank would cut the OCR by 25 basis points in June and August.
Labour's housing spokesperson Phil Twyford said the $70,000 increase in Auckland's median house price in a single month was one and half times the median income in Auckland.
"These figures show that despite the Government's new bright line test and tax information requirements for offshore speculators coming into effect last October, the housing market has rebounded and is as hot as ever," he said.
"National needs to take meaningful action to take the heat out of the Auckland market and restore the kiwi dream of home ownership.
"The Government must embark on a massive state-backed building programme to flood the market with affordable homes, ban offshore speculators from pushing prices beyond the reach of kiwi families and genuinely reform restrictive planning rules," he said.
To read the REINZ's full regional reports for March click on the following link:
You can receive all of our property articles automatically by subscribing to our free email Property Newsletter. This will deliver all of our property-related articles, including auction results and interest rate updates, directly to your in-box 3-5 times a week. We don't share your details with third parties and you can unsubscribe at any time. To subscribe just click on this link, scroll down to "Property email newsletter"and enter your email address.