Large plot of land near Auckland Airport that could be used to build higher density housing under the new Unitary Plan sells for $4.7m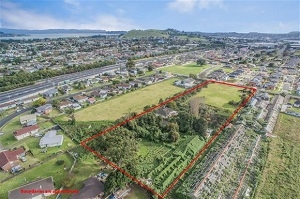 A large plot of land near Auckland Airport, that could be used to build higher density housing under the new Unitary Plan, has gone under the hammer for $4.7m.
The Favona section (pictured) with a three-bedroom, one bathroom and one lounge house on it, was the most expensive to sell at Harcourts' Auckland auctions last week (to July 17).
"This is an exceptional opportunity for developers to capitalise on the current demand for housing in the Auckland market.
"Located close to the Walmsley Road Motorway access, the Auckland international airport, and the proposed East/West link development this area is becoming increasingly attractive to first home buyers and investors," Harcourts' said in its promotional material.
While the property is zoned as 'main residential' under the current district plan, it's proposed to be zoned as 'mixed housing suburban' under the Unitary Plan the Auckland Council is aiming to have signed off on by August 19.
In other words, developers may be able to build one housing unit per 200m², rather than one unit per 300m², as is currently the case.
Harcourts recognised there were some ifs and buts around the zoning, so said: "You are the experts, you do the numbers, but be prepared as this property will be sold!"
The cheapest Auckland property to be sold at last week's auctions was a $449,000 townhouse in Henderson.

In other centres prices ranged from $382,000 to $1.47m in Harcourts' Hamilton auction rooms, from $286,000 to $677,000 in Wellington and from $100,000 in Christchurch's liquefaction-prone suburb of Bexley to $1.3m in Halswell.
To view all of Harcourts' recent auction results, with photos and details of all properties including those that didn't sell, go to our interactive Auction results page. It allows you to search for auction results by location, or by agency and by whether or not properties were sold. To access it click on the Property tab located just under the banner at the top of this page and select "Auction/Sales Results" from the drop down menu, or you can just click on this link.
You can receive all of our property articles automatically by subscribing to our free email Property Newsletter. This will deliver all of our property-related articles, including auction results and interest rate updates, directly to your in-box 3-5 times a week. We don't share your details with third parties and you can unsubscribe at any time. To subscribe just click on this link, scroll down to "Property email newsletter"and enter your email address.