Modest two-bedroom Sandringham house sold by owner of 35 years for $1.39m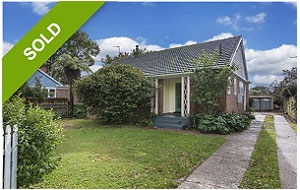 An Auckland property owner has made astronomic capital gains after biding their time, selling a two-bedroom Sandringham home for $1.39 million, 35 years after they bought it.
The property, which has a 2014 CV of $810,000, was one of the more expensive houses to sell at a Harcourts auction in the week to July 31.
It's a brick and tile with one lounge, one dining room, a study and three off-street parking spaces. It's positioned on a 685m² section.
Harcourts has described the house as presenting "a fantastic opportunity for renovators and investors hunting for a project to capitalise on Auckland's robust property market".
"While there is work to be done here, the rewards will pay and the central location between Dominion Road and Sandringham Village is excellent," its marketing material says.
Only one Auckland property was sold for under $500,000 at a Harcourts auction in the week to July 31. Altogether, 21 Auckland houses were either sold at, before or after auction. Only two were passed in.

In other centres prices ranged from $431,000 to $1.43m in Hamilton, from $307,000 to $873,000 in Wellington and from $235,000 to $1.45m in Christchurch. A one-bedroom unit was sold in the Hastings suburb of Raureka for only $125,000. 
To view all of Harcourts' recent auction results, with photos and details of all properties including those that didn't sell, go to our interactive Auction results page. It allows you to search for auction results by location, or by agency and by whether or not properties were sold. To access it click on the Property tab located just under the banner at the top of this page and select "Auction/Sales Results" from the drop down menu, or you can just click on this link.
You can receive all of our property articles automatically by subscribing to our free email Property Newsletter. This will deliver all of our property-related articles, including auction results and interest rate updates, directly to your in-box 3-5 times a week. We don't share your details with third parties and you can unsubscribe at any time. To subscribe just click on this link, scroll down to "Property email newsletter"and enter your email address.